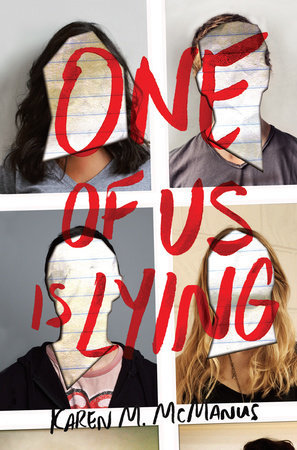 Title
: One of Us Is Lying
Publisher: Delacorte Press
Publishing Date: May 30, 2017
The Breakfast Club meets Pretty Little Liars, One of Us Is Lying is the story of what happens when five strangers walk into detention and only four walk out alive. Everyone is a suspect, and everyone has something to hide.
Pay close attention and you might solve this.
On Monday afternoon, five students at Bayview High walk into detention.
Bronwyn,
the brain,
is Yale-bound and never breaks a rule.
Addy,
the beauty,
is the picture-perfect homecoming princess.
Nate,
the criminal
, is already on probation for dealing.
Cooper,
the athlete
, is the all-star baseball pitcher.
And
Simon,
the outcast
, is the creator of Bayview High's notorious gossip app.
Only, Simon never makes it out of that classroom. Before the end of detention, Simon's dead. And according to investigators, his death wasn't an accident. On Monday, he died. But on Tuesday, he'd planned to post juicy reveals about all four of his high-profile classmates, which makes all four of them suspects in his murder. Or are they the perfect patsies for a killer who's still on the loose?
Everyone has secrets, right? What really matters is how far you would go to protect them.
BOOK IN A WORD: Unexpected?
feeling
, and I eat it up. So when I heard about
One of Us Is Lying
--pitched as
The Breakfast Club
with murder--I was definitely intrigued. It just wasn't quite what I had expected.
One of Us Is Lying
begins with five Bayview High kids in detention: brainiac Bronwyn, pretty and popular Addy, all-star athlete Cooper, resident bad boy Nate, and the infamous Simon. But once detention is over, only four students leave--and Simon is dead. Simon, who was the creator and runner of his school's gossip app, where everyone's secrets were fair game--and Simon knew everyone's secrets. When foul play is suspected--and it's discovered that Simon's detention-mates would have their secrets leaked on the following day's app update--the Murder Club become the suspects.
The thing about
One of Us Is Lying
is that it felt less like a thriller or suspense novel and more like a lighter mystery centered around the age old murder mystery question:
whodunnit
? And that wasn't a
bad
thing, but I think I just prefer my murder a bit...darker?
One of Us Is Lying
was, like
The Breakfast Club
, less about the bad and more about getting to actually
know
these people--and them getting to know
themselves
--and that's an interesting take on such a storyline, and I liked it. The first half of the book was, at least to me, more about
who
killed Simon: looking for little clues here and there, studying behavior, trying to Nancy Drew the shit out of this mystery. But the second half was a bit different: it was more about finding ways how Bronwyn, Nate, Addy, and Cooper couldn't
possibly
have killed Simon because you don't want any of them to be That Person. And I will say that when we
do
find out who Simon's killer was? Color me surprised.
If you add murder into any story it's bound to get a bit more interesting. (Take any murder-free story and add murder in. It
just. got. interesting.
) So putting
Breakfast Club
-esque characters into detention, killing one of them, and then trying to figure who the killer is? You've got something interesting.
One of Us Is Lying
was full of one big liar but even more little lies, and together it added up to be a lighter mystery that was less about murder and was a bit more...coming of age. It was the test of true friendship and self, complete with romance, bullies, family, school problems...and, of course,
murder
. I didn't love it, but I did like it. And that's not a lie.
Did I like it?
Yes.
Would I reread it? I think I'm good.
Would I purchase it? I do have a hardcover, but if I didn't it's not something I think I would need?
Who would I recommend it to? Fans of The Breakfast Club, an eclectic cast of characters, whodunnits, and murder sunny side up.

I received a copy of this book in exchange for an honest review.