Loving something tends to mean loving a lot of stuff like or having to do with that thing. For example, I love cheese. So I love cheese in various forms, like liquid, as a powdered flavor on chips, and squirted from a can. The same goes for Beauty and the Beast. I love love love Beauty and the Beast, so when I see something related to it there's a good chance I might very much like to get my hands on it. Hence a ridiculously comprehensive list of Beauty and the Beast retellings to read.
Like I said, this list is
very comprehensive
. In fact, because I'm such a fantastic person who waited too long to start putting this list together and who didn't realize how
freaking time consuming
putting it together would be, the list has been
vastly
shortened--to just YAish retellings. (For now!) I Google
Beauty and the Beast
retellings, looked up lists on Goodreads, and found what I put here. Some books are very obviously
Beauty and the Beast
retellings, some...maybe not. But for the most part, if I found the book on a list of
Beauty and the Beast
-esque books, then it's also on this one. And of course this isn't
all
of them, because oh my gosh, there are
so many
I don't even know how to find them all. Happy reading, folks!
Beautiful Beast by Cindy C. Bennett
: A girl is forced to live with the Beast of Monster House.
The Rose and the Beast: Fairy Tales Retold by Francesca Lia Block
: A collection of fairy tale retellings with twists.
As Old As Time: A Twisted Tale by Liz Braswell
: The Beast was cursed by Belle's mother.
Through a Tangled Wood by Jamie Campbell
: A collection of retold fairy tales, with a take on
Beauty and the Beast
focusing on the curse.
Withering Rose by Kaitlyn Davis
: The story is reversed--Beauty is cursed and can only be saved by
the Beast.
The Merchant's Daughter by Melanie Dickerson
: Historical, girl endentured to servitude with beastly man.
Belle: A Retelling of Beauty and the Beast by Cameron Dokey
: Belle is a wood carver and must carve a tree to save her father.
The Curse Girl by Kate Avery Ellison
: Trapped in a cursed house by her father, a girl tries to help herself and her fellow prisoners escape.
Beastly by Alex Flinn
: New York, high school, witch's curse.
Beastly Tales by M.J. Haag
: Girl is captured by a man and bargains for her freedom, has adult romance.
Cruel Beauty by Rosamund Hodge
: Girl set to marry evil, immortal ruler of kingdom, and trained to kill him.
Spirited: A Retelling of The Last Mohicans and Beauty and the Beast by Nancy Holder
: Medicine man seeking revenge takes a British girl back to his Mohican tribe.
The Subtle Beauty by Ann Hunter
: A girl wanting to marry for love finds herself betrothed to a cursed
prince.
Enchanted Storms by Annie Jackson
: Greek legend, fight between sorcery and fairy magic.
The Cold King by Amber Jaeger
: Girl is chosen to serve cold, old king.
Beauty and the Beast by Jenni James
: The prince just happens to be a werewolf.
Of Beast and Beauty by Stacey Jay
: Monsters, a blind Beauty meant to be a human sacrifice.
Grim by Christine Johnson
: Omnibus of dark and spooky retellings, including Tessa Gratton's "Beast/Beast."
A Court of Thorns and Roses by Sarah J. Maas
: Fantasy, Fae, magic, a curse, borderline New Adult.
Selfless: A Tale of Beauty and the Beast by Jaina Maes
: When happily ever after isn't all it's cut out to be.
Roses by Rose Mannering
: A nameless, mysterious girl in a land destroying magic finds refuge with a
beast.
Beauty: A Retelling of the Story of Beauty and the Beast by Robin McKinley
: Beauty wonders if she can tame the Beast.
Rose Daughter by Robin McKinley
: The core of the Beast's castle, the rose garden, is dying.
The Hunter Legends by Lindsey Mead
: Humans turned into hellhounds, a huntress Belle, and some steampunk.
Beast by Donna Jo Napoli
: Beast before Beauty, with a setting in France and the Middle East.
Forgotten Fairytales by Angela Parkhurst
:
Once Upon a Time
-esque, with couture Princess, troubled Prince, and the Big Bad Wolf.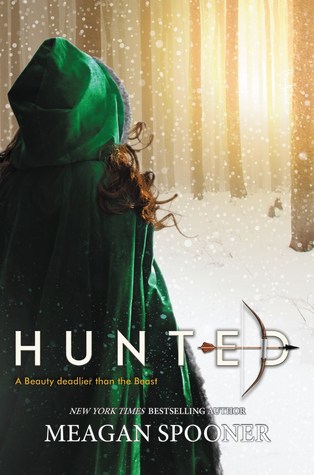 The Artisans by Julie Reece
: Featuring debts, high school, and fashion design.
Beauty and the Beast by K.M Shea
: A liar, a beast, and a chateau.
Beast by Brie Spangler
: Somewhat beastly boy sent to therapy, where he meets a transgender Beauty.
Hunted by Meagan Spooner
: Hints of Russian folklore, Beauty is the hunter.
The Beast Within: A Tale of Beauty's Prince by Serena Valentino
: How the prince came to be the Beast.
His Black Wings by Astrid Yrigollen
: A Beast with a human heart and black wings.
I may end up adding to this in the future to keep it as accurate as possible (and because I know I'm missing a bunch of titles), but for now, voila!