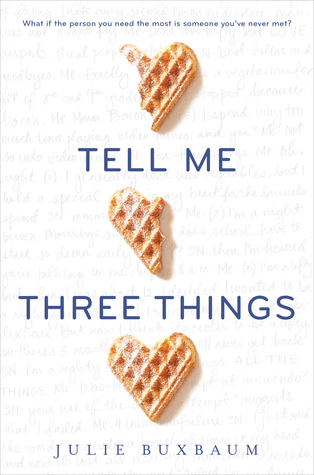 Title
: Tell Me Three Things
Publisher: Delacorte Press
Publishing Date: April 5, 2016
Everything about Jessie is wrong. At least, that's what it feels like during her first week of junior year at her new ultra-intimidating prep school in Los Angeles. Just when she's thinking about hightailing it back to Chicago, she gets an email from a person calling themselves Somebody/Nobody (SN for short), offering to help her navigate the wilds of Wood Valley High School. Is it an elaborate hoax? Or can she rely on SN for some much-needed help?
It's been barely two years since her mother's death, and because her father eloped with a woman he met online, Jessie has been forced to move across the country to live with her stepmonster and her pretentious teenage son.
In a leap of faith—or an act of complete desperation—Jessie begins to rely on SN, and SN quickly becomes her lifeline and closest ally. Jessie can't help wanting to meet SN in person. But are some mysteries better left unsolved?
Julie Buxbaum mixes comedy and tragedy, love and loss, pain and elation, in her debut YA novel filled with characters who will come to feel like friends.
Book in One Word: Cute!
Tell Me Three Things
was the fact that, yes, it's sure to be a cute and fluffy contemporary that's sure to hit the spot. But it also just happens to have a premise with major
You've Got Mail
elements, and if that's not compelling then I don't know what is. So when the eBook was on super sale I snatched it up, and not too much time later I picked the book (well, my Kindle) up and decided to see if it was as sweet and delicious as three heart-shaped waffles. And it kinda was.
Tell Me Three Things
immediately pulled me in--and I mean
pulled me in
--from page one, which starts right off with Jessie's emails and introduction to Somebody/Nobody, aka SN. SN knows who Jessie is--he or she did, in fact, email
her
--but Jessie hasn't the faintest clue who SN is, except that he or she goes to her school and can tell that she's lost--and wants to help her find her way. What ensues is a series of correspondences between Jessie and SN that are sweet and funny and honest and utter perfection, and if I'm being completely honest? I would and could read an entire book that's composed entirely of their messages.
But somewhere along the way that great beginning started to wane off. The messages were still present, but the rest of the story wasn't quite as interesting and didn't do as well with piquing my interest. Jessie (unwillingly) moves to California after her widowed father marries another widow, and Jessie gains a rather unexpected new stepmother, stepbrother, and finds herself living in a whole new world. With the exception of SN--whose identity we are kept guessing at (and I was right, thank gosh)--the majority of the secondary characters felt a little flat. They needed just a bit more dimension to really
be there
and have presence and feel real. (For example, there's a potential love interest and a best friend who just didn't do much for me and they probably should have. There was
one
particular character who floated my boat, aside from SN. But I won't tell you who, except that he wears like the same thing every day.) I wouldn't say it's a
bad
thing that the messages were my favorite part, but it's not necessarily a
good
thing that few things were as interesting.
The real and actual best part of
Tell Me Three Things
was the ending, which was one of the cutest and most adorable endings ever. I loved and adored it. I just wish everything in this book was on the same cute and fun and sweet level, because instead I'm left with like one really good homemade waffle and a couple frozen waffles that are just okay. I needed parts of the story and the characters to be less like outlines and to be filled in and given dimension so that they'd actually
feel
like bigger parts of the book. But those messages and that ending and that ship. Ah. So waffle-ful.
Did I like it?
Yes!
Would I reread it? It could happen.
Would I purchase it? Maybe someday.
Who would I recommend it to? Lovers of contemporaries, cuteness, waffles, books with lots of (literal, physical) messages, and You've Got Mail.