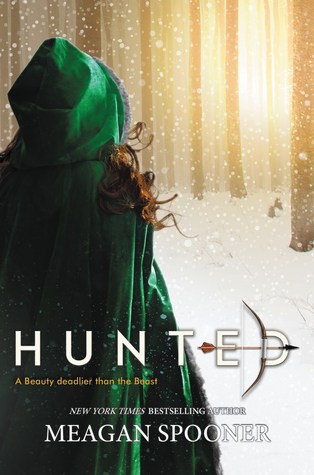 Title
: Hunted
Publishing Date: March 14, 2017
Beauty knows the Beast's forest in her bones—and in her blood. Though she grew up with the city's highest aristocrats, far from her father's old lodge, she knows that the forest holds secrets and that her father is the only hunter who's ever come close to discovering them.
So when her father loses his fortune and moves Yeva and her sisters back to the outskirts of town, Yeva is secretly relieved. Out in the wilderness, there's no pressure to make idle chatter with vapid baronessas…or to submit to marrying a wealthy gentleman. But Yeva's father's misfortune may have cost him his mind, and when he goes missing in the woods, Yeva sets her sights on one prey: the creature he'd been obsessively tracking just before his disappearance.
Deaf to her sisters' protests, Yeva hunts this strange Beast back into his own territory—a cursed valley, a ruined castle, and a world of creatures that Yeva's only heard about in fairy tales. A world that can bring her ruin or salvation. Who will survive: the Beauty, or the Beast?
Book in One Word: Worked
Beauty and the Beast
. (I mean, come on; look at the name of my blog and Instagram.) With that love (or slight obsession) comes the desire to have a lot of things related to
Beauty and the Beast
that tickle my fancy. But I struggle with retellings. I may be piqued by the idea and drool at the mouth to read it, but when I actually
do
read the retelling--well, I may
like
it, or think it's
good
, but it never quite does it for me. So I can't help but go into
Beauty and the Beast
retellings (and movie remakes, for that matter), with a little bit of hesitance. As I did with
Hunted
, a story set to twist the original tale--with Belle as a hunter.
Let me start off by being completely honest: I did not love
Hunted
. It did not break my apparent curse against
Beauty and the Beast
retellings.
But
there's a
but
. As far as said retellings go (and that I've read), this is at the tippy top. A lot of things in
Hunted
worked really well for the story and came together like a nicely tied bow. The story was
Beauty and the Beast
, but its own take with originality and (I believe) some Russian folklore mixed in. (I also got teensy tiny vibes that reminded me just barely of
Labyrinth
and
Howl's Moving Castle
.) The Beauty was an extremely self-capable young woman full of smarts, bravery, and will. The Beast excellently encompassed the age-old question I love so very much: "
Who is the monster and who is the man?
" He was tough and he was tender, he was irate and he was interesting, and he was lost but he was lovable. And then there's the prose.
Hunted
's greatest success may be its prose. Meagan Spooner created a story steeped in prose, and one that was so utterly appropriate for what was being told. It was such a fine mix of the sort of writing I'd find in a historical novel or a fairy tale, and it blended together to form the voice of
Hunted
. It pulled you in and
kept
you in, moved the story at the right pace and kept it steady. But what I find to be rather interesting is the length of the novel. At nearly 400 pages it's on the somewhat longer side, but it
felt
so much longer than that--and I mean that in a way that's wholly not negative. I think it says something when I can positively say that a story felt longer than it actually was--that it was able to pack so much into so little and somehow pull it off. I'm not sure it makes any sense, but it
works
.
That said, I did wish for a bit
more
with
Hunted
. I know I said the pace and all that was stellar, and I completely stand by that, buuut sometimes I would've liked a bit more time simmering on the stove. When you boil a pot of water it doesn't just
boil
; it takes time to let the water heat up and simmer and eventually boil. There are times when it's important--and wanted--for that time to be shown. And while it's not an outright
complaint
, there were moments in
Hunted
where I wanted to
see time
. (Especially the ending, which felt rushed, and an expansion on a certain something magical.) I remember being far enough in the book that I couldn't imagine everything happening that needed to happen in the time left--and wanting more time. Somehow it
did
happen, but again, a bit rushed, perhaps. There were also a few things I would've done differently, but again--not exactly a complaint. More like wishful thinking.
As much as I wish I would have loved
Hunted
, I can't say I'm disappointed. A
Beauty and the Beast
retelling full on tooting my horn seems to be a near impossible task, and I can't really fault a book--let alone
Hunted
--for failing. In short,
Hunted
felt like a historical fairy tale, a story riddled with fantasy and magic and a nice feel of the real and true world. It's the tale as old as time, but with some new and original ones added in. It's a book you don't want to put down and that you don't want to end. A lot about
Hunted
just
worked
. There may be something there.
Did I like it?
Yes!
Did I love it? No, not quite.
Would I reread it? I don't think I'd say no.
Would I purchase it? I wouldn't mind having it on my shelves one day.
Who would I recommend it to? Well, besides the obvious, I'd recommend it to lovers of fairy tales and history, fantasy and folklore, and worlds built on strong prose and characters whose stories you want to follow.

I received a copy of this book in exchange for an honest review.