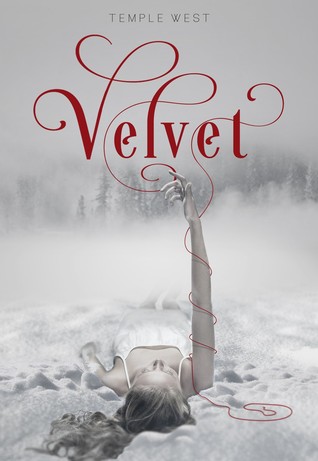 Title
: Velvet
Publishing Date: May 12, 2015
First rule of dealing with hot vampire bodyguards? Don't fall in love.
After losing both her parents before age seventeen, aspiring designer Caitlin Holte feels like her whole world has been turned upside down, and that was
before
the terrifying encounter with a supernatural force. Then, she learns that her hot bad-boy neighbor, Adrian—who might have just saved her life—is actually a half-demon vampire.
Suddenly Caitlin is stuck with a vampire bodyguard who feels that the best way to protect her is to become her pretend boyfriend. Trouble is, Caitlin is starting to fall in love for real, while Adrian can never love a human. Caitlin trusts Adrian to keep her safe from his demon father, but will he be able to protect her heart?
Book in One Word: LIIIKE
Velvet
, but the fact that it had vampires was a big, big selling point. But vampire novels can go a number of ways, and I hadn't the faintest clue where on the spectrum this one would stand. I can't say whether or not it exceeded my expectations since I can't recall what those expectations were, but I
can
say this: I LIKED IT.
Velvet
did start out a little rough for me, though it quickly smoothed out. I had to get used to the writing (and once I did, I don't think I had any problems), but my one
thing
about this book is that it's full of
Twilight
parallels--and I wouldn't say that's a good thing? Like, for a bit I honestly thought I was reading a rip off of
Twilight
because that's how "
come on, are you serious?
" seriously similar
Velvet
was. Girl moves to new town, girl gains attention of hottest boy in school who pays attention to no one, boy is rich, boy is a
vampire
, and so on and so forth. (No offense to said boy and girl; I liked them.) But even then, this didn't really
bother
me, and
it should have
. The big question is
why
didn't it (at least super duper) bother me. WELL.
Sometimes I want to call a book meaningless, and when I say that I mean it in the least offensive and rude way possible. I mean it as a sort of compliment, I guess? You see, some books are meaningless in the sense that they're not sweeping this or that and they don't give off some big message or whatnot. They're somewhat ridiculous and utterly enjoyable and pure entertainment. That's
Velvet
. Reading it was
fun
. Reading it was so fun and enjoyable and entertaining that when I finished it I was at a loss and desperately wishing I could dive into the sequel. (And when I did get the sequel? I started that shit
immediately
.) Sure, it lacked some belieavability and was far from perfect. And some of the schematics and vampire lore was kind of off the charts and had me like whaaa? But I don't quite
care
. I mean, this isn't some complex fantasy or dreary dystopian or fluffy contemporary. This is the mostly real world with some vampires involved. You don't have to expect anything from reading it, but you'll get a hell of a lot joy. And that's very pleasing.
Velvet
wasn't my favorite vampire novel, but in all honesty some of my favorite books of all time are vampire novels and competing against isn't even fair--there's no competition. But
Velvet
does standout as one of those books that's just
so fun to read
. I guess you could call it a feel good book? That's what it does, anyway: make you
feel good
. (And without having anyone with fangs drain your blood.) And you knew a book is good when you're disappointed it's over (and you never wanted it to end in the first place).
Velvet
was an interesting ride, and it was a bit wild, but it's a ride worth going on. And again: I LIKED IT. (A LOT.)
Did I like it?
Yes!
Would I purchase it? Already own it and am pleased that I do.
Who would I recommend it to? Fans of vampires, paranormal stories that are heavy on the light side, and books that are just plain enjoyable.