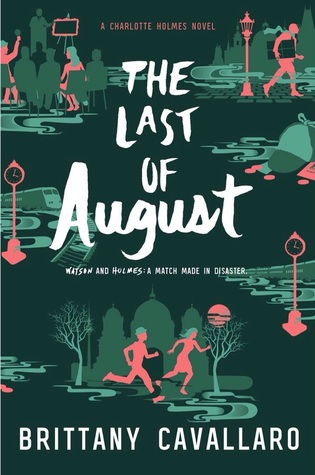 Title
: The Last of August
Author
: Brittany Cavallaro
Publisher: Katherine Tegen Books
Publishing Date: February 14, 2017
Pages/Format: 336, eARC
Add on Goodreads!
In the second brilliant, action-packed book in the Charlotte Holmes trilogy, Jamie and Charlotte are in a chase across Europe to untangle a web of shocking truths about the Holmes and Moriarty families.
Jamie Watson and Charlotte Holmes are looking for a winter break reprieve in Sussex after a fall semester that almost got them killed. But nothing about their time off is proving simple, including Holmes and Watson's growing feelings for each other. When Charlotte's beloved uncle Leander goes missing from the Holmes estate—after being oddly private about his latest assignment in a German art forgery ring—the game is afoot once again, and Charlotte throws herself into a search for answers.
So begins a dangerous race through the gritty underground scene in Berlin and glittering art houses in Prague, where Holmes and Watson discover that this complicated case might change everything they know about their families, themselves, and each other.
Book in One Word: Whaaaa?
The Last of August
varied pre-read. I had downloaded the eARC while I was reading its predecessor
A Study in Charlotte
, thinking I'd want it on-hand and ready to go once I finished the first book. The problem of sorts is that my feelings about
A Study in Charlotte
changed from beginning to end, and while I certainly liked it, I didn't
like
it with an emphasis worthy of italics. That said--I did want to see what would happen next. I just didn't know what that might be.
What I struggled with in
A Study in Charlotte
I still struggled with here: the
Sherlock Holmes
vibe, the lack of realism and constant jumping around that left me feeling lost and confused and unable to fully follow the story and comprehend what's going on. I don't know if it's a
Holmes
thing or just the story itself, because I do like Brittany Cavallaro's writing; it has a slight contemporary feel (more specifically, that contemporary voice that hits the spot) mixed with bits of quirkiness. I'm not really sure how to explain it, or if my attempt at explaining it even makes sense. My issue is more with how the actual story is told and its execution. There are breaks in the flow and the overall clarity is muddled, and that breaks several connections I might have with the story. It's like there's a wall around some of the characters and the plot and everything, and that wall blocks me from being able to see everything that's going on and how it all connects.
The one thing that was stronger in
The Last of August
was the relation-whatever-it-is between Holmes and Watson. Holmes and Watson clash but also fit together perfectly, and it creates a relationship that's filled with tension and toxicity but also has the potential to explode in a fantastic way. They understand each other, almost too well, and that causes them to protect themselves by lashing out at one another instead of suffering through things that may be
good
. If they were to cross the line from friends to more (which I so desperately want to happen, and what's probably the main reason I really read this book and turned each page), they'd be crossing a literal line and would never be able to go back. It's a question of whether they're better off--and safer--just being friends, or if they can properly care for each other the way they should if they're in a romantic relationship. (I say GO FOR IT. Hotson! Walmes!)
For some reason I can't think of much else to say about
The Last of August
. Aside from there being a whole new case to solve and the increase in romance potential between the two protagonists (who are arguably their own and each other's antagonists), it doesn't differ too much from
A Study in Charlotte
. Except that
The Last of August
had a what-the-fuck-was-that-what-just-happened sort of ending that has me wishing I could read the third book
now
. I'm still a bit bummed that these books don't seem to quite work for me, especially since they're filled with aspects that I
love
. But maybe (and hopefully) the third book will be the charm.
Did I like it?
Yes.
Would I reread it? Nah, probably not.
Who would I recommend it to? Fans of Sherlock Holmes (of course), mystery solving, family shenanigans, and stories filled with sugar, (lots of) spice, and a good dose of quirkiness.

I received a copy of this book in exchange for an honest review.