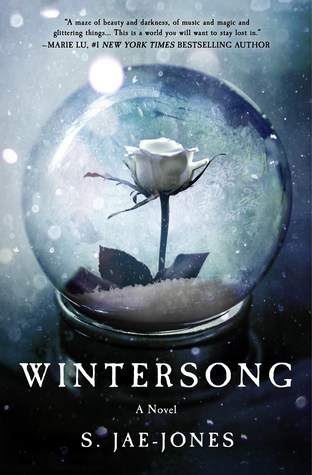 Title
: Wintersong
Publishing Date: February 7, 2017
Pages/Format: 448, eARC
Add on Goodreads!
Beware the goblin men and the wares they sell.
All her life, nineteen-year-old Liesl has heard tales of the beautiful, mysterious Goblin King. He is the Lord of Mischief, the Ruler Underground, and the muse around which her music is composed. Yet, as Liesl helps shoulder the burden of running her family's inn, her dreams of composition and childish fancies about the Goblin King must be set aside in favor of more practical concerns.
But when her sister Käthe is taken by the goblins, Liesl journeys to their realm to rescue her sister and return her to the world above. The Goblin King agrees to let Käthe go—for a price. The life of a maiden must be given to the land, in accordance with the old laws.
A life for a life
, he says. Without sacrifice, nothing good can grow. Without death, there can be no rebirth. In exchange for her sister's freedom, Liesl offers her hand in marriage to the Goblin King. He accepts.
Down in the Underground, Liesl discovers that the Goblin King still inspires her—musically, physically, emotionally. Yet even as her talent blossoms, Liesl's life is slowly fading away, the price she paid for becoming the Goblin King's bride. As the two of them grow closer, they must learn just what it is they are each willing to sacrifice: her life, her music, or the end of the world.
Book in One Word: Disappointing
Wintersong
was not just any book--not even close. It had one very, very particular selling point that literally had my mouth watering: it's a
Labyrinth
retelling (or is akin to it, at the least). I have been waiting and
waiting
for a
Labyrinth
retelling in the YA form, so to finally get one? Oh my gosh, I
lost my shit
. Because of that one aspect,
Wintersong
became my most anticipated novel of 2017 (that wasn't a Sarah J. Maas sequel) and one of my most anticipated novels in the
history of ever
, and I'm not even exaggerating in the slightest. Add in the author's yearnful newsletters and lush snippets of the book, and
Wintersong
was set to be My Book. And when I got approved for an eARC, I could've done a magic dance and chillied down I was so excited. Then I read it.
It kind of kills me to say that
Wintersong
and I did not get along very well. (Side note: I've also discussed a lot of this in my early review
here
.) There could be some extenuating circumstances--I forced myself to read it when I wasn't
quite
in the mood for it (which can seriously set a book up for failure) and there was a whole Underground-worth of hype surrounding it (from, well,
everyone
, and hype created by myself alone). But if I'm being completely honest: those circumstances barely make a dent in the issues I had with one of my most anticipated books of all time.
First and foremost, I think calling
Wintersong
a
Labyrinth
retelling is a bad idea, because I don't think it is one. There are hints of the movie here and there, but they're just that--hints, bits of inspiration. To look at
Wintersong
as a
Labyrinth
retelling--and to really hunger for that part of the book in particular--is to set yourself up for failure. It's more its own story, or a retelling of other tales and folklore (which I believe you'll find referenced by Jones on her website and in her newsletters). You've got a girl trying to save a sibling (who I, for the record, did not give a shit about), you've got the Goblin King (but not Jareth) and the Underground and goblins (but not like
those
goblins) and magical fruit and a dance (but not like
that
dance) and an actual labyrinth of sorts, but that's kind of it as far as
Labyrinth
goes. And while that may seem like enough of
Labyrinth
to create a fanstasmical, magical, sensual retelling, I would say it isn't.
That letdown aside, I had struggles on a more technical and executional front. What probably irked me the most was my inability to understand a lot of
Wintersong
. It's kind of like when everyone's in on a joke except for you, so you end up feeling left out and confused. The characters would explain and understand something, but coherence wouldn't be transferred to the reader. Like, the Goblin King may give Liesel a look, and she understands what that look conveys--but I haven't got a clue, and I don't know how she came to her conclusion. Above all, it's
frustrating
. And it really takes something away from the story that could've been beneficial.
If there's one thing I really, really wanted--and
want
--from a
Labyrinth
retelling, it's what the movie didn't give me: a romance (and endgame) between the Goblin King and Sarah (who in this case is Liesl). While there's much, much more romance here than in the film, and I wanted it to happen, it's not...I don't know. I shipped it
because
I wanted it to happen, but I didn't SHIP IT, you know? Parts of it were awkward and faded to black to the point where I never understood what happened until something actually and clearly did (which drives me crazy; make what characters do
clear
). I think it refers back to what I discussed in the last paragraph: there's a wall. And while that wall isn't completely solid, it's not wholly transparent, either, and its lack of visibility prevents the reader from being fully immersed in the story. They can't feel, see, or comprehend everything on the level they should, and that's because there's a wall in the way.
What's extremely confounding about
Wintersong
is its end and the fact that I don't know what's happening or coming next. I've heard the sequel is a continuation of the story, and I've also heard it's a companion novel (bleh). My complete judgement on the ending is dependent on what exactly is coming next, but I very sincerely hope it's
not
a companion novel. Either way, the ending--which was, like the rest of the novel, hazy with confusion and question marks--did nothing to help
Wintersong
for the better. I won't give anything away, but it's the kind of ending I am extremely unfond of, and if that's it for Liesl's story--well, then.
All that said (and even what I
haven't
said),
Wintersong
does not reside in the Bog of Eternal Stench. I swear, sometimes I can be better at critiquing at a novel then I am at praising it, and that's definitely the case here. A lot of other early reviews have felt about
Wintersong
what I so desperately want/wanted to: they
loved
it. They felt the magic and wonder of it all, while I felt disappointment and confusion and struggled through it all. Perhaps I had put this book on too high of a pedestal and it never stood a chance, and though I do have some interest in the sequel and wonder if this would be more successful a second time around, I must painfully and woefully confess that
Wintersong
didn't move any stars for me.
Did I like it?
To an extent, I guess.
Would I reread it? I would--I wonder if this would be better with a reread and with less pressure.
Would I purchase it? Ehh.
Who would I recommend it to? Lovers of Labyrinth and stories steeped with lore, tales of magical and mystical elements, and new worlds with inhuman characters.

I received a copy of this book in exchange for an honest review.