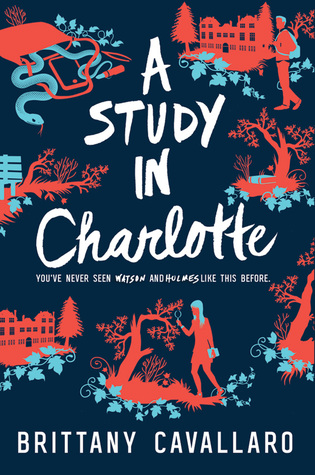 Title
: A Study in Charlotte
Author
: Brittany Cavallaro
Publisher: Katherine Tegen Books
Publishing Date: March 1, 2016
Pages/Format: 321, eARC
Add on Goodreads!
The last thing Jamie Watson wants is a rugby scholarship to Sherringford, a Connecticut prep school just an hour away from his estranged father. But that's not the only complication: Sherringford is also home to Charlotte Holmes, the famous detective's great-great-great-granddaughter, who has inherited not only Sherlock's genius but also his volatile temperament. From everything Jamie has heard about Charlotte, it seems safer to admire her from afar.
From the moment they meet, there's a tense energy between them, and they seem more destined to be rivals than anything else. But when a Sherringford student dies under suspicious circumstances, ripped straight from the most terrifying of the Sherlock Holmes stories, Jamie can no longer afford to keep his distance. Jamie and Charlotte are being framed for murder, and only Charlotte can clear their names. But danger is mounting and nowhere is safe—and the only people they can trust are each other.
Book in One Word: Hmmmmlmes
A Study in Charlotte
. Despite the fact that I'm a fan of mysteries, crime solving, thrillers, fictional murder, and the like, I'm not overly fond of anything to do with Sherlock Holmes and John Watson. I have little experience with their stories--whether it's a movie here or a book there--but what I
have
experienced hasn't had the most positive memories. In short:
Sherlock Holmes
retellings (and originals, probably), just don't work for me. But
A Study in Charlotte
seemed like it might be the exception, and what I'd heard about it didn't seem too shabby, so I gave it a try.
As a mood reader, I have a few methods to determine what I'll read. One of those methods is to read a page or two of a book and see if I want to read more or if I should move on to something else. That's what I did with
A Study in Charlotte
--and that's what got me to keep reading it. The first page immediately pulled me in, its voice and prose being the sort that toots my horn. Unfortunately, that stellar, wow-maybe-I'll-love-a-
Sherlock-Holmes
-retelling writing quickly waned off as the story became
Holmes
-ish.
This is where my problem with
Sherlock Holmes
comes in. I just don't
click
with it--or the Holmes character. I like quirky and weird and off-kilter, but it just doesn't work for me. There's a sort of unrealistic quality with these stories that's lost on me, and that's what I feel, too--
lost
. Things bounce back and forth and all over the place and I struggle to follow along. And the timeline would jump around too, which also drives me bonkers. The characters are able to do things that I find hard to believe, especially here, with teen versions of Holmes and Watson. (I mean, I can't quite believe that the police would let teens assist with a murder investigation like this. It just doesn't seem plausible.) I can do unrealism; I can. But there still needs to be a sense of realism, there needs to be believability--or else I'm losing a connection to the story, and that definitely happened here. Plus, some aspects just felt a little too over the top and a bit much. And there were actually some serious topics here--drug use/abuse/addiction, rape--and I wish they would've been dealt with more seriously instead of being sort of brushed aside.
Aside from issues of credibility and flow and comprehension, I actually
did
like
A Study in Charlotte
, so much so that, once I finished it, I got started on the sequel. There's something about it that's intriguing--and okay, I'm here for the Holmes/Watson romance, and I love that they're actually descendants of the greats--and that keeps you going until the end, even though some things bothered me. I will admit that I expected
more
from this book, but I'll also admit that, as far as
Sherlock Holmes
-related things go, this is probably the best one I've experienced and the only one that I, for the most part, like. (Okay, so I've watched an episode or two of
Elementary
, and I think I liked it.) It's nowhere near enough for me to be a fan of
Sherlock Holmes
--but it's just enough to have me quietly rooting for Jamie Watson and Charlotte Holmes.
Did I like it?
Yes.
Would I reread it? Probably not; I just don't feel the need to.
Would I purchase it? Nah, I think I'm okay.
Who would I recommend it to? Well, I mean, if you fancy Sherlock Holmes then you might fancy this. And if you like mysteries that are a bit cracked out and crazy? Then voila!

I received a copy of this book in exchange for an honest review.