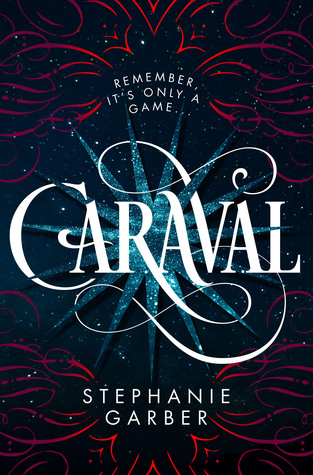 Title
: Caraval
Publisher: Flatiron Books
Publishing Date: January 31, 2017
Pages/Format: 416, ARC
Add on Goodreads!
Whatever you've heard about Caraval, it doesn't compare to the reality. It's more than just a game or a performance. It's the closest you'll ever find to magic in this world . . .
Welcome, welcome to Caraval―Stephanie Garber's sweeping tale of two sisters who escape their ruthless father when they enter the dangerous intrigue of a legendary game.
Scarlett has never left the tiny island where she and her beloved sister, Tella, live with their powerful, and cruel, father. Now Scarlett's father has arranged a marriage for her, and Scarlett thinks her dreams of seeing Caraval, the far-away, once-a-year performance where the audience participates in the show, are over.
But this year, Scarlett's long-dreamt of invitation finally arrives. With the help of a mysterious sailor, Tella whisks Scarlett away to the show. Only, as soon as they arrive, Tella is kidnapped by Caraval's mastermind organizer, Legend. It turns out that this season's Caraval revolves around Tella, and whoever finds her first is the winner.
Scarlett has been told that everything that happens during Caraval is only an elaborate performance. But she nevertheless becomes enmeshed in a game of love, heartbreak, and magic with the other players in the game. And whether Caraval is real or not, she must find Tella before the five nights of the game are over, a dangerous domino effect of consequences is set off, and her sister disappears forever.
Book in One Word: Lackluster
Caraval
is one of those books that, sure, I wanted to read, but I only really
wanted
to read it once I started seeing everyone else want to read it. It's been generating buzz for months with promises of magic and a whirlwind adventure, and I'll admit: I wanted to feel that. I wanted to go to Caraval and experience whatever it was, and I was pulled in by the promises and hype and assurances that it was something fantastic and otherworldly. So it should come of no surprise to anyone to learn that this black sheep reader felt zero magic with this book.
This isn't just one of those cases where I'm the outlier for the love toward a book; I just don't
get
it. I can read a book and see why others may love it and admit that it's good, even if it didn't quite work for me. But with
Caraval
? I don't. For the most part it fell completely and utterly flat for me, and I felt nothing (well, nothing good, anyway) when I finished it. I mean, I can certainly see and say that it isn't a
bad
book, really, but I also can't say that it's some grand and fantasmical story that will sweep you off your feet, either.
While there are myriad things that didn't do it for me in
Caraval
, I think part of the problem is that there wasn't a single element that was strong enough to
grab me
and make me
feel
something for this book, and that consequently took away any chance at redemption. I don't want to use the word "
issue
" because I didn't have
issues
with
Caraval
--it just didn't work for me--but one of my
issues
is the game of Caraval itself. It's not clear and it's too steeped in fact and fiction to have any sense of clarity. Caraval is only a game and none of it's really
real
, except that it is? It felt reminiscent of magical realism, which I do
not
get along with and may have been a problem in and of itself. But if a very large part of the story is a game, then
play the damn game
. So little of the book was about the game and we'd just glance over clues and bounce around from here to there--it was a game created in erasable chalk, not permanently printed on a board. And I thought it'd be more carnival like? Instead I got
Oz the Great and Powerful
vibes for some reason, and those are not good vibes. If the game would've been bigger and clearer and more concrete, then perhaps it would've worked better.
The writing was okay and there were some nice lines here and there, but again--I wasn't head over heels for it. What it ties into is its execution and lack of complete success. (Once again: redemption redemption redemption.)
Caraval
had, oh, four points that could've saved it: the story, the writing, the romance, the characters. And I know I'm being super repetitive, but not one of those four points were strong enough to make me care a whole lot for this book. The characters were very flat and lacked any dimension or traits to give them just
something
. Scarlett wasn't the chosen one and didn't need to be, but there was nothing about her to make her interesting (I mean, she was nice and inherently good and all, which doesn't make her a
bad
character) and being in her head wasn't anything special. I
liked
Julian (and of course I shipped it because romance, but I didn't
ship
it, you know?), but he needed more flesh to make him more, well,
more
. There were some secondary characters that were actually more like extras and background actors than
secondary
characters, and Legend--whether or not we actually meet him--doesn't live up to his name. And I detested Tella and didn't give a shit about her.
A book's big chance at redemption tends to come at the very end. I mean, when you're reading a book you're reading to see how it all ends, right? So you expect the end to be worth the read--it either enhances the good book you've been reading, saves an okay book you've been reading, or hurts a good book.
Caraval
's ending was
not
redeeming, and it's probably my least favorite thing of the entire book. I just...it was all for
that
? And I'm not even talking about
my
experience as a
reader
--I'm talking about
Scarlett
's experience as a person and a player in the game. I'm SORRY, but the ending was
stupid
. It was ridiculous and unrealistic and pulled out of a hat or someone's ass, and I'm just not buying it. I mean,
come on
. NOPE.
I know I've made it sound like I hate
Caraval
, but I don't. I just don't have many
positive
--or
redeeming
--things to discuss about it. And that's a shame honestly, because it had a lot of potential. But with a lackluster execution, magic missing in action, a game that doesn't deliver, flat characters, and a shoddy ending, it's not something that works for me. The good thing is that I'm a black sheep, which means that while
I
didn't care too much for it, most people seem to be very much in love with
Caraval
. Hopefully you'll be one of those people. If not, you can come join my flock. We baa baa over a lot of books (unfortunately).
Did I like it?
Not exactly, but I wouldn't say I disliked it, either.
Would I reread it? I do wonder if a reread would go better, so maybe.
Would I purchase it?
Eh.
Who would I recommend it to? Fans of books with unique settings and concepts, games, hints of magic, and lots of mystery.

I received a copy of this book in exchange for an honest review.