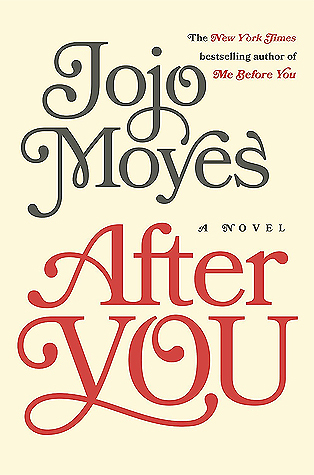 Title
: After You
Publisher: Pamela Dorman Books
Publishing Date: September 29, 2015
Pages/Format: 352, Paperback
Add on Goodreads!
How do you move on after losing the person you loved? How do you build a life worth living?
Louisa Clark is no longer just an ordinary girl living an ordinary life. After the transformative six months spent with Will Traynor, she is struggling without him. When an extraordinary accident forces Lou to return home to her family, she can't help but feel she's right back where she started.
Her body heals, but Lou herself knows that she needs to be kick-started back to life. Which is how she ends up in a church basement with the members of the Moving On support group, who share insights, laughter, frustrations, and terrible cookies. They will also lead her to the strong, capable Sam Fielding—the paramedic, whose business is life and death, and the one man who might be able to understand her. Then a figure from Will's past appears and hijacks all her plans, propelling her into a very different future. . . .
For Lou Clark, life after Will Traynor means learning to fall in love again, with all the risks that brings. But here Jojo Moyes gives us two families, as real as our own, whose joys and sorrows will touch you deeply, and where both changes and surprises await.
Book in One Word: Different
When I told my mother I got the sequel to
Me Before You
(she's seen the film), she very adamantly asked
what the point was
. Because if you've read
Me Before You
(which will definitely be spoiled in this review), you know that the ending was, at least to an extent, pretty final: there was no coming back or reversing some of the decisions made. But with a title like that--with a
before
--then surely there must also be an
after
. And that's precisely what Jojo Moyes brings to the table in this sequel of sorts.
It's been eighteen months (don't quote on me that) since quadriplegic Will Traynor decided to end his life--in which he was
existing
but not
living
--with the help of assisted suicide. It's been eighteen months since the memorable, confounding Will Traynor who stole Louisa Clark's heart was there for her. And so for eighteen months Louisa has been existing, but not exactly living, as she tries to uphold promises she made to Will before he died. But when she has an accident of her own and a figure from Will's life unexpectedly shows up, Louisa's life becomes a little something more--and she begins to find meaning and reason to it.
While
Me Before You
was more about falling in love--not just with people, but with life--and choosing to live,
After You
is more about grief and the repercussions and aftermath after someone you love dies. The interesting thing is that, even with constant mentions of Will Traynor and what happened in the first book, I honestly think
After You
is less a sequel and more a companion novel. What I mean by that is that you could probably read
After You
without reading
Me Before You
and be fine. You'd be missing the emotional connection to Will (and the first book definitely has more of an emotional factor) and the change in characters (namely Louisa), but I think you'd be okay.
I also say that
After You
could read like a standalone because it's very different from
Me Before You
. To tell you the truth, I constantly forgot that I
was
reading a sequel. Everything's just so different: less emotion (or emotion in different places), different mood and tone, different story, and
Louisa
. The post-Will Louisa is such an altered person. She's less perky and quirky, doesn't wear fun dresses or bumblebee tights. But it's not just for the sake of the book--grief and loss and death changes more than just the person who died. It has a lasting effect on the deceased's loved ones, and it's very evident in Louisa, among other characters.
I most definitely
liked
this book--and it seems that the adult category has been tooting my horn lately--but I think it's best judged separately from its predecessor. Like I said,
After You
is just
different
in so many ways, and
Me Before You
was filled with so much emotion and that clouds a lot of things. But again, I really did like
After You
! It was a compelling story that I actually
wanted
to read, and even though I have a few critiques--I wish some characters felt more primary than secondary, and there were a few scenes that felt a little out there and over the top and slightly ridiculous and somewhat unbelievable--it was definitely good. I'd also like to add that at the end of my copy of
After You
there's a conversation with Jojo Moyes, and she mentioned that she had an idea for making this duology a trilogy, if readers want it. And while I'm not sure what a third book would even
be
about--at least pertaining to one of the pivotal points of the first two books, which is Will--I would just like to say YES PLEASE I AM FOR HERE THAT. As long as a certain paramedic is very, very present.
Did I like it?
Yes!
Did I love it? Not quite.
Would I reread it? Definitely a possibility.
Would I purchase it? I bought it just so I could read it.
Who would I recommend it to? Fans of adult contemporaries in general, but I'd definitely suggest reading this is if you read Me Before You.