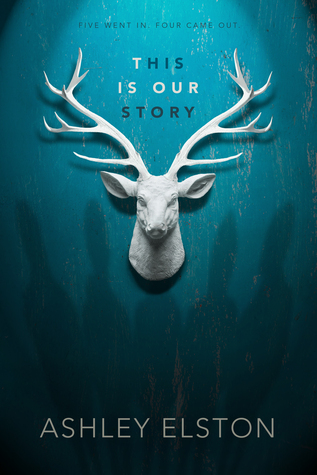 Title
: This Is Our Story
Publisher: Disney-Hyperion
Publishing Date: November 15, 2016
No one knows what happened that morning at River Point. Five boys went hunting. Four came back. The boys won't say who fired the shot that killed their friend; the evidence shows it could have been any one of them.
Kate Marino's senior year internship at the District Attorney's Office isn't exactly glamorous—more like an excuse to leave school early that looks good on college applications. Then the DA hands her boss, Mr. Stone, the biggest case her small town of Belle Terre has ever seen. The River Point Boys are all anyone can talk about. Despite their damning toxicology reports the morning of the accident, the DA wants the boys' case swept under the rug. He owes his political office to their powerful families.
Kate won't let that happen. Digging up secrets without revealing her own is a dangerous line to walk; Kate has her own reasons for seeking justice for Grant. As she and Stone investigate—the ageing prosecutor relying on Kate to see and hear what he cannot—she realizes that nothing about the case—or the boys—is what it seems. Grant wasn't who she thought he was, and neither is Stone's prime suspect. As Kate gets dangerously close to the truth, it becomes clear that the early morning accident might not have been an accident at all—and if Kate doesn't uncover the true killer, more than one life could be on the line…including her own.
worried
about this book. Sure, it had a lot of things going for it: a synopsis that called to me (thrills, mystery, suspense, and murder, oh my!), a cover with antlers on it (I
love
antlers), and, most importantly, it's by Ashley Elston. I've been a fan of Ashley's since reading her debut
The Rules for Disappearing
over three years ago (and staying up way, way too late reading it, I might add), and I've been waiting for more of her words to eat up. So
This Is Our Story
came along, Ashley sent me an ARC (I'm the official unofficial co-captain of her fan club), and I couldn't help but be a bit worried: with all the book had going for it--and all I hoped to glean from it--what if I didn't love it?
It might be worth noting that Ashley is one of my friends, so there was that extra pressure that comes with reading a friend's book: you
know
the author, so you feel like you
have
to like the book. There's almost so much forcing you to like the book that you
can't
. So let me tell you about my reading experience with
This Is Our Story
. I read it in one sitting, starting it at 8:38 p.m. and finishing it five hours later at 1:43 a.m. (Wow, Rachel, way to be specific.) Those two things
rarely
happen: me reading a book in one sitting, and me reading a book
so fast
. I'll be honest: I
devoured
it. That's because this book was
that good
. Everything it has going for it?
Goes for it.
This Is Our Story
is a story about a story that's trying to be told and solved. Five River Point boys--and best friends--went hunting, but only four returned. There's a big question in town: who killed Grant? And Kate--who just happens to have an internship in exactly the right kind of place--knew Grant and is desperate to solve the mystery. So the story is, like I said, trying to
find
the story: who's the killer? Kate transforms into a sort of Nancy Drew character, cutting corners, breaking rules, and doing whatever it takes to identify the killer. But if you know Nancy Drew or any problem-solving guru, you know that the path to the unsub is riddled with twists and turns and turmoil. (And, okay, maybe sometimes things seem just a little too easy or convenient--I'll admit that I wondered at how much Kate could really
do
at her internship and with a murder case--but whatever, I don't really care.) We, the reader, get to figure it all out along with Kate, and it makes for an exciting, thrilling ride with lots of toe-curling, butterfly-fluttering, oh-my-gosh moments. (Which are the
best
.)
If you happen to watch my
early review of This Is Our Story
you'll actually
see
me freaking the hell out over this book. (That review, by the way, is much better at showing my feelings for this book than
this
shitty one is.) I was pulled in from page one and didn't leave after turning the last one.
This Is Our Story
has so many elements that make the book
work
, and it kept me guessing until the very end. This book also just happens to have the best text messages in the history of ever, and
something
happens that literally had me rolling around like a potato bug and screaming. (I'm one-million percent serious. I flipped my shit.) The thriller genre is one of my favorites, but it's also one I don't read enough of.
This Is Our Story
fits into it well, and the prose is done in a way that keeps the darkness from feeling
too
dark, while still packing on the feels and squeals. You know...I think my foray into thrillers--the beginning of my never-satiated hunger for books with peril and suspense and mystery--may have begun with
The Rules for Disappearing
. But it certainly doesn't end here.
I can't say too much about
This Is Our Story
for two reasons: one, because it's the kind of book that you have to be careful talking about because of spoilers, and two, because I read it nine months ago and made the mistake of waiting nine months to write about it. (Whoops.) Just know that Kate is a strong, determined character set on telling a story and all the narratives in between, and that there are
other characters too
, but my lips are sealed. Aaand it just so happens that
This Is Our Story
has a very high chance of being one of my top ten books of the year. It's got so many elements that are combined so well, and it's a page turner that will keep you on your toes as you try to figure out
who the hell did it
. I love books like this, and I want
more
. The only downfall is that I'm now stuck waiting, once again, for another Ashley Elston book.
Did I like it?
Yes!
Did I love it? Pretty much.
Would I reread it? Yesss.
Would I purchase it? YES, and not just because it has antlers on it and because my name is in the acknowledgements (wink wink).
Who would I recommend it to? Lovers of thrillers that are a good mix of light and dark without being too heavy either way (but the darker, edgier, no-delicacy-here parts are still there), stories with text messages (trust me, you'll want a book of just them), and books that are unputdownable, suspenseful, and, well, good.

I received a copy of this book in exchange for an honest review.