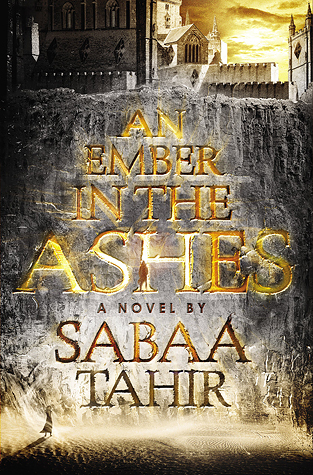 Title
: An Ember in the Ashes
Publishing Date: April 28, 2015
Laia is a slave.

Elias is a soldier.

Neither is free.

Under the Martial Empire, defiance is met with death. Those who do not vow their blood and bodies to the Emperor risk the execution of their loved ones and the destruction of all they hold dear.

It is in this brutal world, inspired by ancient Rome, that Laia lives with her grandparents and older brother. The family ekes out an existence in the Empire's impoverished backstreets. They do not challenge the Empire. They've seen what happens to those who do.

But when Laia's brother is arrested for treason, Laia is forced to make a decision. In exchange for help from rebels who promise to rescue her brother, she will risk her life to spy for them from within the Empire's greatest military academy.

There, Laia meets Elias, the school's finest soldier—and secretly, its most unwilling. Elias wants only to be free of the tyranny he's being trained to enforce. He and Laia will soon realize that their destinies are intertwined—and that their choices will change the fate of the Empire itself.
Book in One Word: Like
An Ember in the Ashes
and its ancient Rome-esque world, I wanted to read it. The hype and reviews were praising it too, so I could only hope that it would work out for me as well. But it ended up being one of those books that fell farther and farther down the TBR pile until it got so far down that I still wanted to read it but I had no idea
when
. Fortunately, the release of the sequel and a Seattle tour stop (which I ended up having to miss) came along, and just like that
An Ember in the Ashes
hit the tippy top of the TBR pile. Unfortunately, that's all it's at the top of for me.
"Baa baa black sheep, have you any wool?" "Yes sir, yes sir, three bags full."
I mean, I really should've known better. It's a rare occasion when I read a hyped book and believe the hype. This is not one of those occasions. Now don't get me wrong or sharpen your pitchfork--I liked
An Ember in the Ashes
! I did! It's just that I was hoping to get more from it--feel more for it--and not getting those was a letdown. And when everyone loves something you want to love it too and join the party, and I'm just sitting on the sidelines for this one.
While I can't say I ever really pictured "ancient Rome"--or any version of Rome--while reading this, I still found the setting to be sort of refreshing. I feel like a lot of fantasies are told through a darker lens, if that makes sense? Though
An Ember in the Ashes
certainly isn't
cheery
, I'd say it was lacking that dark lens and went for a lighter, brighter one for certain locations of the story, and I
liked
that. Like I said, it makes it all feel sort of refreshing, and I like desert-ish settings. And it's helpful for controlling the mood when the majority of the book is set in Blackwell Academy, where children are honed into fine-tuned warriors to serve the Empire--and it features a lot of brutality. Though light in its setting and writing,
An Ember in the Ashes
is dark with blood and harshness in several aspects of the story and doesn't really shy away from it. And I
like
reading about that kind of stuff.
I'm not quite sure where and why this book didn't do it for me. It's told from the points of view of Laia (a slave) and Elias (a solider), and while I didn't
dislike
either of them, I didn't wholeheartedly care about either of them, either. Elias is definitely the more bearable one, the one with the more interesting story and whose character is more solid. Laia...she's not annoying, but her random bouts of ferocity didn't mesh well with the rest of her actions and thoughts and ended up seeming out of place. I
was
fond of Keenan, but I really couldn't give a rat's ass about Helene. (I'M SORRY.) But the romances were confusing. I thought there was a solid ship going into this, but I was
wrong
. I didn't know what the endgame was supposed to be and I liked both of Laia's potential ships, buuut her feelings grew a little too quickly for my tastes.
As you can tell by my obvious eloquence, this review is a doozy. I just don't have that much to say about
An Ember in the Ashes
, and that just kind of sucks because I was really hoping it would sweep me off my feet and instead it barely budged me. Sure, it had its intense and gripping scenes, and some definite surprises--and as a whole, I liked it!--but something just didn't click with me. As far as fantasies go I'd dub this a lighter one that isn't as dense as some others, and I do enjoy reading that kind of fantasy book. They just have to do enough for me to fall in love with them, and
An Ember in the Ashes
failed to light the spark.
Did I like it?
Yesss.
Would I purchase it? I already have it, but I wouldn't need it if I didn't.
Who would I recommend it to? Fans of fantasies set in a refreshing location with a harsh world.

I received a copy of this book in exchange for an honest review.