I fell behind on blogging this month with the combination of my Throne of Glass reread (which I spent all my time doing) and the death of my laptop charger, but things should be back on track this month. I've been reading more, too, which very much pleases me! And I plan to do more posts and do something fun for Halloween, so I'm excited!
Crown of Midnight by Sarah J. Maas
Heir of Fire by Sarah J. Maas
Queen of Shadows by Sarah J. Maas
Empire of Storms by Sarah J. Maas
A Torch Against the Night by Sarah J. Maas
Velvet by Temple West
Blood and Chocolate by Annette Curtis Klause
Magnolia by Kristi Cook
Glass Houses by Rachel Caine
The Dead Girls' Dance by Rachel Caine
Midnight Alley by Rachel Caine
Ruin and Rising by Leigh Bardugo
Six of Crows by Leigh Bardugo
Feast of Fools by Rachel Caine
Reviews
Book of the Month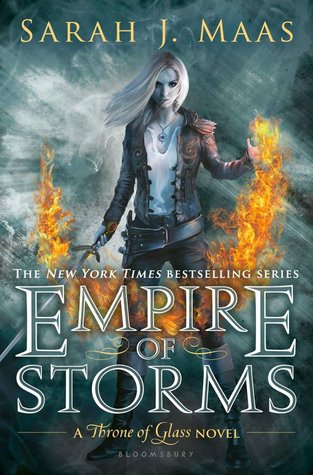 Not including rereads, and despite the fact that this book wasn't my favorite and I don't know how I feel about it and I'm still putting off writing a review, I'm going with
Empire of Storms
because how can I not?
Book Haul
It's an empire of a haul!
Currently Reading
I'll be spending the month working on my reread of the Morganville Vampires series (four down out of fifteen--sixteen if you include Midnight Bites), mood reading, catching up on some review books, and maybe finally making a dent in The Secret History--oh, and I'd love to read some books that are perfect for the Halloween season!
Currently Watching
I haven't been watching much TV since that digs into reading time, but I need to seriously catch up on Once Upon a Time, Fear the Walking Dead, The Strain, Poldark, Teen Mom OG, and who knows what else.
Currently Listening To
How did blogging go for you this September?