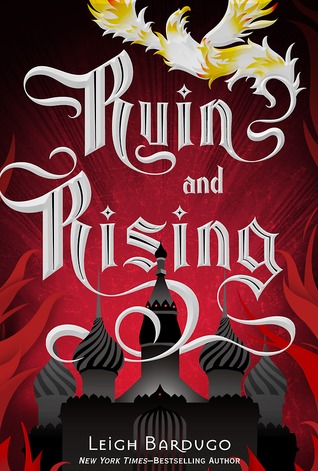 Title
: Ruin and Rising
Publisher: Henry Holt and Co.
Publishing Date: June 17, 2014
The capital has fallen.
The Darkling rules Ravka from his shadow throne.
Now the nation's fate rests with a broken Sun Summoner, a disgraced tracker, and the shattered remnants of a once-great magical army.
Deep in an ancient network of tunnels and caverns, a weakened Alina must submit to the dubious protection of the Apparat and the zealots who worship her as a Saint. Yet her plans lie elsewhere, with the hunt for the elusive firebird and the hope that an outlaw prince still survives.
Alina will have to forge new alliances and put aside old rivalries as she and Mal race to find the last of Morozova's amplifiers. But as she begins to unravel the Darkling's secrets, she reveals a past that will forever alter her understanding of the bond they share and the power she wields. The firebird is the one thing that stands between Ravka and destruction—and claiming it could cost Alina the very future she's fighting for.
Book in One Word: Surprising
Ruin and Rising
with a lot of hesitance: I liked
Shadow and Bone
okay (maybe I should note that these were my pre-fantasy days), but
Siege and Storm
was a struggle (and, I think, one of the very, very few books I've rated less than three stars). (I'm too nice,
okay?
) At the time of
Ruin and Rising
's release I
did
want to read it, and there was a certain point in the book that had
everyone
on Goodreads flipping their shit--and I wanted to know why. But I never got around to it, and I never really expected much from it and feared that reading it would be headache inducing because I got to the point where I never really
wanted
to read it. (And if I don't want to read something then it's not going to go over smoothly.) I did, however,
want
to read Bardugo's
Six of Crows
--and I didn't want to be spoiled for anything that might have happened in
Ruin and Rising
. So I finally made myself read it, and you can color me
surprised
.
I
liked
this book. I
liked
it. It took me a few pages to get into it, but once I did it was going surprisingly--and swimmingly--well. I'm not saying I understood everything that was going on and that I knew who every character was, but that's beside the point. I thought I was going to have to
force
myself to read this and suffer through every single page,
but I didn't
. Despite the heaviness in the world building and all it encompasses,
Ruin and Rising
felt rather light--and I think that was super beneficial. It wasn't perfect, and the ending was too open-ended and quick for my tastes (also, the way the prologues and epilogues are written utterly befuddles me), but something about this still
worked
--at least for me--and I am
pleased
. (And the romance went my way, so that's an added bonus.)
This is going to be a shorter review since I don't want to go into detail about what
Ruin and Rising
's about (and I'd probably butcher it anyway), but this book could easily be summed up with the word
surprising
.
Surprising
because I hadn't expected to like it so much--or at all, if I'm being completely honest.
Surprising
because I was reminded of other characters I cared about besides just Nikolai (
Siege and Storm
's saving grace).
Surprising
because I was filled with emotions and shed a few tears over things that happened and because I was hit a bit with the Series Finale Blues. (I
hate
those.)
Surprising
because, at the end of it all, I was sad it was over--and I wanted
more
. Alina Starkov's journey wasn't the nicest, and it was filled with a hell of a lot of downs, but still some ups--and I'm happy that I got it to take it along with her and her friends. (Though I still don't understand the obsession with the Darkling.)
Did I like it?
Yes!
Would I reread it? Honestly? I might reread the whole series someday. I might like it more--and better--a second time around.
Would I purchase it? Already did, but if I hadn't I wouldn't be rushing to get it.
Who would I recommend it to? Fans of high fantasy written with a sort of light eloquence, new and unique worlds, a large, eclectic cast of characters you care about, and stories that just might surprise you.