Gather around, morsel mortals! Welcome to Don't Look Behind the Bookshelf, a (typically) annual Halloween feature here on Beauty and the Bookshelf. What Don't Look Behind the Bookshelf entails varies from year to year so that, like a haunted house, you never know what to expect. It is, however, always comprised of two things: it's Halloween and it's bookish.
This year Don't Look Behind the Bookshelf encompasses one of my favorite aspects of Halloween:
dressing up
. Am I the only one who sees things in a store and is reminded of a book, or thinks that a certain character would totally wear that shirt? What about actually
dressing up
as your favorite characters? HELLO, BOOKISH HALLOWEEN. Cosplays, costumes, whatever--either way, you can dress up as--you can
be
--characters from books. And for Don't Look Behind the Bookshelf, I'm going to do just that: put together a series of character costumes (complete with lists of where you can buy everything)
just for you
. I'll be doing female versions of all the costumes, buuut they can also all be gender-swapped (or some may
be
gender-swapped), which is super fun! Check it all out...if you dare. (Insert evil villain laugh here, mwahaha.)
Today's costume is...
Manon is from Sarah J. Maas's Throne of Glass series and the leader of the Thirteen, a clan of Ironteeth witches who are the fiercest around. She's also the most badass witch in the history of ever, has iron teeth and claws, and will gut you and enjoy the taste of your blood. She's a
weapon
, and she rides Abraxos, a not-to-be-underestimated wyvern who's basically Toothless. And you can be her for Halloween (or life) with the following supplies:
You've got your Manon basics: the hair color and the iconic red cloak. (I'd also recommend wearing black basics: shirt, pants, and boots.) Then you've got a sword--Windcleaver--badass nails as iron substitutes, and some gold eyes if you want to go that far. What may be throwing you off is the moldable plastic, but that's what you'll need if you want to make
teeth
. (Or if you can find teeth you like that aren't a million dollars, that works too. I struggled to find teeth that worked for me and this costume.) I'd recommend following
this video
for some pretty cool teeth. You can definitely pull Manon off with just the cloak and hair, but if you want to do
more
, voila!
Also, fun fact--and horrible picture: I cosplayed Manon at ECCC earlier this year.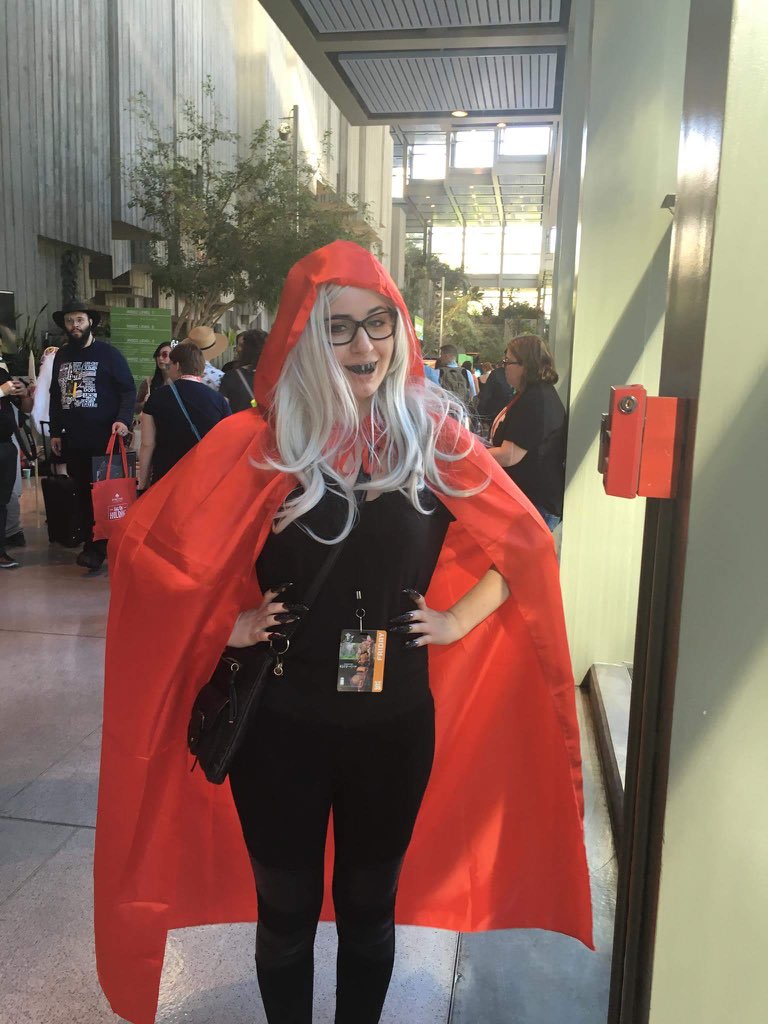 Fancy being a different--or
wrong
--kind of witch this Halloween?
BEFORE YOU GO...it's not really Halloween without some
trick-or-treating
, it? So I have a treat for you:
a giveaway
. One lucky winner will get their choice of a hardcover or paperback copy of
any book
that has a character featured on Don't Look Behind the Bookshelf. Enter if you dare, my beasties! (But
beware the very important rules
.)
-This giveaway is international (so long as The Book Depository ships to you for free).
-No cheating or bending the rules whatsoever.
-No private accounts, giveaway accounts, shady entries, or the like. I check. And if the majority of your account is giveaway after giveaway your entry will not be accepted. Also, one-word, meaningless comments are not preferred (hint hint).
-Winner will have 48 hours to respond to my congratulatory email or else another winner will be chosen.
-I reiterate: no cheating.
a Rafflecopter giveaway