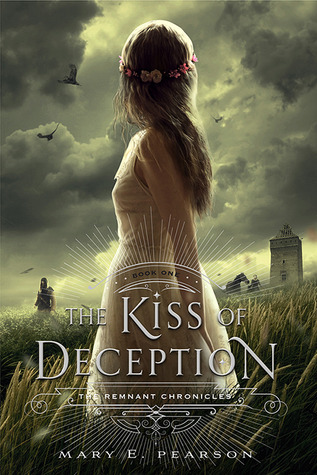 Title
: The Kiss of Deception
Publisher: Henry Holt & Co.
Publishing Date: July 8, 2014
Pages/Format: 486, Hardcover
Add on Goodreads!
A princess must find her place in a reborn world.
She flees on her wedding day.
She steals ancient documents from the Chancellor's secret collection.
She is pursued by bounty hunters sent by her own father.
She is Princess Lia, seventeen, First Daughter of the House of Morrighan.
The Kingdom of Morrighan is steeped in tradition and the stories of a bygone world, but some traditions Lia can't abide. Like having to marry someone she's never met to secure a political alliance.
Fed up and ready for a new life, Lia flees to a distant village on the morning of her wedding. She settles in among the common folk, intrigued when two mysterious and handsome strangers arrive—and unaware that one is the jilted prince and the other an assassin sent to kill her. Deceptions swirl and Lia finds herself on the brink of unlocking perilous secrets—secrets that may unravel her world—even as she feels herself falling in love.
Book in One Word: LIKE
Mary E. Pearson coming to town for her
The Beauty of Darkness
tour was my perfect excuse to finally pick up
The Kiss of Deception
, the first book in her Remnant Chronicles trilogy (with
Beauty
being the finale).
The Kiss of Deception
is a novel I've been wanting to read for some time, since I'm a fan of fantasy and romance and a lot of people really
love
this series. I went into it expecting something amazing and
really damn good
, and I hoped that I would love it and want to treasure this series. And, well. There's a
well
.
Here's the deal: this may end up sounding like a negative, I-did-not-like-this-book review. But here's the other deal:
I liked this book
. In terms of fantasy,
The Kiss of Deception
was light on it, and I wouldn't call it a
fluffy
or
meaningless
fantasy, but I
enjoyed reading it
. I was never all, "
Ugh, I hate reading this.
" I
did
wonder what all the fuss was about--I really didn't find this amazing or worth all the hype. So I'm just going to get my commentary out of the way. But remember: I LIKED THIS BOOK.
The thing about
The Kiss of Deception
is that it was lacking in a plot. I kept struggling to figure out what it was about, what the goal was, what was meant to be accomplished by the time it ended. I realized that if someone were to ask me what this book was about, I wouldn't know how to answer them. I imagined taking an English test and being asked what
The Kiss of Deception
was about and how I could bullshit my answer because I didn't know what to say. I could tell you that
The Kiss of Deception
is about a princess who doesn't want to be trapped in an arranged marriage so she runs away and lives life as a tavern maid in a small town while battling the affections of two mysterious and handsome young men (more on
that
later). But after that?
I don't know
. I didn't know what I wanted to happen because I didn't know what was
supposed
to happen. What was the plot? What was the goal? Where was the story going?
The Kiss of Deception
essentially has five points of view and then some: Lia (our feisty runaway princess protagonist and main character), Rafe, Kaden, the Assassin, and the Prince. And then there are snippets from various bouts of histories (more on that later, too). There's an air of mystery to the story because, between Rafe and Kaden, one is the assassin sent to kill Lia and one is the prince who was supposed to marry her--but we don't know who's who. (Possible spoiler alert, but I'm still flabbergasted that my guess was
wrong
.) That can't be the plot though, because it's a mystery to the reader but not to Lia and her story. She just thinks Rafe is Rafe and Kaden is Kaden; she doesn't know there's an assassin and a prince in her midst.
And speaking of romance, well...There was no build up to it. This may be a bit of a spoiler, but I'm guessing you could kind of call it instalove? I mean, Lia interacts with the guy like three times and then suddenly they're basically in love? I need more tension and more build up. I need to
see
and
feel
that romance blossom into something stronger, or else I'm struggling to be all shippy about it. There just wasn't enough...
stuff
there to create a strong romance--on either guy's part--and make it into this big sweeping thing that has me fighting for them to be together. Give me more. Alsooo...I wouldn't exactly call it a love triangle.
Basically I just had a problem with
The Kiss of Deception
's romance and (lack of) plot and am rather baffled at the hype and praise this series gets. But, like I said--I
liked
reading this book. I
wanted
to read it. Despite technical and internal issues, the writing was actually really good. Although I will say that I had a hard time understanding the histories/snippets interspersed throughout, and that if they're an important of the story I'm definitely going to miss some connections because I couldn't really follow along. (Maybe I could've/should've tried harder?) And Lia is a strong and fierce protagonist who's not a fan of taking people's shit--and won't take it. What I like about
The Kiss of Deception
is that I liked and wanted to read it. There's something about it that really, really works, even though it has some debatably major kinks to work out. A lot of times I can read a book like this--one with problems and that is short of spectacular--and it makes my heard hurt because I don't really
enjoy
reading it and that's never really any fun. But not
The Kiss of Deception
--no head hurting here. And I find that interesting.
Even though
The Kiss of Deception
wasn't what I had expected, I can't really say that I'm disappointed. I don't
feel
disappointed. Sometimes you read a book and you like reading it and you enjoy reading it and that's enough. So
The Kiss of Deception
was enough, I think. Sure, it needs some polishing as far as romance and plot go, but like I said--it's enough. I can watch a show or movie that's far from perfect and still really like watching it--and the same goes for reading books. I do, however, hope that
The Heart of Betrayal
sees some improvements. And after
The Kiss of Deception
's ending? I think we might be getting somewhere.
Did I like it?
Yes.
Would I reread it? ...Maybe?
Would I purchase it? I already own it, but if I didn't I can't say I'd be needing it anytime soon.
Who would I recommend it to? Readers who like lighter fantasies with a sense of mystery and mix of (fictional) history, romance, and books that are just plain enjoyable and breezy to read.