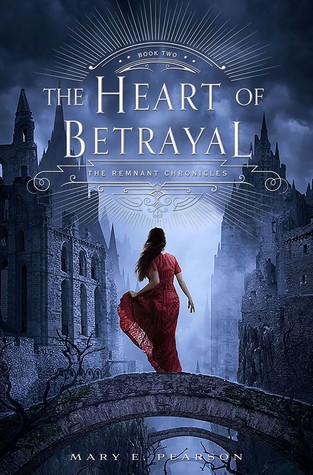 Title
: The Heart of Betrayal
Publisher: Henry Holt & Co.
Publishing Date: July 7, 2015
Pages/Format: 470, Hardcover
Add on Goodreads!
Held captive in the barbarian kingdom of Venda, Lia and Rafe have little chance of escape. Desperate to save Lia's life, her erstwhile assassin, Kaden, has told the Vendan Komizar that she has the gift, and the Komizar's interest in Lia is greater than anyone could have foreseen.

Meanwhile, nothing is straightforward: There's Rafe, who lied to Lia but has sacrificed his freedom to protect her; Kaden, who meant to assassinate her but has now saved her life; and the Vendans, whom Lia always believed to be savages. Now that she lives among them, however, she realizes that may be far from the truth. Wrestling with her upbringing, her gift, and her sense of self, Lia must make powerful choices that will affect her country... and her own destiny.
Book in One Word: Like!
The Kiss of Deception
I almost immediately picked up
The Heart of Betrayal
, eager to learn what would happen next.
The Kiss of Deception
(which will be
spoiled
in this review, fair warning) was a lighter fantasy and an overall enjoyable read, despite its issues. I hoped that its sequel would develop more of a plot and show me why so many people rave about this series. And though I still don't see the love for this series,
The Heart of the Betrayal
was definitely an improvement and brought more to the table.
(
Spoilers for The Kiss of Deception ahead, beware!
)
The Heart of Betrayal
picks up right where
The Kiss of Deception
left off, with Lia and Rafe being brought by Kaden as prisoners into the barbarian kingdom Venda. It's there that we meet the Komizar, the harsh ruler of Venda, and see what he has in store for Lia--who he supposes has the "gift"--and Rafe--who's masquerading as the prince's emissary. Lia's stuck in a rut, pretending she hates Rafe--who's there to rescue her--pretending she doesn't hate Kaden--and maybe she really doesn't--and making sure she pleases the Komizar so she doesn't lose her head. But Lia learns something while in Venda: not everyone is a barbarian, and some of these people--and this place--may be
hers
.
What I liked about
The Heart of Betrayal
was its new setting.
The Kiss of Deception
wasn't
slow
, but it was building up to something--what that is, I didn't know. But in
Heart
stuff is actually happening. Characters are filled with lies in order to save their lives and those of the people they care about. I'm still not sure what exactly the "gift" is that Lia is supposed to have, but that--and all the histories--are a bit more fleshed out here. While
The Kiss of Deception
lacked a goal,
The Heart of Betrayal
's is clear from the start: get Lia and Rafe out of Venda. But that goal gets muddied as other people get involved and intentions become unclear. For the story is no longer just about Lia, Rafe, and Kaden--it's about all the kingdoms, good versus evil, and the truth of the Remnant's history.
Lia reminds me of Celaena Sardothien, but Celanea doesn't bother me. Sometimes Lia can be just a
bit
much. I get that she's headstrong and stubborn and fights to be her own person and take care of herself, and I get that she's pissed and hurt, but I feel like whatever level she's on needs to be taken down a notch. Then there's Rafe and Kaden. I'm still not sold on the romance in this series--I need to feel the connection between the two people, and the build up to it never happened--but I like both her options. The problem is that I'm going to feel bad for whoever Lia doesn't end up with. Here's the deal though: I wouldn't really call this a love triangle. Both guys love Lia, and she cares for both of them--but in different ways. (In
The Kiss of Deception
, I liked the assassin and Rafe. Which is funny, because they're two different people. Buuut I think I'm leaning toward Kaden.) Both are tough and tender, though Kaden's edges are a bit softer--and Rafe didn't take her as a prisoner. Like I said: they both want Lia and I'll feel bad for whoever doesn't get her. Lastly is the Komizar, a villain of sorts who sits on a throne built on death and blood, and who runs Venda on fear and strength. As a villain, I like him, As a person... not so much.
I'll be honest: I liked this book, but this review is a struggle. So just know that
The Heart of Betrayal
is a good (improvement of a) sequel filled with heart and betrayal and plot twists. And as far as the events of this series goes,
shit is just getting started
. This may not be my favorite series and I may not love the books but when I'm reading these books
I just want to read them
.
The Heart of Betrayal
was a great mix of action, deceit, romance, and suspense, and, also, THAT ENDING. People had to wait a YEAR to see what happened after that? I'm sorry. Truly, I am. But now you know: if you're going to read
The Heart of Betrayal
, make sure you have
The Beauty of Darkness
ready to go the second you finish. Trust me.
Did I like it?
Yes.
Would I reread it? Possibly.
Would I purchase it? I already own it, but if I didn't I wouldn't be needing it.
Who would I recommend it to? Fans of The Kiss of Deception (duh) and lighter fantasies with mystery and romance.