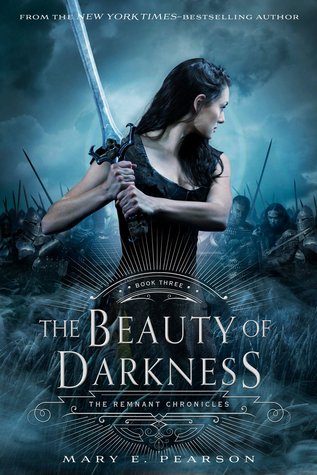 Title
: The Kiss of Deception
Publisher: Henry Holt & Co.
Publishing Date: August 2, 2016
Pages/Format: 688, Hardcover
Add on Goodreads!
Lia and Rafe have escaped Venda and the path before them is winding and dangerous - what will happen now? This third and final book in The Remnant Chronicles is not to be missed.
Bestselling author Mary E. Pearson's combination of intrigue, suspense, romance and action make this a riveting page turner for teens.
Book in One Word: ENJOYABLE
The Heart of Betrayal
was
rude
, and, if you're like me and binged the series around when
The Beauty of Darkness
published, you picked up that bigass brick of a book
the second after
you finished book two, even if it was after midnight. (And for those of you who had to wait a year to pick up
The Beauty of Darkness
: I feel for you.) But there's one other thing about
The Beauty of Darkness
that's rather important: it's a series finale.
I went into the Remnant Chronicles expecting to be wowed, hoping to find a fussed about fantasy series where the hype was right, like the Fire and Thorns trilogy (my
gosh
, that trilogy). So when I read
The Kiss of Deception
I was a little confused: everybody
loves
this? It's not that it was bad or that it wasn't good. I just wasn't wowed or blown away, and I had an issue with the romance and found the plot to be rather nonexistent. But here's the kicker: none of that really bothered me and I really
enjoyed
reading it.
The Heart of Betrayal
saw vast improvements, but again, I was blind to the love--and again, I
enjoyed
reading it. So all that's left is
The Beauty of Darkness.
To sum this lighter fantasy series up in a word, I'd say
enjoyable
. Because that's exactly what it is. It's missing a wow factor, the romance doesn't show enough passion for my tastes (but I still like it), and I realized in
The Beauty of Darkness
that sometimes the story just seems kind of ridiculous or a bit much. I think the center of that ridiculousness is Lia, who's a force to be reckoned with but is sometimes
too much
and maybe borders on being unlikable and unrealistic. It didn't
bother
me. Like I've said, I really enjoyed reading this series and I immersed myself in these books and I really truly
wanted
to read them. But they don't sweep me off my feet, and it's like the story is on a certain level but would be better if it went up a level or two. Does that even make sense? If it helps, I'm not even sure if it makes sense to me.
The Beauty of Darkness
picks up right where
The Heart of Betrayal
left off (and aye, there be
spoilers for the first two books ahead
): Lia, Rafe, and Rafe's motley crew have escaped Venda, but not without some hitches. Lia's been shot with two arrows, her and Rafe fell overboard, and the two are separated from Rafe's crew--and Lia's half dead. (
Spoiler
, but, like, we all knew she wouldn't die at the beginning of the novel, right? We're going to go with that because otherwise this review would end here.) As the story progresses...damn, this might be spoilery.
If you want to know nothing about the three main characters, skip to the next paragraph.
So, okay, obviously we see Kaden again, and he's all heart eyes for Lia, but Lia's pining for Rafe, but the lovers have a quarrel: they need to return to their respective kingdoms and can't go together. Here's where Rafe's attitude pisses me off a bit and I'm like
no, asshole
(and maybe thinking of Tamlin the Tool) and I'm once again leaning toward Kaden, though I'm wondering if my cause is hopeless. The story continues, blah blah blah, and war is on the horizon. Kind of hard for Lia to protect Morrighan, though, since she's wanted and seen as treasonous as hell. But if there's one thing this series is big on, it's deception, and it's happening all over the place. Aaand I think that's it for possible spoilers.
I would just like to say one thing: there is a possible romance here and I CALLED IT IN BOOK ONE I DID. Lia, Rafe, and Kaden are all fighting for their own people and all of the kingdoms, and it's no easy ride. Lia is
strong
and
fierce
and holds the weight of the world on her shoulders, but she acts like it's weightless. Rafe is a shield with a heart that beats for Lia--and she's his weakness--while I've seen Kaden as softer and sensitive but still with the ability to kick some ass. What's lovely about these novels is there will be like two hundred pages left and you're just like WHAT ELSE COULD POSSIBLY HAPPEN WHAT MORE IS THERE HOW WILL THIS END? And I love how I never know how these books will end. They're a mix of battle and heart, love and deception, and it's a joy to read. Some things--maybe just one thing--felt a bit quick, and I wish some
things
didn't happen, but whatever. I
don't
know how I feel about that ending, but it's definitely
something
. (I'd also just like to say how I like, in a way, how romance is handled in this book: it's front and center, but it's also not. And it's about more than the heart shared between two lovers--it's the heart of the world.)
When I closed
The Beauty of Darkness
and read those dreaded two words at three in the morning, I was surprised to feel, well,
feels
. I'd spent a week with my nose in this world and with these characters and suddenly my nose was flicked away and it was
over
. I was sad
and
it gave me a book hangover. Color me surprised, but the Remnant Chronicles gave me the End of Series Blues. WELL THEN. Despite this series totally
not
being what I had expected or hoped for, I can't exactly call it a disappointment--I really did enjoy reading it. And I wouldn't mind another novel with the same characters, please and thank you. Farewell, warriors and lovers of the Remnant Chronicles. Oh, wait. Just
one
more thing. TELL ME THAT'S PHOEBE TONKIN ON THE COVER, RIGHT? RIIIIIGHT?
Did I like it?
Yes!
Would I reread it? It's a possibility.
Would I purchase it? I already own it, but if I didn't I wouldn't really need it.
Who would I recommend it to? Fantasy lovers who like they're fantasy light, romance heavy, and can appreciate strong, fierce characters and a story riddled with conflict and wondering how the hell is everything will come together nicely.