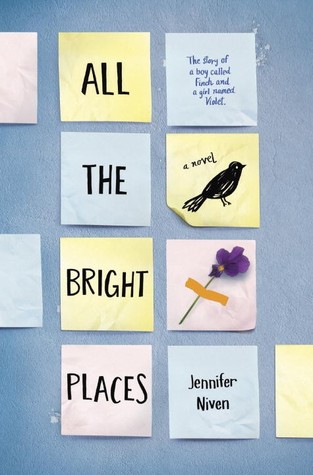 Title
: All the Bright Places
Publishing Date: January 6, 2015
The Fault in Our Stars meets Eleanor and Park in this exhilarating and heart-wrenching love story about a girl who learns to live from a boy who intends to die.
Theodore Finch
is fascinated by death, and he constantly thinks of ways he might kill himself. But each time, something good, no matter how small, stops him.
Violet Markey
lives for the future, counting the days until graduation, when she can escape her Indiana town and her aching grief in the wake of her sister's recent death.
When Finch and Violet meet on the ledge of the bell tower at school, it's unclear who saves whom. And when they pair up on a project to discover the "natural wonders" of their state, both Finch and Violet make more important discoveries: It's only with Violet that Finch can be himself—a weird, funny, live-out-loud guy who's not such a freak after all. And it's only with Finch that Violet can forget to count away the days and start living them. But as Violet's world grows, Finch's begins to shrink.
This is an intense, gripping novel perfect for fans of Jay Asher, Rainbow Rowell, John Green, Gayle Forman, and Jenny Downham from a talented new voice in YA, Jennifer Niven.
Book in One Word: Moody
All the Bright Places
with one (possibly spoilery) expectation: I would probably cry and feel a sadness that was along the lines of--though probably not as major as--
The Fault in Our Stars
. (Even then, I had been looking forward to it since before all the hype hit.) It was hard not to think that when the universal word for
All the Bright Places
was
sad
(and perhaps also
Finch
). So I put off reading it, despite all the raving and love it was getting, because I Do Not Like books that will make me cry and feel like a pit made of all things sad. But as I was desperately searching for my favorite book of 2015 (I know, I took eons to write this review) I finally put the story of Finch and Violet at the very top of my TBR and used it to finish off the year.
Since I was expecting sadness from
All the Bright Places
(the kind of sadness that, spoiler alert, usually means someone dies) my entire reading experience was filled with that kind of mood and it gave the book a certain sort of edge to its feel. And not just the
book
--it put
me
on edge, too. I was expecting the sadness and some big event, so I was on edge as I waited for that page to arrive. It didn't necessarily hinder the book, really, but I'd say it gave it a certain sort of effect.
All the Bright Places
is told from the alternating points of view of Theodore Finch and Violet Markey, two teens who are, in some way, affected by death: Violet by that of her sister's, and Theodore by his fascination of it. The two meet on a bell tower ledge at their school when Finch tries to talk Violet down--and covers for her so people will think she was saving him, not the other way around. From then on the golden girl and the school reject create a sort of mutual understanding, and that blossoms into something more--and the two try to show each other that life is worth more than just being and existing: it's worth living.
Despite the fact that it's been nearly nine months since I read
All the Bright Places
, I'm still not sure how I feel about it. I do know that I didn't love it, but I did like it. It's a book that's hard to feel good about though, you know? It's not exactly
happy
, and it deals with suicide and depression, among other things. I liked Violet and Finch, while other characters were just plain
jerks
and cruel. Violet is your average sweet girl filled with kindness, while Finch is outspoken and over the top and his own brand of person (and I really liked him). I remember the writing being rather solid--that sort of contemporary voice I can jump right into, along with hints of snark--but there may be a slight issue with realism. No matter what a book is about or how unrealistic it may be, that unrealisticness still has to be its own kind of realistic. I'm not saying
All the Bright Places
wasn't realistic, but I think some things just didn't
quite
hit the realistic bar for me, or I found it hard to believe that a person would act like this or do that. Maybe it's just me being overly critical of books lately. (Thanks, college.) But something wasn't quite
there
.
In the end,
All the Bright Places
wasn't exactly what I thought it would be. (Spoilery thought: Let's just say that I didn't expect what happened to a certain person to happen to
that
person.) I wouldn't say I'm a black sheep with the novel because, though I didn't love it, I didn't dislike it, either.
All the Bright Places
had compelling and unique but troubled characters, the game of life, interesting adventures, strong prose, and colors in the dark. Just beware: despite the cover, title, and being "all the colors in one, at full brightness," it's not the cheeriest of books. But that doesn't mean it's not good. (And yes, I cried.)
Did I like it?
Yes.
Would I reread it? I might give this a second try.
Would I purchase it? I already own it, but if I didn't I wouldn't need it.
Who would I recommend it to? Contemporary lovers who like their characters messy, prose and voice strong, and stories covered in shadows.