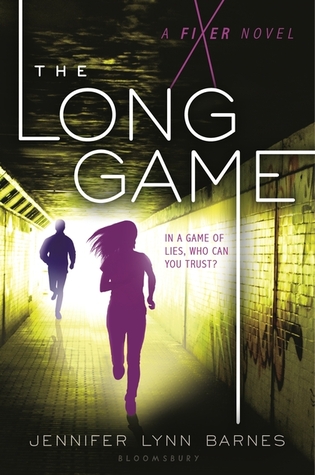 Title
: The Long Game
Author
: Jennifer Lynn Barnes
Publisher: Bloomsbury USA Childrens
Publishing Date: June 7, 2016
Pages/Format: 360, ARC
Add on Goodreads!
The Kendricks help make the problems of the Washington elite disappear…but some secrets won't stay buried.
For Tess Kendrick, a junior at the elite Hardwicke School in Washington, D.C., fixing runs in the family. But Tess has another legacy, too, one that involves power and the making of political dynasties. When Tess is asked to run a classmate's campaign for student council, she agrees. But when the candidates are children of politicians, even a high school election can involve life-shattering secrets.
Meanwhile, Tess's guardian has also taken on an impossible case, as a terrorist attack calls into doubt who can—and cannot—be trusted on Capitol Hill. Tess knows better than most that power is currency in D.C., but she's about to discover firsthand that power always comes with a price.
Book in One Word: PISSED.
The Long Game
. I was looking forward to reading another book by Jennifer Lynn Barnes, and I had missed some of the characters, namely Asher and Brodie. But there's just
something about this series
, which I'll get into later. All that aside, everyone loved
The Fixer
and I had been hearing
excellent
things about
The Long Game
, so I was excited to delve into the sequel. And now that I've read it, whenever I think about
The Long Game
I feel...
pissed
.
This series--
duology
, apparently (more on
that
later, too)--is basically a YA version of
Scandal
, just with less presidential sex. Tess Kendrick's guardian Ivy Kendrick (spoiler is omitted) is a Fixer in Washington, D.C.: people--very, very
big
and
important
people--hire her to fix their problems and keep their secrets secret. It's a dangerous, risky mind game of a job, but Ivy kicks ass at it. Since Ivy is a Fixer...well then, according to the students at Tess's elite school, so is Tess. Her grandfather also happens to be her guardian's Enemy Number One and a
very
powerful man, no big deal.
The Long Game
features the usual plays of power, along with student council elections and terrorist attacks. Oh, and me being
pissed off
. But I'm not there yet.
I actually
really
like the characters of this book. Tess is your average teenager who just happens to
know
some people and is really good at fixing things. Her and Ivy can be tough as nails but still show weakness--humanity--and they're great strong, leading ladies. I ship Adam and Ivy (duh) and love when he's all protective and concerned in a fatherly way. (Why do these books have like zero romance? I am a SHIPPER.) Emilia--another tough-skinned girl--is great, and so is Vivvie. Henry is the calm one, the glue that holds the group together. (He's also possibly half of a ship.) And then there's Asher and Bodie, my two favorite characters who are basically the same person (though Asher's more of a troublemaker). They deserve so much more time on the page. They are the BEST.
My problem with this series is undefinable. I read Barnes's
Naturals
books first and I looove them (they're, like, flawless), and maybe I had high expectations from those and all the hype? Because despite being a fan of the characters and being pulled into the political mystery/thriller aspect of the story...there's a disconnect here. I don't know what it is. But it's
there
. It's not just
The Long Game
--it was
The Fixer
, too. I feel like I get slightly bothered by the writing, which is ridiculous because Jennifer Lynn Barnes can
write
and one of the things that nagged at me--Tess's internal dialogue as she constantly recounts the facts and puzzle pieces of what she's trying to solve--also happened in The Naturals and I was fine with it. So maybe it's not you, book. Maybe it's
me
. But something isn't there.
Now, you might be wondering, "
Why did this book piss you off, Rachel?
" Maybe saying the book pissed me off was a mistake. A plot point/twist pissed me off, to the point where, when I think about
The Long Game
, that's all I think about and I just get this
feeling
. I can't tell you what it is or mention any specifics because spoiler spoiler spoiler. But I will tell you this: it was,
in my opinion
, completely unnecessary; seemed vastly out of character for a certain character;
did
emit
emotions
from me, which I always love, but those emotions are not enough to overshadow everything else, no matter how strong that reaction was;
why, why, why would you do that?
If you've read
The Long Game
, you know EXACTLY what I'm talking about. If you haven't, you'll know when you read it. Oh!
Oh
. This
duology
. WHY IS IT A DUOLOGY? After
that ending
, after
what happened
, you literally
cannot NOT have another book
. If this is the end of the series...nope. That will put a certain shadow over
The Long Game
. Having another book will give it a different shadow. Hint: That shadow is better,
give us another book
.
At the end of the game,
The Long Game
isn't disappointing as a whole, really, because I don't know what I expected. But it
is
disappointing in the sense that it took a direction I wish it hadn't. Disconnect aside, these books
have so much potential
, especially with the storytelling, plotting, planning, and characters. It literally took
one plot decision
to knock over the dominoes, and I'm not thrilled about it. I
liked
this book. I did. (I read this series and get excited about it because I do like it and because it's Jennifer Lynn Barnes. Just damn that disconnect.) But
The Long Game
threw away its shot and fell short of a win, and I'm extremely bummed about that and my lack of love for this series.
Did I like it?
Yes.
Would I reread it? Honestly? Yes. I might give this a second chance.
Would I purchase it? Already did for Jennifer's book signing (!!!), but otherwise I could've held off on owning it.
Who would I recommend it to? If you like Scandal or Jennifer Lynn Barnes's work (if you love this series The Naturals is even better I swear it), then this is definitely something you'll want to read. Also if you're a fan of stories mixed with thrills and mystery and politics (like a modern, D.C.-based Nancy Drew, sort of), voila! Bonus: characters you want on every single page.

I received a copy of this book in exchange for an honest review.