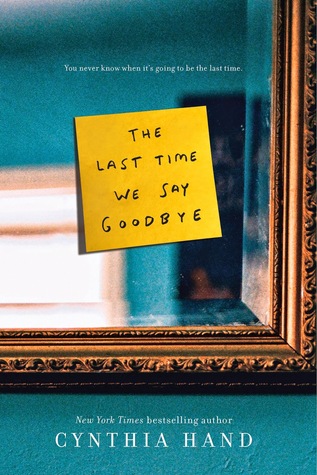 Title
: The Last Time We Say Goodbye
Publishing Date: February 10, 2015
There's death all around us.
We just don't pay attention.
Until we do.
The last time Lex was happy, it was before. When she had a family that was whole. A boyfriend she loved. Friends who didn't look at her like she might break down at any moment.
Now she's just the girl whose brother killed himself. And it feels like that's all she'll ever be.
As Lex starts to put her life back together, she tries to block out what happened the night Tyler died. But there's a secret she hasn't told anyone-a text Tyler sent, that could have changed everything.
Lex's brother is gone. But Lex is about to discover that a ghost doesn't have to be real to keep you from moving on.
From New York Times bestselling author Cynthia Hand,
The Last Time We Say Goodbye
is a gorgeous and heart-wrenching story of love, loss, and letting go.
Book in One Word: SAD
The Last Time We Say Goodbye
is a book that piqued my interest when I read the first chapter as part of the Young Adult Scavenger Hunt. In so few pages I was immediately grabbed by the voice, and it reminded me of the spectacular voice in Laurie Halse Anderson's
The Impossible Knife of Memory
, which was my favorite read of 2014. I really,
really
wanted to read it, and it didn't hurt that reviews praising the book were to starting to pop up. But those reviews also hinted at something:
The Last Time We Say Goodbye
is a
sad
book. Not just sad, but
sad
. And that kept me back a bit, because I don't like to read
sad
books. But eventually I read it. And though I didn't cry as much as I thought I would, I
did
cry--but I don't regret reading it. In fact, there's a part of me that even wants to
re
read it. (Just writing this review is making me tear up and I read the book over a month ago, so there's that too.)
Lex's world tilted several times over when her brother committed suicide. One day she was happy with the grades of a Valedictorian, the surety of attending an Ivy League, and having a fantastic boyfriend and great friends--until her brother Tyler took a gun and shot it all away. But for Lex, it's more than just losing her brother--it's that she thinks she could have stopped it, could have saved him. And when she thinks she sees Tyler's ghost, she thinks he has unfinished business to take care of before he can leave. But let me tell you: this sure as hell isn't a ghost story. It's a story about love and loss and grief and not blaming yourself for another's actions. It's about saying goodbye one last time.
I am actually very surprised that I am writing this review and crying. I didn't think this book would still resonate with me like that, I guess. The thing about
The Last Time We Say Goodbye
isn't just that it centers around something so sad. The entire
mood
is sad. I went into it knowing it'd be sad, so from the moment I started reading it I could
feel
the sadness, and it made me kind of nervous. I was anticipating the tears, and that filled every page with the feeling of a gray, rainy day. If you're looking for something fluffy to read, this isn't it. At all. I wouldn't necessarily say this is a book
about
suicide and depression (though it may be damn close), but it deals with them and how they effect those who love us. And I think Cynthia Hand handled it beautifully.
I'm trying to decide if I should leave it at that or if I should talk more about the book. Despite what she was going through, I enjoyed being in Lex's head--the girl can persevere, but you still see and feel all she's struggling with. I liked her friends and Steven and seeing how they were there for Lex through everything. We get to see the effect such a thing has on a community and the different ways people handle grief and tragedy. We see how it effects a mother and a father, how they deal with the loss of one child but still have another to care for. I don't know what else I can say about
The Last Time We Say Goodbye
or how to put it into words, and I know this review is doing a shit job of praising it and getting you to read it. Just make sure you have a box of tissues on hand when you read this. Cynthia Hand doesn't put all the emotion in one place; she spreads it throughout and hits you with it every damn time. And you realize: this is fiction, and yet, it's not. I know it's not the kind of subject associated with positive, cheery terms, but this book is
good
. It hurts your heart but it also mends it. And those last few lines? I kept flipping back to read them after I finished the book. Cynthia Hand saved the best punch for last.
Damn
.
Did I like it?
Yes.
Did I love it? It's hard to love this, but it was good.
Would I reread it? I don't know that I could go through that again, but part of me itches toward it, because, like I said, this book was good.
Would I purchase it? Already have it!
Who would I recommend it to? If you like good books and beautiful books and books that hit you where it hurts but also warm your heart--say hello to this one.

I received a copy of this book in exchange for an honest review.