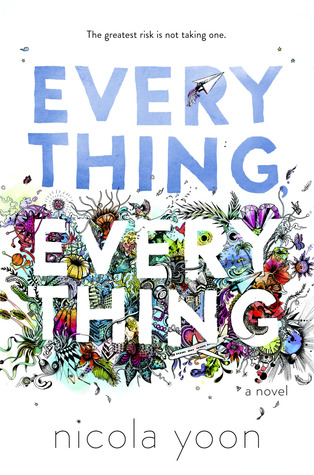 Title
: Everything, Everything
Publisher: Delacorte Books for Young Readers
Publishing Date: September 1, 2015
My disease is as rare as it is famous. Basically, I'm allergic to the world. I don't leave my house, have not left my house in seventeen years. The only people I ever see are my mom and my nurse, Carla.
But then one day, a moving truck arrives next door. I look out my window, and I see him. He's tall, lean and wearing all black—black T-shirt, black jeans, black sneakers, and a black knit cap that covers his hair completely. He catches me looking and stares at me. I stare right back. His name is Olly.
Maybe we can't predict the future, but we can predict some things. For example, I am certainly going to fall in love with Olly. It's almost certainly going to be a disaster.
Book in One Word: GOOD.
Everything, Everything
has a lot of pretty compelling elements going for it,
especially
that gorgeous cover. But what's really interesting is that the protagonist has a disease that, in short, basically means she's allergic to the world. (I don't know about you, but I had no idea such a thing existed.) And when reviews started pouring in and they were all saying nearly the same thing--that this book is
good
--and I was searching for books to make my end of the year lists, I gave it a wing. And let me tell you something: those reviews (and end of year lists) were correct.
Madeline has Severe Combined Immunodeficiency (SCID), which means she has a lot of abnormalities with her immune system--and that it's really, really weak and susceptible to reactions and is extremely life threatening if she's not careful about, well,
everything
. She lives alone with her doctor mother, but she lives in a sort of prison: whenever her mother or caretaker (or anyone, for that matter) enter the house, they have to go through a sort of air cleaner; new people--which are rare--have to go to the doctor and literally be wiped clean, and even then they typically can't come into close contact with Maddy; anything ever ordered offline has to be cleaned before Maddy can receive it in a nice, plastic package; her diet is particular; and she can never, ever leave the house. She's like a goldfish in a bowl: she has everything she needs right there, but everything she wants is just beyond the glass wall, and she can do nothing but watch everything go on around her and stay on the sidelines. In short: it sucks ass. But when new neighbors move in next door and Maddy's interest is piked by the all black-wearing, wall-climbing Oliver, she really starts to get sick of her own sickness.
One of my favorite things about
Everything, Everything
--and what I think really helped complete the novel--was Nicola Yoon's prose. It was so lovely. From the second you start this book, you don't want to put it down; her writing just pushes the whole thing forward, and when it ends you'll be turning the page, waiting for more story to magically appear. And instead of traditional chapters, this was told through short sections with appropriate titles, almost like diary entries, and I loved it. This read is quicker and shorter, but the writing goes swimmingly well with the pace and it all just
works
. I love good writing. I was also a big fan of the characters, and I adored Maddy and Oliver. Their reactions tend to be without speech, whether they're miming through windows (or Oliver's writing on his) or participating in one of their late-night chats online. To see such characterization through nothing but words, and to see it done so successfully, warrants a gold star. Oliver really helped Maddy realize there's so much more behind her prison-bar white walls, but she was still able to take control and make decisions for herself. He just helped give her a nice, big push. (Though a lot of her decisions may have had to do with Oliver but whatever, who cares.) Maddy and Oliver are both sweet with a little bit of spice--Oliver's spicier, though--and they compliment each other so well. As a protagonist, Maddy's fantastic. As a character, Oliver is fun and
there
and kind and a little rebellious, and as a love interest he's totally swoony. I also really liked Carla, Maddy's nurse/caretaker. She was a great voice of reason and was a parental/adult figure with opinions that Maddy really needed. It was nice to see such solidity coming from a character who wasn't related by blood.
Another wonderful thing with this book is that I don't really have any complaints about it. Sure, there were a few plot points that had me scratching my head a bit or that I wish would've gone differently. And I would've liked it if there was a larger focus on Maddy and SCID, especially when Oliver enters the picture. When that happened, the focus kind of deviated toward him more, which is totally fine, but you have this opportunity to really delve into a disease that a lot of people don't have much knowledge toward--take it. Now, I can't not discuss that this book--I
believe
--is somewhat packaged. (The copyright says both Nicola Yoon and Alloy Entertainment.) I don't usually like to know if a book is packaged because then I'm looking for signs of it while I'm reading, which is really no fun. But, aside from the head-scratching plot points mentioned above, I wouldn't've ever known this was packaged if I hadn't seen it. That's another gold star to you, Yoon.
I don't want to say too much about
Everything, Everything
, lest I give everything away. But this review does not do this book justice. This story is so fantastically created and addictingly engaging (seriously, I only put it down because I had somewhere to be early in the morning, and even, I
almost
told sleep and my alarm clock to screw it), the writing is spectacular--and so, therefore, is the voice--and you root for the characters (or some of them, at least). And of course there is some
serious shipping
.
Everything, Everything
wasn't everything, but it was pretty damn good, and that works for me. In other words: read it, read it.
Did I like it?
Yes!
Did I love it? Not quite.
Would I reread it? Yesss.
Would I purchase it? Already got it, thank gosh (and thank youuu, Santa!).
Who would I recommend it to? If you like well-written novels that are just good and are told in a unique way and feature interesting topics, then this book is everything you could possibly want.