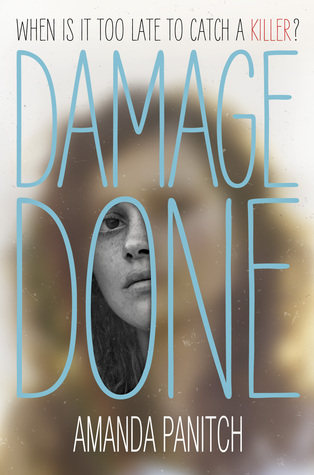 Title
: Damage Done
Publisher: Random House Books for Young Readers
Publishing Date: July 21, 2015
22 minutes separate Julia Vann's before and after.

Before: Julia had a twin brother, a boyfriend, and a best friend.

After: She has a new identity, a new hometown, and memories of those twenty-two minutes that refuse to come into focus. At least, that's what she tells the police.

Now that she's Lucy Black, she's able to begin again. She's even getting used to the empty bedroom where her brother should be. And her fresh start has attracted the attention of one of the hottest guys in school, a boy who will do anything to protect her. But when someone much more dangerous also takes notice, Lucy's forced to confront the dark secrets she thought were safely left behind.

One thing is clear: The damage done can never be erased. It's only just beginning. . . .
Book in One Word: OhmyGOSH.
have
to be, because otherwise I'd spoil the whole book for you, and you
cannot spoil this book
. I went into it not knowing too much, except that it's an
insane
thriller, and that was almost too much for me, because then I was looking for it--whatever "it" is--the whole time I was reading. So I ended up predicting part of what happened, but not all of it (and I wouldn't say it was predictable, especially based on what other people said, but again: I was looking for it), because I was still like oh. my.
GOSH
and a month after reading
Damage Done
my jaw is still on the floor.
Lucy Black used to be Julia Vann, but that was before something happened that forced her family to move away and when she still had a twin brother. When she starts seeing someone from her past show up in her life the plot starts to turn, and that's all I will tell you about the plot. That. Is. It. You will have to read the book and find the rest out for yourself because
I cannot tell you
.
Damage Done
is a good book that's super fucking well written with a side of seriously disturbing. Like, this book may not seem like an in-your-face thriller, but it has some of the elements? I don't know. Goodreads calls this a contemporary then a mystery then a suspense, but whatever. If Amanda Panitch keeps writing like this (my
gosh
, this writing) then she will be the Queen of YA Thrillers. I've read some thrillers that are super fucking good (seriously, I'm in love with The Naturals series), but I'm going to call Amanda Panitch the Queen of YA Thrillers because of something she did
so fucking well
. I can't tell you what exactly it is, but I'll be vague: there's this character. And they have character growth. And if you're looking for it, you'll see the signs--I
never
notice this shit--and see the growth happening and it's literally a descent into this character's [spoiler retracted] and it is so fucking brilliant. So smooth and effortless, and if I wasn't looking for it because I'd heard things about this book and was trying to play Nancy Drew (HAH! She wouldn't be able to handle this story), I wouldn't have noticed it. WELL DONE, PANITCH. BLOODY FUCKING WELL DONE.
I will not tell you anything about this book and I'm certain I've already told you too much. I do have to say, though, that
Damage Done
deals with some seriously deep, dark shit, and when you finish it you may feel the need to bleach every inch of your body inside and out. The writing and voice immediately pull you in when you pick the book up, and you won't be able to put it down until the last page (and then you won't be able to lift your jaw off the floor for at least a month). It's fast-paced and insane, but it's also pretty brilliant. Amanda Panitch, I'm terrified to know what goes on in your head, but you bet your ass I'll be reading more of your books.
Did I like it?
Yes!
Did I love it? It's hard to love this?
Would I reread it? Probably not, but not because it's not good: because I already know what happens and I don't want to bleach myself again.
Would I purchase it? I wouldn't mind having it on my shelf; perhaps it will ward off book haters.
Who would I recommend it to? Fans of thrillers/mysteries/suspense novels that are expertly and effortlessly written, and for people who don't mind they're books with a side of messed-up shit.