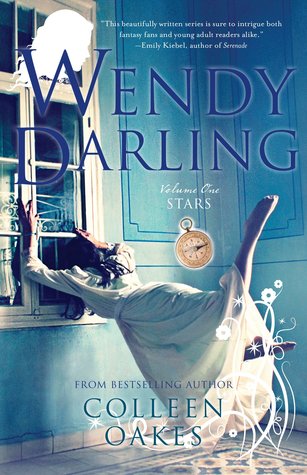 Title
: Wendy Darling: Stars
Publishing Date: October 13, 2015
From the best-selling author of Queen of Hearts comes a dark and mesmerizing twist on the beloved children's classic, Peter Pan.

Wendy Darling has a perfectly agreeable life with her parents and brothers in wealthy London, as well as a budding romance with Booth, the neighborhood bookseller's son. But while their parents are at a ball, the charmingly beautiful Peter Pan comes to the Darling children's nursery and—dazzled by this flying boy with god-like powers—they follow him out of the window and straight on to morning, to Neverland, a intoxicating island of feral freedom.

As time passes in Neverland, Wendy realizes that this Lost Boy's paradise of turquoise seas, mermaids, and pirates holds terrible secrets rooted in blood and greed. As Peter's grasp on her heart tightens, she struggles to remember where she came from—and begins to suspect that this island of dreams, and the boy who desires her—have the potential to transform into an everlasting nightmare.
Book in One Word: Entrancing.
I have a hard time resisting
Peter Pan
retellings. (And yet, I still haven't read the original story. Dishonor on my cow.) When I saw
Wendy Darling: Stars
on Goodreads one day, I immediately went into a tizzy because the title obviously meant the story had something to do with
Peter Pan
, and
how did I not already know about it
? It very quickly became a book I absolutely needed (more than Hook needs to kill that blasted Pan, for sure), and when I got approved for an eARC, I was over the moon excited. Then I finally got the chance to read it, and was desperately hoping it would not disappoint...and oh my gosh, it absolutely, positively
did not
.
Let's start with a fact: I wasn't even
ten percent
into this book before I was being hit by a overload of feels. And it didn't even have to do with Peter Pan. As the synopsis suggests, Wendy Darling already has a love interest pre-Neverland, and that would be Booth. And my gosh, the
feels
between those two--I almost couldn't stand it. I was at the point where I didn't even
want
to go to Neverland and meet Peter Pan. I already had my ship, and it didn't exist on the waters of Neverland. It's nice--and, I think, important--to see some establishment of the characters and their behavior before they head off toward the second star to the right and straight on till morning. As most forms of
Peter Pan
show, Neverland changes people--and makes them forget. So by seeing how Wendy, John, and Michael acted in London, we are able to see their character development as they spend time in Neverland.
Of all the characters, only three were similar to their original versions (which I'm basing off the original Disney animated movie): Wendy, Michael, and Nana (and partially Tinker Bell, now that I think about it). Wendy Darling is always a sweet and innocent girl--and I don't know that she ever comes off as a very
strong
character. But in this book--
her
book--she might get her chance. She's also the only character who ever seems to really
think
and use logic and reasoning. If you'll recall from the
Peter Pan
films, it's Wendy who remembers home and shakes off the Neverland effect. So she may not be strong physically, but she's certainly strong in the head. Michael's still Michael, the youngest of the three and who always wants to play with the big kids. John was...well, a little shit. I didn't care for him all that much, to be honest. And when it came to the Darling parents, their characterizations seemed to flip. George Darling tends to be more gentile and less fussy when it comes to his children, while Mary Darling is the more adamant parent (and also tends to worry, and who's on medication for something). But I liked the role reversal, and how Oakes altered some things to make a new version of an already established story.
I was a fan of the Lost Boys, especially the Generals. (For in this Neverland, there are rankings.) Tink was interesting, for she's not the little fairy we all know, but she
is
the insanely jealous, sometimes awfully cruel fairy we know, and I liked the part she played. Then there's the man of the hour: Peter Pan. He really, truly is a man-child. In this portrayal, he's more like a teenager in certain aspects (namely his affections for some women), but in others--like fighting--he's an adult, but when it comes to getting what he wants, he is an utter child. He's out-of-this-world gorgeous and has a great body, and he can be quite sweet and swoony and silly, and yet...there's something
off
about him. And it's up to the mesmerized and infatuated Wendy (don't forget Booth, Wendy!) to figure it out.
There were some issues with this, however--it's not perfect. The writing wasn't bad, but it wasn't my
favorite
, and there were a few bits of repetition. Some things were cheesy or written kind of awkwardly--like some dialogue--and that can be distracting. All that said, this book was very hard to put down. I was pulled in rather quickly, and from there I just kept flipping pages on my Kindle to see what would happen next. You might say "just one more chapter," but that's hard to do when you want to keep going after each one. I had no idea how this would end (I did know that it's not a standalone), and I couldn't possibly guess what aspects of the original tale would be used, or if they'd be twisted, or
what
, and it made for some serious suspense and addiction. I love when books are so good and you just get pulled in so far that you can't let go even when it's over. It's a very important aspect to a book, and it can bring a book from being good to
good
. Love it.
When it comes down to it, I think
Wendy Darling: Stars
exceeded my expectations. Sure, I was super excited for it, but there's that fear that it won't be good like I want it to be. But this was! This successfully took the well-known story of
Peter Pan
and twisted it into something fresh and darker. I've noticed something in
Peter Pan
retellings lately (that is, in versions that aren't centered on the crowing boy): this beloved boy is stuck on a blurry line between villain and hero. Which one
is
he? Arguments can be made for both, but can he
be
both? I love story lines like that, and I am extremely eager to see what happens with the Darlings and Neverlandians next.
Wendy Darling: Stars
had it all: terror, suspense,
feels
, kissing (oh, the kissing!), good versus evil, adventurous outings for alcohol, mermaids, many, many lost boys, frustrating family members, and a tale spun by a very magical, pixie-dust-dusted thread. It was an awfully big adventure, and I need the sequel more than Peter Pan needs to not grow up. (And I fear what might happen in it more than Hook fears that tick-tocking crocodile.)
Did I like it?
Definitely!
Would I reread it? More likely than not.
Would I purchase it? Oh my gosh, YES.
Who would I recommend it to? If you like Peter Pan, and stories that are retold in some twisted ways, plus interesting worlds--and, of course, books that are hard to put down--then this is for you.

I received a copy of this book in exchange for an honest review.