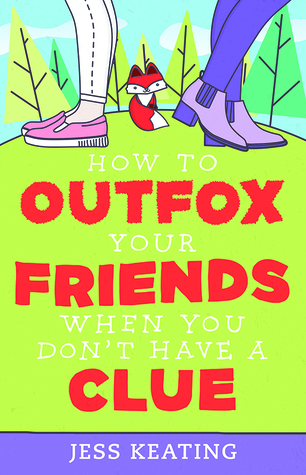 Title
: How to Outfox Your Friends When You Don't Have a Clue
Publisher: Sourcebooks Jabberwocky
Publishing Date: October 6, 2015
What would middle school be like if you lived in a zoo? Just ask Ana Wright, star of the hilarious, award-nominated My Life is A Zoo series that combines first crushes, friendship fails...and pack dynamics.
Surprise! Ana's long distance BFF is finally coming back to visit. But with her purple hair and new attitude, Liv is barely the girl Ana remembers. This new Liv probably thinks a birthday party at the zoo is lame. Maybe if Ana has a super-secret sleepover instead, she'd never have to introduce Liv to Ashley, former enemy and now Ana's best-ish friend. What could go wrong?
Creature File for Liv:
Species Name: Best Frendicus
Kingdom: New Zealand
Phylum: girl who used to be Ana Wright's best friend, girl who used to like getting milkshakes at Shaken, Not Stirred
Feeds on: video chats with Leilani, attention from boys
Life span: undetermined, but if things keep going the way they are, the lifespan of Ana and Liv, BFFs isn't going to be the "forever" they thought...
Jess Keating combines the quirky humor and animal-centric plots of Carl Hiaasen with the awkward adolescent antics of Lauren Myracle in this fresh new middle grade series!
Book in One Word: Foxtastic!
I adore this series and can't get enough of it.
How to Outrun a Crocodile When Your Shoes Are Untied
introduced us to perfectly awkward Ana Wright, and
How to Outswim a Shark Without a Snorkel
helped show character growth as Ana was put in more unfortunate situations and built new (and surprising) friendships. Now, in
How to Outfox Your Friends When You Don't Have a Clue
(say those titles five times really fast, I triple dog dare you), Ana's best friend Liv is back...and nothing is the same. In the latest installment of Jess Keating's adorkable and fantastic My Life is a Zoo series, a new side of friendship is explored: when friends grow up and change, and two friends are no longer as compatible as they were before.
One of my favorite things about this series is that, despite some serious subjects it touches on, it's ridiculously light and pure
fun
, and
Outfox
is no exception. I love the Creature Files (like in the synopsis), the Animal Wisdom at the beginning of each chapter (I learned some new facts!), Ana's lists, antics, quirks, and, well,
everything
. Ana is not a perfect person, and that's what makes her perfect. Really, she's
real
. She's a total dork who dances to her own music, and she doesn't really care what others think. All kinds of awkward and embarrassing things happen to her, but that happens to all of us, right? Her voice is full of wit and snark and sass, and I will never tire of being in her head. (And, similarly, I will never tire of Keating's writing.) This series is all about Ana and her crazy, (sometimes smelly,) wild life, and she totally brings it. I mean, she might fall flat on her face when she does. But she still
brings it
.
In
Outfox
, the big focus is on friendship.
Spoiler alert
for the previous two books, but Ana is now really good friends with previous Head Sneerer Ashley--they're a lot like best friends, actually. But Liv, Ana's BFF who moved to New Zealand, is back for a visit...and she has purple hair, likes a greasy-looking guy, is all about her NZ bestie Leilani (gag), makes fun of Ana...and isn't the Liv Ana thought she knew. (Honestly, I wasn't the biggest fan of her, and she can go back to New Zealand for all I care. But I do love her hair.) But there's a chance that Ana has changed, too. I mean, she's friends with
Ashley
. And she has a boyfriend. Kevin! (Keeeeeevvvviiiiinnnnnn. He was painfully absent for a lot of this novel and that broke my heart. Because Kevin!) People ask her for her autograph, she's not so afraid of public speaking anymore, and she's almost the big 1-3. They're all growing up. And for the first time in a long time, Ana and Liv aren't doing it together, and there are some serious cracks in their friendship. (They need some Spackle.) This book is about repairing those cracks--if they can be fixed at all.
I don't know what else I can say about
How to Outfox Your Friends When You Don't Have a Clue
without just telling you about the whole book. But know this: This is a series that, if you haven't read it yet, then you are
seriously missing out
. Ana is an amazingly real character you just have to meet, and her story is told in a voice that is so well written and utterly memorable that you'll fall head over heels in love with it. (And the best thing ever happens in this book and I totally squealed, I kid you not.) And at the heart, it's just pure fun, plain and simple. Okay, and it's totally adorkable, too. But I love it.
Did I like it?
Yes!
Did I love it? Pretty much.
Would I purchase it? I preordered it!
Who would I recommend it to? Fans of stories that are a rollercoaster of fun and have real, memorable characters with stellar voice.

I received a copy of this book in exchange for an honest review.