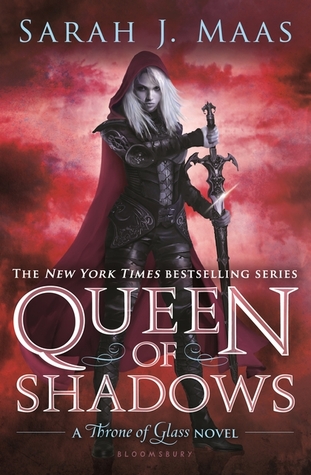 Title
: Queen of Shadows
Publisher: Bloomsbury USA Childrens
Publishing Date: September 1, 2015
Everyone Celaena Sardothien loves has been taken from her. But she's at last returned to the empire—for vengeance, to rescue her once-glorious kingdom, and to confront the shadows of her past . . .
She will fight for her cousin, a warrior prepared to die just to see her again. She will fight for her friend, a young man trapped in an unspeakable prison. And she will fight for her people, enslaved to a brutal king and awaiting their lost queen's triumphant return.
Celaena's epic journey has captured the hearts and imaginations of millions across the globe. This fourth volume will hold readers rapt as Celaena's story builds to a passionate, agonizing crescendo that might just shatter her world.
Book in One Word: EMOTIONAL.
Before I get into my review, let me share a little disclaimer:
If you have not read the Throne of Glass series up until Heir of Fire, then I would not recommend reading this review, because you will be spoiled.
I can't possibly--or adequately--review
Queen of Shadows
without spoiling the previous novels in the series. Secondly,
if you haven't read Queen of Shadows, I would suggest that you proceed with caution
when reading my review. I shall do my best to mark all spoilers, but I will be discussing thoughts and feelings this book gave me, and those can be considered spoilery, so I repeat:
proceed with caution
.
Upon finishing
Queen of Shadows
, my most anticipated read of the year and the fourth installment of the Throne of Glass series (not including
The Assassin's Blade
), which is one of my
absolute favorite series
, I said: "
What the fucking hell did I just read?
" Why? Because I
hated
this book. And I
loved
this book.
The, oh, first half of the book just
pissed me off
. I wanted to throw the book, I was fretting like hell because this was obviously the low point in the series I adore, and just
what the hell was going on
? This is because, as much as it utterly
pains
me to say it,
Queen of Shadows
has one glaring issue: it is, for the most part, unrecognizable. For example: One day, my brother put on "Sweet Child O' Mine" on YouTube, and it didn't take long for me to realize this wasn't the full/normal version. It's one of my favorite songs
ever
, and I
know
it. My brother said I was wrong, but later admitted that I was, in fact, correct. That's kind of like how
Queen of Shadows
felt--something was off. I had just reread all four books leading up to it (which is a fantastic idea by the way, because it really puts the story in your head and helps you to remember and connect all the bits and pieces), and this one doesn't blend in so seamlessly. I don't know how I can reread the other books knowing
this
is what it leads to. There were certain things that were
expected
of this series when it came to the end, but now I know they won't ever happen. (And I'm not just talking about romance. And I know that's not the focus of the series, but I'll always be hung-up on that topic.) I had all sorts of thoughts going through my head as I tried to think of an explanation for the way
Queen of Shadows
was going: there wasn't enough time to write it; Maas was trying too hard to stick to the original FictionPress story, whatever it was (don't tell me); it got mixed up while writing the sequel to
A Court of Thorns and Roses
(the first novel in her New Adult fantasy series, which is a retelling of
Beauty and the Beast
); and so on. It pained me to think negatively on Sarah J. Maas and this series I treasure so much, but with what I was reading, I had no choice.
The most unrecognizable part of the story, aside from the
feel
itself--like it didn't exactly belong with the other books, like they're a DVD and this is a BluRay--was my poor, dear characters. The biggest victim of this was the one and only Chaol Westfall. Or was it? Because the Chaol I know and love from the previous novels--mainly
Throne of Glass
and
Crown of Midnight
--didn't exist here. It started in
Heir of Fire
, but the complete one-eighty in Chaol's character
really
happened here, and there doesn't appear to be a viable reason for it (except to make way for a new romance). Not only is this Chaol an ass, but he seems like
such
a minor character--and so does Dorian. And whenever Aelin and Chaol interact with each other they are
constantly
at each other's throats and it's upsetting as hell. Up until this point, this series has mostly been about a kickass trio: Celaena, Chaol, and Dorian. Now it's all about Aelin, Aedion, Rowan, Manon, and a few other characters. Chaol is
so
minor that it
kills
me, because I never, ever thought he would be like that. And the change in his demeanor is like some sort of Jekyll-Hyde trick, and it seriously
sucks
. I don't know why Chaol was written this way, but it was the start of things that just
pissed me off
. (The main thing to piss me off was,
spoiler alert
, the worst-than-the-
Titanic
sinking of my ship, The Ship, and
don't even get me started
.)
While Chaol wasn't the only character to be unrecognizable, he definitely got the brunt of it. If I wouldn't've known Aelin from the previous novels, I don't know how much I would've been able to stand her, or how easily I would've been able to brush aside the way she behaves--she can be
awfully
sassy and snide. Dorian's unrecognizable too, but he kind of has an excuse, considering what happened at the end of
Heir of Fire
. If anyone's is the most recognizable, it's Manon. (My
gosh
, I love those bloody, badass witches, I want to
be
one.) And one of the things I loved about
Heir of Fire
, and that I was really able to appreciate more in my reread, was the strong bond between Aelin and Rowan. The two had a very powerful male/female relationship that lacked any romance, and I loved that. But in
Queen of Shadows
, I barely--if at all--felt that strong connection. It was just
gone
. And--
spoiler alert
--I was expecting a much deeper connection between Aelin and Aedion, and that didn't happen either. (I also started having the idea that I wanted twins, one boy and one girl, named Aelin and Aedion. But now, I don't know. Or maybe Aelin and Rowan, but that's
definitely
a no.) (
End spoiler
.) It just...broke a little part of me to see these characters I love
so much
and not recognize them. I know no one knows these characters as well as Sarah J. Maas does, but...what was this?
As for the story itself...Well, I purposely didn't post updates on Goodreads so I could avoid spoilers, but know that if I would have, there would have been some form of profanity in just about every one. Because this. Damn. Book. It's extremely unfortunate that I can rant about all the issues it has, and yet I still love it. I think I noticed it a bit in
Heir of Fire
, but there was some noticeable repetition in this book, mainly with phrases. There wasn't much swearing in the previous novels, but there is a definite increase here--and several mentions of "gods-damned." And while I don't have a problem with swearing--honestly, I could wash my mouth out with soap hourly, I'm so profane--it just wasn't consistent with what I've already read in the series. Another issue was credibility--some things were just too easy, or there was no reason behind why things were happening (or how certain people were acting), and though things may not have been
easy
, it wasn't done as would've been expected, if that makes sense? I just expected some things to be way,
way
bigger--and even harder? In all honesty, and this may be a
spoiler
, with the exception of a few things, this could've been a damn series finale. It certainly read and felt like one. I seriously thought I was going to turn the final page and see a note saying, "Hey, sorry! This is the last book now!" And then I would've ripped out my hair.
Do you ever read a book and get this...feeling? It's kind of like electricity constantly humming through you, a bookish anxiety. If you're not in the right position, you have serious butterflies. And this book just gives you those
feels
. It's like you're drunk on the book, and you just know it's going to give you a hangover. (Or am I just insane?) At a certain point while reading
Queen of Shadows
this feeling hit me, and it was strong and refused to fade away. And that is why, despite everything, I loved this damn book. (Basically, I'm letting my emotions cloud everything.) When a book gives me this feeling, and this strongly--and gives me a draining book hangover that lasts over twenty-four hours--I can't
not
love it and give it five stars, especially when these strong feelings don't happen very often. Plus, I
cried
. I don't just
cry
for no reason, or because I'm so afraid of what might happen that the tears start pouring. As I'm writing this review, I'm still not sure if I'll give this book five stars or no rating; it's such a conundrum of a book. Originally,
Crown of Midnight
was my favorite book of the series and gave me the most feels by far, but I think
Queen of Shadows
kicked those feels out of the park.
Queen of Shadows
had some scenes that were just stellar: an epic girl fight, a reunion, a (bloody) witch savior, fucking badass witches, an
insane
finale, a tear-inducing but happy ending, death (obviously), the exploration of the "who is the monster and who is the man" concept, and discussions about nightgowns and underthings. And even though the characters still didn't feel like the characters I know (and there's a new character who I've wanted dead since the moment we met them), and I have two new and
very strong
ships, these scenes were what helped make this book so...
everything
.
Queen of Shadows
was absolutely nothing I had expected, and how anyone could expect that, I haven't a clue. It was disappointing in a number of ways, and that
kills
me, and yet...I don't even know. Fortunately, I was able to very thoroughly discuss this book with some friends (you wonderful people know who you are), and that was
extremely
helpful. Because of that I don't need to go into a full-on (and
very long
) spoiler discussion here, but if you'd like to chat, I would
love
to. I can't stop talking or thinking about it--it's one of
those
books. I've seen some other reviews, and it's a relief that I'm not the only one with such feelings on this blasted book. And I'm positive there are several things I'm forgetting to mention in this review, but there are a few things I'm certain of: I will always ship it, there are
two books
left in this series, and how I'm supposed to wait a whole
year
(so help me if it's longer) for the next is beyond me. Though I don't
really
want it, because then I'd want the final book, and then it's all over and I can't stand that
I can't
. Oh, and another thing: You all must now refer to me as
fire-breathing bitch-queen
--I'm almost as obsessed with that phrase as I am with this series. And now, while we all wait with impatience for the next installment: Let's go rattle the stars.
Did I like it?
Yes.
Did I love it? Yes and no?
Would I reread it? I'd be lying if I said I haven't already reread parts and have scenes replaying in my head.
Would I purchase it? This baby was preordered MONTHS ago, and even if it wasn't, Sarah J. Maas--and this series--is an autobuy.
Who would I recommend it to? I'm going to say fans of the Throne of Glass series and A Court of Thorns and Roses, but also for people who like their stories twisty and emotional and inducing of many, many curses.