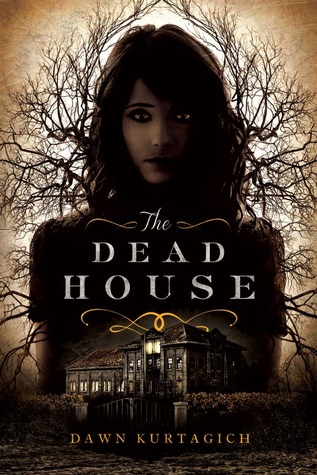 Title
: The Dead House
Publisher: Little, Brown Books for Young Readers
Publishing Date: September 15, 2015
Debut author Dawn Kurtagich is dead on in this terrifying psychological thriller!
Over two decades have passed since the fire at Elmbridge High, an inferno that took the lives of three teenagers. Not much was known about the events leading up to the tragedy - only that one student, Carly Johnson, vanished without a trace...
...until a diary is found hidden in the ruins.
But the diary, badly scorched, does not belong to Carly Johnson. It belongs to Kaitlyn Johnson, a girl who shouldn't exist Who was Kaitlyn? Why did she come out only at night? What is her connection to Carly?
The case has been reopened. Police records are being reexamined: psychiatric reports, video footage, text messages, e-mails. And the diary.
The diary that paints a much more sinister version of events than was ever made publicly known.
Book in One Word: WHAT.
I didn't know much about
The Dead House
until I received an ARC I won through a giveaway. I think I had a vague sense of what it was about, but I went into the book kind of clueless. Because of that, I didn't know what to expect. I knew it was told in an unusual format, and that the main character(s) was two girls in one body. At the least, I was intrigued. (And, to be honest, I was hoping this book would be seriously scary.) Anyway, I read it (obviously), and, well...it was
good
. I'm pleasantly surprised.
The Dead House
is told through a series of diary entries, transcribed video and audio (interview) recordings, and some other hand-written mementos, along with some screenshots from video clips, and tells the story of Carly "Kaitlyn" Johnson, a teenage girl who claims to be two people: Carly during the day, Kaitlyn during the night. Unsurprisingly, she's sent to a psychiatric hospital for treatment, and also get to return to her boarding school Elmbridge High. The entire novel is meant to be a case file chronicling some big, mysterious accident that happened at Elmbridge ten years ago. As the reader, we get to see the entire story unfold mostly through the words of Kaitlyn (the diary entries are hers, not Carly's), and with most things being dated (including jumps ahead in time, for everything is told in relevancy to the case), we're mostly kept on track. Honestly, I was a fan of how the story was told. There are even images to go with some of the video recordings, which was really cool and kind of creepy. (Though a large handful of them weren't in the ARC; that's something I'll have to check out in the finished copy,
especially
a certain image.) Watching--seeing--reading--the story unfold this way helped to build tension and suspense, and you could actually
see
--or not, in some cases--how some things progressed. I'm all for reading more books told this way.
As far as the characters...well, Kaitlyn is kind of hard to really
like
. I mean, I didn't
dis
like her, but her character was very unreliable--she's two people in one body, after all. With the way the story is told, we don't
see
everything. There are jumps in time--from minutes to hours to days--and if there wasn't a camera recording or Kaitlyn there to write it in her diary--aka "Dee"--(or if Kaitlyn doesn't decide to write about it in her diary later on) we don't get to know what happens. Like the investigators working the case, we don't get every single detail, and that helps to create this giant mystery. Which leads me back to Kaitlyn. Since she was so unreliable, it was hard to always believe her--or you might want to badly believe her--and sometimes I didn't understand what was going on. But for this
story
, I liked her (and more than Carly). And I rooted for her, and despite some partial facts we learn at the beginning of the novel, I was rooting for certain characters to have positive outcomes, too. My favorite secondary character was Ari; I liked how sweet he was with Kaitlyn and how he seemed kind of artsy. I liked Naida more as the story went on, and I never once cared for Dr. Lansing. But really, you just have to read the characters for yourself.
The story as a whole was compelling. I don't want to give it away, but you're reading this to try to find out answers: not just to what the accident was and how it all went down, but answers to
everything
. How will this story, about a girl who's two girls in one, possibly end? What the hell is going
on
? And so on and so forth. Sure, some things are kind of hard to believe--and it doesn't seem realistic that some people would really
believe
what Carly/Kaitlyn say--but it's easy to get caught up in the story and push that all aside. I was kind of disappointed that this didn't really
scare
me, though there were a few parts that gave me some heebie jeebies, and two simple lines totally freaked me out. (Like, "
Anyone under the age of eighteen should not read the rest of this report without parental consent
." That got my blood pumping.)
The Dead House
was a very interesting and intriguing debut and novel, to say the least. It's a psychological thriller filled with lots of WHATs and some swearing and, of course, some mindfuckery. Complete with eclectic characters, several mysteries, and complex relationships and concepts, it is, in short, a solid novel. I loved how it was told in such a unique and usual way, and the diary entries weren't just "Dear Diary." (Blargh.) I still don't know what exactly happened (my mouth uttered "
The fuck was that?
" upon turning the last page and finding the acknowledgements), but I don't exactly care, because, overall, I really, really liked this book, and...
enjoyed
isn't the right word, but I enjoyed reading it.
The Dead House
also happens to just
scream
"read me" for this fall season, so I'd suggest reading it soon. And while you're doing that, I'm going to sit and wait for another book from Dawn Kurtagich. Consider me intrigued.
Did I like it?
Yes!
Did I love it? No, but not in a bad way?
Would I reread it? Ooh. Possibly! It'd be interesting to see this in a finished form, and to try to understand everything now that I know how it ends.
Would I purchase it? I don't need it, but I'm kind of itching for it, and I wouldn't mind having a copy on my shelves (not that it will fit).
Who would I recommend it to? If you like stories told in a unique and refreshing way, then this is for you. Also, if you're a fan of spooky tales full of mystery and suspense and thrills. And some freaky stuff!

I received a copy of this book in exchange for an honest review.