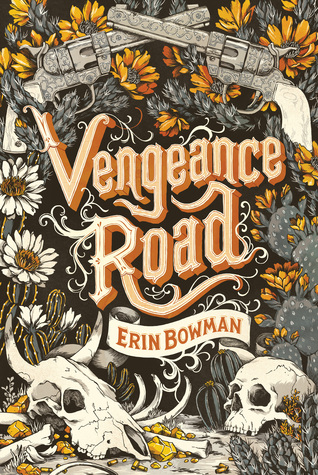 Title
: Vengeance Road
Publisher: HMH Books for Young Readers
Publishing Date: September 1, 2015
When Kate Thompson's father is killed by the notorious Rose Riders for a mysterious journal that reveals the secret location of a gold mine, the eighteen-year-old disguises herself as a boy and takes to the gritty plains looking for answers and justice. What she finds are devious strangers, dust storms, and a pair of brothers who refuse to quit riding in her shadow. But as Kate gets closer to the secrets about her family, she gets closer to the truth about herself and must decide if there's room for love in a heart so full of hate.
In the spirit of
True Grit
, the cutthroat days of the Wild West come to life for a new generation.
Book in One Word: Golden.
I'm not sure what part of
Vengeance Road
I saw and was very intrigued by first: the synopsis (aka, hello, western) or the
freaking gorgeous
cover. Either way, I'd had my eye on this for a while, and was pretty excited to get approved for an eARC. And then I finally read it, and, well... Do you ever go into a book thinking you'll probably like it, but you don't think you'll
really
like it? I don't mean that in a negative or offensive way, but do you ever just go into a book with certain expectations for how much you'll like it? Because I had that with
Vengeance Road
, and I was very pleasantly surprised, because I really, really liked it--much more so than I thought I would.
In case it wasn't clear, I reaaalllyyy liked this book. For starters, I have like no complaints and didn't really dislike anything about it. Well, if I had to come up with
something
, I'd say that the ending was a little fast and I would've liked a bit more from it, but it really wasn't a problem. And the story was a great ride to be on, and a YA western is so unique and refreshing and I loved it. After Kate Thompson's father is murdered by the Rose Riders--aka the bad, bad gang of the Wild West--she goes on a hunt for Rose and his riders, goes as a boy in disguise, and ends up getting help from two cowboy brothers as they all head on the road to gold. (This
is
Arizona in 1877.) (
Possible spoiler alert
for the romance, but even though it sounds like there might be a love triangle, there really isn't, and though I don't mind love triangles, it was nice.)
Kate is a fierce girl with a sassy mouth. She wasn't exactly raised like a proper lady, and she does spend a lot of time in
Vengeance Road
being Nate Thompson. Either way, she was a fantastic protagonist and I loved hearing her story and being in her head. I was also a fan of the cowboys and the banter they exchanged back and forth with Kate/Nate, and I was a little partial to Jesse. (In case you're wondering if I ship it, I do.) And even though I'm not very familiar with westerns--I've only see a few movies and read like no books--I totally get the western vibe and the book is filled with western elements. You've got the small towns and the saloons, horses and hot weather on dry land, one very bad guy, murder and gold, and people shooting first and asking names later. Like I said, I don't know westerns, but this screamed it, and it was darn tootin' fantastic.
Going into
Vengeance Road
, I was a little unsure of how the voice of the novel would work--it coincides with the era, of course, and I figured it would take some getting used to and that I might not click with it. But I totally did. It is so effortless to slide right into the mood of this book and just
feel
the voice. Sure, there was a term or two I didn't understand, but that doesn't matter because the diction in this novel is on par--above par, possibly--and just worked perfectly. It never felt unnatural or like Erin Bowman was trying too hard to achieve the proper diction--it sounded perfectly natural and like Bowman was existing in 1877 Arizona herself. And the story itself--extremely well done and excellently paced. Despite the bumpy road Kate is on, the story moves smooth as butter and that, coupled with the old western diction, really helped make this novel come together so wonderfully.
Though
Vengeance Road
may seem somewhat intimidating, it isn't. It's a
good
book. In fact, that's what I said out loud right after I finished it: "Good book.
Good
book." I just think it was done so well. and being taken back to the Wild West and the era of people out for blood and gold (well, that could still be today, really) was fun and enriching and utterly refreshing. An excellent protagonist, coupled with revenge, several bullets shot, a nice touch of sweet romance, and a harsh landscape and new/old setting I don't see much of in, well, everywhere, makes
Vengeance Road
a wild road that is most definitely worth reading. (And it doesn't hurt that it's awfully pretty to look at, too.)
Did I like it?
Yesss!
Did I love it? Almost, but close, and I heart it.
Would I purchase it? I do believe I have this preordered.
Who would I recommend it to? Everyone! Whether or not you're a fan of westerns, give this one a try. It's a well written story that's well worth the read.
I received a copy of this book from the publisher in exchange for an honest review, and that in no way sways my opinion of the book.