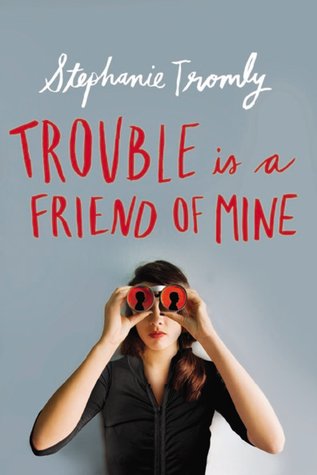 Title
: Trouble Is a Friend of Mine
Publisher: Kathy Dawson Books
Publishing Date: August 4, 2015
Of course I didn't like Digby when I first met him. No one does.
The first time Philip Digby shows up on Zoe Webster's doorstep, he's rude and he treats her like a book he's already read and knows the ending to.
But before she knows it, Zoe's allowed Digby—annoying, brilliant, and somehow…attractive? Digby—to drag her into a series of hilarious, dangerous, and only vaguely legal schemes all related to the kidnapping of a local teenage girl. A kidnapping that might be connected to the tragic disappearance of his little sister eight years ago. When it comes to Digby, Zoe just can't say no.
But is Digby a hero? Or is his manic quest an indication of a desperate attempt to repair his broken family and exorcize his own obsessive-compulsive tendencies? And does she really care anyway?
This is a contemporary debut with razor-sharp dialogue, ridiculously funny action, and a dynamic duo you won't soon forget.
Book in One Word: Troubling.
I hadn't heard of
Trouble Is a Friend of Mine
until I received a copy for review, and once I did and checked it out, I thought it sounded interesting, but it didn't have much priority on my TBR pile. Then I saw some reviews saying fantastic things about it, and I was a little more interested. I ended up reading it (obviously), and even though it had a quality to it that made me want to read it, I really don't think I liked
Trouble Is a Friend of Mine
.
I wouldn't say this was a
bad
book, per se. I just did not like it. After her parents' divorce, Zoe and her mother move to some random town in New York and Zoe attends a public school while trying to get into a boarding school to prepare her for the ivy leagues. And then she randomly meets Digby, and from there, the story goes into, well, whatever it goes into. It's my understanding that Digby is apparently a sort of Sherlock Holmes-esque character. I'm not a big Holmes fan, but I know enough about him that I tried to understand Digby and "forgive" his character by seeing him as a sort of Holmes. But it just didn't work. I mean, I didn't
dislike
Digby, but it just doesn't make sense. I really don't think a human being can possibly get away with all the things Digby gets away with. I mean,
honestly
. I get that this is fiction, but it still needs to be somewhat realistic, and this book missed that mark by several feet.
A lot of
Trouble Is a Friend of Mine
failed to see reality. Maybe it's just what I know from the schools I went to, but do girls really call dibs on certain bathrooms, and if you go in that one without their permission you're socially screwed? And, like, I'm not really giving anything away, but when your child is next to a building with a bomb in it, and you're the parent, you don't just let them stay there and you go back home and wait for them, like oh, okay. (And I wouldn't say the parent was shitty enough to do that.) Cops were too lenient, a certain reveal lacked any luster, and things just didn't make sense. This book was kind of weird. For some reason I was constantly reminded of
No One Else Can Have You
while reading this, but I at least think I actually certainly somewhat
liked
that one.
In the end, I just don't get this book. Yes, I'd put it down and not mind picking it back up, and my head didn't hurt while reading it, like, "UGH THIS BOOK MAKE IT STOP," but I just didn't
like
it. I think the biggest issue is that it just has a total lack of credibility. In real life, all this stuff couldn't possibly slide. I mean, come on. I can get past the characters and I can take the quirkiness--I like quirky!--but this isn't how it works. I mean, I maybe even kind of want to read the sequel if there is one because I want to see what happens with something--and hey, maybe the second time's the charm--but I still
didn't like it
.
Trouble Is a Friend of Mine
is just troubling.
Did I like it?
Nope.
Would I purchase it? Nope.
Who would I recommend it to? Fans of Sherlock Holmes, quirky characters, and oddball mysteries.
I received a copy of this book from the publisher in exchange for an honest review, and that in no way sways my opinion of the book.