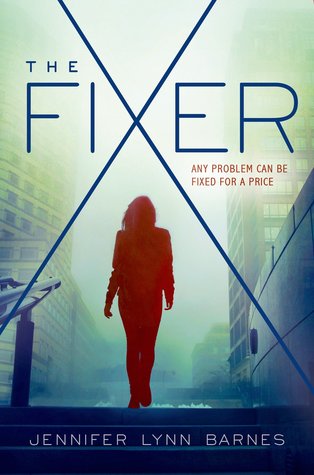 Title
: The Fixer
Author
: Jennifer Lynn Barnes
Publisher: Bloomsbury USA Childrens
Publishing Date: July 7, 2015
This thriller YA is Scandal meets Veronica Mars.
Sixteen-year-old Tess Kendrick has spent her entire life on her grandfather's ranch. But when her estranged sister Ivy uproots her to D.C., Tess is thrown into a world that revolves around politics and power. She also starts at Hardwicke Academy, the D.C. school for the children of the rich and powerful, where she unwittingly becomes a fixer for the high school set, fixing teens' problems the way her sister fixes their parents' problems.
And when a conspiracy surfaces that involves the family member of one of Tess's classmates, love triangles and unbelievable family secrets come to light and life gets even more interesting—and complicated—for Tess.
Perfect for fans of
Pretty Little Liars
and
Heist Society
, readers will be clamoring for this compelling teen drama with a political twist.
Book in One Word: Entrancing.
When I first heard about
The Fixer
I was excited because NEW JENNIFER LYNN BARNES. As a big, big, big fan of
The Naturals
and
Killer Instinct
, I was ready to devour more of Barnes's books, and I loved that her latest sounded kind of similar to The Naturals series. And despite a few minor issues, I liked this twisty, problem solving novel.
The Fixer
tells the story of Tess Kendrick, a sixteen year old (not very willingly) brought away from her grandfather and his ranch in Montana to live with her older sister Ivy in Washington D.C. In D.C., she gets driven around by Ivy's personal assistant Bodie (he's fantastic), attends a very, very nice school, and quickly learns what exactly it is that the (in)famous Ivy Kendrick does: she fixes things. In short, Ivy Kendrick is
Scandal
's Olivia Pope, minus sex with the president. She works in D.C., and when someone has a problem she fixes it, and she gets stuff done--and does it on the down low. And of course, since Tess is Ivy's sister, people assume that Tess is a fixer, too--and maybe Tess unintentionally is.
I did have a few minor qualms with
The Fixer
, and they were mainly with the writing. Now, Jennifer Lynn Barnes can certainly write--really, really well--but a few things in this book bothered me. Tess repeats a
lot
of things in her internal dialogue, like she's listing things out as she tries to figure something out, and it got too repetitive. I also wasn't a fan of the use of italics throughout her internal dialogue--for the most part, I didn't think it was very necessary? Any other "problems" I had with
The Fixer
weren't the book's fault. For one, reading this book while having a fever prooobably wasn't the best idea. And lastly, I gave this book a little bit of self-made hype and had some high expectations because of how much I love the practically flawless Naturals books, and, well--that's just asking for a letdown. (And really, I didn't want The Naturals to be beat, but still.) But all in all, I can definitely see how people love this book and can say that it's good.
Like I said, Jennifer Lynn Barnes can
write
. In
The Fixer
, she keeps the story going with all these elements that create a sort of political thriller, and it's fantastic. (I don't know how it compares to
Veronica Mars
since I've never seen it, but my gosh, it is
so
a YA
Scandal
.) One thing Barnes does extremely well is create twists and turns that, honestly, I don't think can be predicted. Also, after that ending--I'm going to be needing book two sooner rather than later because that was
great
. Somehow, Barnes knows how to create and make up all these pieces and turn them into a thousand-piece puzzle. I looove it, and that's part of what's making her one of my top authors.
Another thing I was fan of with
The Fixer
was the characters. As far as main characters go, Tess was a pretty average one who was thrust into a non-average situation, and I really liked her Nancy Drew, I'll-do-it-myself-if-you-won't-tell-me, snarky attitude. Compared to her sister, Tess is a loose cannon, for Ivy can be pretty serious and doesn't really care to take any of your shit. Of course, Ivy wouldn't be able to do everything she does alone, so she has a little team. First is Adam, who's serious like Ivy, and my gosh, can they please just get together already? Then there's Bodie, who I LOVED. He's so NOT serious, and he's kind of like a giant kid (or smartass), and he's constantly fired. I didn't mind Tess's friends Asher, Henry, Vivvie, and Emilia (who isn't really a friend yet but I think we'll see more of). Asher is DEFINITELY my favorite, along with Bodie--he's probably a mini-Bodie, really. And I know the synopsis mentions a love triangle, but this had virtually no romance. I'm going to assume romance will blossom in the next book, and if it does, what I want is Asher/Tess and Henry/Vivvie (so they have someone)...but I don't think that's what will happen. But again, the characters--nicely fleshed out and pretty dimensional, even though this is just the beginning. I think they'll really start to progress as the series (I have no idea how many books it's supposed to be) goes on.
Though I'm disappointed I didn't love
The Fixer
, I still really liked it. I love the suspense and mystery and problem-solving, and how it's a quicker read because you just want to keep turning the pages. It has an excellent cast of characters that's sure to get even more excellent, it's well-written, and it has a great bit of comedy mixed in. Tess is kind of like a modern day Nancy Drew, except she has a Mystery Gang, is a whole lot snarkier, and has a sister who is a professional problem solver. If nothing else, reading this book is just
fun
and a joyride. I'd say picking this one up is worth it.
Did I like it?
Yes!
Did I love it? Not quite?
Would I reread it? Maybe!
Would I purchase it? Yes, because I want all of Jennifer Lynn Barnes's books, but I don't think I'm in any rush to own it.
Who would I recommend it to? Definitely for fans of Scandal, Veronica Mars, and Jennifer Lynn Barnes, and people who like lighter thrillers with an interesting concept and tons of twists.
I received a copy of this book from the publisher in exchange for an honest review, and that in no way sways my opinion of the book.