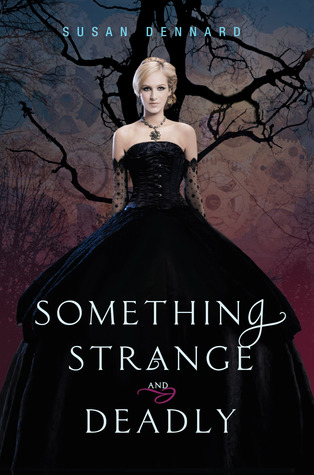 Title
: Something Strange and Deadly
Publishing Date: July 24, 2012
Pages/Format: 388, Hardcover
Add on Goodreads!
There's something strange and deadly loose in Philadelphia…
The year is 1876 and Eleanor Fitt has a lot to worry about. Her brother has gone missing, her family has fallen on hard times, and her mother is determined to marry her off to any rich young man who walks by. But this is nothing compared to what she's just read in the newspaper—
The Dead are rising in Philadelphia.
And then, in a frightening attack, a zombie delivers a letter to Eleanor…from her brother.
Whoever is controlling the Dead army has taken her brother as well. If Eleanor is going to find him, she'll have to venture into the lab of the notorious Spirit-Hunters, who protect the city from supernatural forces. But as Eleanor spends more time with the Spirit-Hunters, including their maddeningly stubborn yet handsome inventor, Daniel, the situation becomes dire. And now, not only is her reputation on the line, but her very life may hang in the balance.
Book in One Word: Meh.
Something Strange and Deadly
was about). And really, I don't understand what all the fuss is about this series that's supposed to be
so good
.
Something Strange and Deadly
may seem like it's a book about zombies in Philadelphia in 1876, but it's not. It's about Eleanor Fitt, a slightly disgraced, just-above-middle-class teenage girl who's desperately searching for her missing brother amidst the rising Dead. During her search she finds herself associated with shady situations and a few Spirit-Hunters, a trio of misfits who use fighting and--Er, magic? Necromancy? I'll get to that later.--machines to take down the Dead. I thought there would be a waaay bigger focus on zombies (which is why I didn't read this a couple years ago, because I was TERRIFIED of zombies), but really, they just kind of randomly pop up and people are all like, "Oh, hey. One of the Dead. Cool." I mean, nowadays, people get cracked up on bath salts and the world starts to freak, but I guess back then it wasn't such a big deal if a living dead person was trying to eat you?
And then there are the Spirit-Hunters: Joe, Jie, and Daniel. The only one we really get much from is Daniel, and I liked him, but I needed more--from all of them, actually. Like, if one of them died--if any character died, really--I wouldn't care that much. But back to the whole Spirit-Hunting thing. I don't get it. It's 1876. How does this all
work
? Oh, hey, let's just grab this machine, stand in water, and have my mind take down all the Dead in this area. How does that
work
? Why isn't Eleanor ooing and awing over this magic-like stuff? I don't understand how the Spirit-Hunters work, and I needed more explanation.
But of course, let's not forget about our protagonist, Miss Eleanor Fitt (who eventually points out that "Miss Fitt" sounds like "misfit"). She's kind of annoying. I get that she doesn't want to be all prim and proper and tea and crumpets, but she can be too pushy and intruding and not understanding of a concept called Personal Space. Part of the problem with Eleanor--and the other characters and the story and the book as a whole--is the writing. It's...okay. It's certainly not my favorite, and the internal dialogue can be blah and repetitive, and--shocker--Eleanor lets out a breath she didn't know she was holding, but
Something Strange and Deadly
does something I cannot stand: exclamation points! Lots of them! I mean, a few is fine. But when I start to notice them and they're used unnecessarily, I get annoyed. It drives me crazy!
Despite all of the above, I didn't hate
Something Strange and Deadly
. It certainly has something likeable and engaging about it when reading, but it has issues. I'd probably give it three stars, because I liked it more than I disliked it, I did finish it, and I've already started the sequel. (I will be finishing it, and I have copies of all the books, novella included, available.) I'm hoping that this will be one of those series where the sequels get better. (Like
Throne of Glass
. I didn't love it when I read it, but then I read
Crown of Midnight
and dubbed it bae.) But, since I've already gotten pretty far into
A Darkness Strange and Lovely
(and maybe read ahead two hundred pages), I'll be honest: that's not likely. Yes, it's likeable, but it doesn't go much farther than that. Unfortunately, this is something strange and disappointing.
Did I like it?
Yes...
Would I purchase it? I already own it, but if I didn't, I wouldn't be in any rush to get this on my shelves.
Who would I recommend it to? A lot of people seem to really like this, so if you're a fan of settings in the past, stories that are sort of about zombies, mystery, some hard-to-put-down-the-book scenes, and a cute romance, then this is for you.