is a weekly feature
created by
The Broke and the Bookish
.
This Top Ten Tuesday topic always stresses me out because I'm reminded of how many books I didn't read from the previous season's TBR--but I actually read ten of fifteen books on my
Spring TBR
, so woohoo! But for this TBR, I wasn't sure where to start or how I wanted to organize the whole thing. But then I realized what time it is--
IT'S SUMMERTIME! Screw organization and all that--I should just have fun and not stress about any of it. I'm hoping to get a LOT read this summer, so please: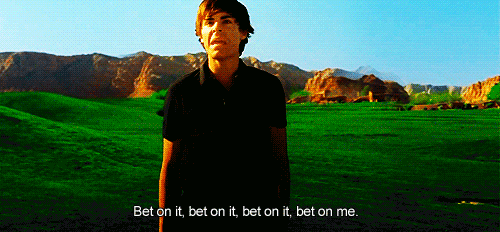 I've been more of a mood reader lately, and that makes this list a little bit tentative--and not fully accurate, because I'll also be reading some series for the
Summer of Series Challenge
, but I won't list them here. ANYWAY, here are
ten
sixteen books I most definitely plan on getting read this summer, with a mix of review books, books I just want to read, and books that won't be in my hands until publication day
boo hoo
.
The Anatomical Shape of a Heart by Jenn Bennett
: You had me at "anatomical shape of a heart." Plus, a romance between a graffiti artist and one who likes anatomy? YOU HAVE ME.
The Distance from Me to You by Marina Gessner
: I don't think the romance is the basis of this book, but most of the sentence is in the wild and it sounds summerish and gritty, so I'm excited.
Wolf by Wolf by Ryan Graudin
: A race across the world, a MAP on the cover, and wolves--sold, sold, sold.
Da Vinci's Tiger by Laura Malone Elliott
: The love interest is DA VINCI, WHAT ELSE MATTERS?
Velvet Undercover by Teri Brown
: BRITISH SPIES SPIES SPIES.
Vengeance Road by Erin Bowman
: Just look at THAT COVER.
Walk on Earth a Stranger by Rae Carson
: Another Westernish book, and it's by Rae Carson so nothing else matters.
A Darker Shade of Magic by V.E. Schwab
: I've been waiting to read this until it's my turn to nominate for a book club, because I think they'll like it (they were fans of
Vicious
). Although I could just read it now and talk about it later. I just want to READ IT.
Never Never by Brianna R. Shrum
: The oh-so-kind
Andi
is letting me borrow her copy and HELLO IT'S PETER PAN.
The Pirate Code by Heidi Schulz
: There are two kinds of ships in this novel, and I'm hoping one gets super romantical because I heart it.
Illuminae by Amie Kaufman and Jay Kristoff
: Unique format + outer space = Why am I not reading this right now?
The Weight of Feathers by Anna-Marie McLemore
: He's a tightrope walker, she's from a mermaid troupe, HOW IS THAT PREMISE NOT INTRIGUING?
Every Breath by Ellie Marney
: I have this from the library right this second so I CAN FINALLY READ IT and see what ALL the fuss is about.
The Winner's Curse by Marie Rutkoski
: This is the one book I said I'd get read this year, so.
Mortal Heart by Robin LaFevers
: But if I don't read this I won't have to say goodbye to this amazing series, so...
Queen of Shadows by Sarah J. Maas
: Bitch, please. If I were to read only one book this year it would be this. I NEED BAE SO BADLY.
What are you reading this summer?