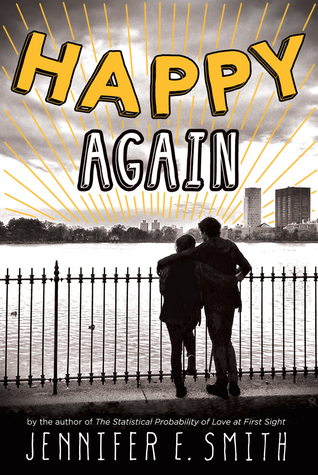 Title
: Happy Again
Author
: Jennifer E. Smith
Publishing Date: April 14, 2015
Ellie O'Neill and Graham Larkin fell hard for each other when a misspelled email address unexpectedly brought them together. Now, over a year has passed since they said goodbye with the promise to stay in touch, and their daily emails have dwindled to nothing. Ellie is a freshman in college and has told herself to move on, and Graham has kept himself busy starring in more movies, as well as a few tabloid columns. But fate brought these two together once before—and it isn't done with them yet.
In this sequel novella to
This is What Happy Looks Like
, Jennifer E. Smith revisits two beloved characters to tell the story of one magical night in Manhattan. When Ellie and Graham come face to face once more, can they get past the months of silence and the hurt feelings to find their happily-ever-after again?
Book in One Word: Pleasant
This is What Happy Looks Like
when I read it a couple years ago--it was such a nice and sweet little contemporary, and I really enjoyed it. But I do recall the ending being a little open-ended, so I was pleasantly surprised when Jennifer E. Smith announced
Happy Again
, a sequel novella to
This is What Happy Looks Like
that would follow up on what happened to Ellie and Graham. Sometimes novellas seem pointless--though I don't think I've ever read one that's a sequel like this--but this one, while maybe not
necessary
, certainly wasn't pointless.
Happy Again
--ah, it was nice. (Insert heart here.)
One of my favorite things about this novella was the writing--I don't remember the writing in its predecessor being so
good
. I've only read two--well, three--of Smith's novels, but after reading
Happy Again
and very much liking its writing, I need to read them all. And I can't really tell you what this novella is about because it would spoil both
Happy
books, but it was such a nice little thing. Usually books--especially contemporary novels--end and that's it; we don't get anything else. So to get
Happy Again
, and have it be so good, is like a surprising, refreshing, nice gift--and I love it.
See, now I want to go and reread
This is What Happy Looks Like
and then reread
Happy Again
. A nice (I know I'm saying that word a
lot
) little story that lets us revisit characters we never thought we'd see again--well, that makes for a happy and satisfied reader. Thanks, Jennifer E. Smith, for
Happy Again
. If you want to write
Happy Once Again
(and maybe make it more like a full-length novel), I certainly won't be complaining. (And give us more of the pig, please.)
Did I like it?
Yes!
Did I love it? It's hard to love something that's so short, but it's closer to love than not-love, if that makes sense.
Would I reread it? If I'm in the mood for something short and sweet, maybe!
Would I purchase it? I already did...
Who would I recommend it to? If you liked This is What Happy Looks Like--and actually, maybe if you didn't--then I'd suggest reading this nice little semi-sequel.