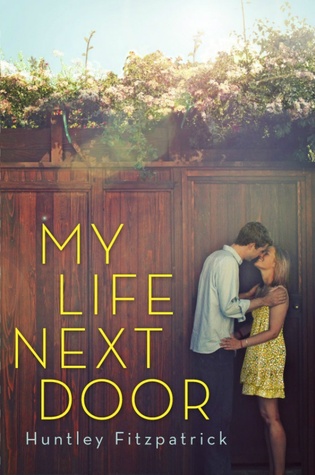 Title
: My Life Next Door
Author
: Huntley Fitzpatrick
Publisher: Dial Books for Young Readers
Publishing Date: June 14, 2012
"One thing my mother never knew, and would disapprove of most of all, was that I watched the Garretts. All the time."
The Garretts are everything the Reeds are not. Loud, messy, affectionate. And every day from her rooftop perch, Samantha Reed wishes she was one of them . . . until one summer evening, Jase Garrett climbs up next to her and changes everything.
As the two fall fiercely for each other, stumbling through the awkwardness and awesomeness of first love, Jase's family embraces Samantha - even as she keeps him a secret from her own. Then something unthinkable happens, and the bottom drops out of Samantha's world. She's suddenly faced with an impossible decision. Which perfect family will save her? Or is it time she saved herself?
A transporting debut about family, friendship, first romance, and how to be true to one person you love without betraying another.
Book in One Word: A+++
My Life Next Door
was the one book I said I'd get read in 2014. A
lot
of people had excellent things to say about it, and it seemed just like the kind of book I would love. And so, at the very end of 2014--Literally. I started it on December 29th and finished it on the 30th.--I finally read it. Upon finishing, I certainly
liked
the book, but I didn't really understand what all the fuss was about it. Fast forward five months--to now, as I'm finally writing my review--and what do you know. The more I think about
My Life Next Door
, the more I like--and love--it. LOVE IT. This isn't just a fantastic contemporary novel--it's a fantastic novel.
Samantha Reed lives with her getting-into-politics mother who's somewhat of a perfectionist, and who most certainly does not approve of their
Cheaper by the Dozen
-esque next door neighbors the Garretts. Their front yard's always a mess, there are a million children, they're always loud--everything the Reeds are not. But Sam has always been intrigued by the Garretts so she watches them while sitting on the roof outside her bedroom window, which has the perfect view. Then one day Jase Garrett climbs onto the roof to join her--and Sam's life next door begins.
The absolute best thing--okay, maybe the second best thing, because, ugh, the
romance
, I loved it--about
My Life Next Door
is the characters. They. Are.
Amazing
. They pretty much all come to life so well and it's fantastic. Sam was a great protagonist who really is just your average teenage girl--she doesn't need superpowers or to be "the chosen one" to be a standout character. I literally can't even with Jase because he is also very realistic and just SO NICE and SWOONY and literally everything. And his family--oh my gosh, I love the Garretts (especially the little ones). They're just so fun and imperfectly perfect and brought to life with A+ effort and quality and they are seriously one of the best, most well written families I have ever read. And there's one more character I'm going to talk about because he's one of the best, strongest, most standout secondary characters I've ever read, and that's Tim. Tim has some drinking and drug problems and is trying to get cleaned up, but he has some of the best lines and is HILARIOUS and AWESOME and I'm
very excited
we'll get more from him in
The Boy Most Likely To
. So. The characters. A+++++.
This book deals with a lot of things realistically and makes them imperfect because, hey, that's life, and sometimes books make burning in fire a glorious thing, you know? Sure, some storylines are a little off the line of what's average and realistic, but that's fiction, and fiction can create interesting things to make an interesting story while still adding in realism. Sam's mom is a nice bit of the plot because she throws herself into politics--and onto her younger boyfriend--which kind of gives Sam some free rein to gallop on over to the Garretts's. And this story isn't all fluffy--really, it's not exactly what I'd call fluffy anyway--and prancing through flower-filled meadows and all that. THINGS happen that bring about more of the imperfection that is life, but it really helps to tell the story. (And there's something that is handled just SO WELL and covers the bases and explains things in a way I don't usually see in books, so brownie points for you, Huntley Fitzpatrick.) I see a lot of books get compared to Sarah Dessen's, and this one's definitely close, but it's much, much more heavy on the romance and has a lot more focus on all that (which I LOVE).
My Life Next Door
is just SO GOOD and it's really hard to just sit here and write my review instead of running upstairs to reread some of my favorite parts (I've already gotten lost in all the quotes on Goodreads and just UGH).
I know this review does a shoddy job of telling how you utterly
good
this book is and doesn't exactly tell you what it's all about. Did it have its issues? Sure--I didn't initially love it and I felt some things were a little open-ended or never explained or whatever, but
whatever, I don't care
. THIS is what a good contemporary novel--hell,
book
--is. THIS is how you create something made up but still keep it real (yo). THIS is what fantastic, freaking amazing characters look like (for serious).
My Life Next Door
will make you laugh and smile and panic and freaking freak and swoon and ship a freaking
ship
and hope for the happiest of ever afters as you also hope the book will never, ever end.
Well done
.
Did I like it?
YESSS.
Did I love it? I'm going to say YES.
Would I reread it? CAN I REREAD IT RIGHT NOW?
Would I purchase it? Thank gosh I already have it because now I can go through and reread parts whenever the hell I want to.
Who would I recommend it to? EVERYONE. As far as contemporaries go this is done extremely well. The romance is just UGH, so good, and the characters are so good you're going to cry wishing they were real.