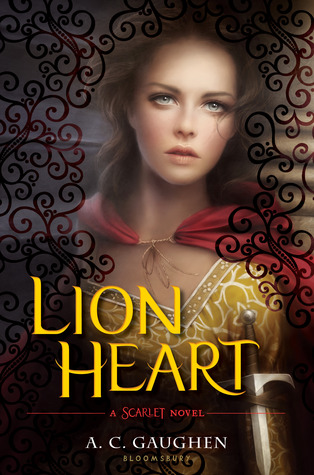 Title
: Lion Heart
Publisher: Bloomsbury USA Childrens
Publishing Date: May 19, 2015
The eagerly-awaited conclusion to the Scarlet trilogy delivers another action-packed and romance-filled adventure.
Scarlet has captured the hearts of readers as well as the heart of Robin Hood, and after ceaseless obstacles and countless threats, readers will finally find out the fate of the Lady Thief.
Imprisoned by Prince John for months, Scarlet finds herself a long way from Nottinghamshire. After a daring escape from the Prince's clutches, she learns that King Richard's life is in jeopardy, and Eleanor of Aquitaine demands a service Scarlet can't refuse: spy for her and help bring Richard home safe. But fate—and her heart—won't allow her to stay away from Nottinghamshire for long, and together, Scarlet and Rob must stop Prince John from going through with his dark plans for England. They can not rest until he's stopped, but will their love be enough to save them once and for all?
Book in One Word: Meow?
Scarlet
was, and though
Lady Thief
was a slight sophomore slump--but it still had some excellent
parts
--I still considered this a series to be a fan of. I was excited for
Lion Heart
, the finale to this
Robin Hood
-retelling trilogy, and some reviews had me excited, and I was expecting a slap-bang finale with an explosion of feels on every other page. I'm not saying I didn't like this book--I
did
like it--but I didn't get any of that, and that's kind of a disappointment.
Part of the problem with
Lion Heart
may have been that, when I started it, I wasn't in the mood for it--at about 18% in I was considering setting it aside and reading something I
was
in the mood for, but then I finally started to get into the story. It didn't help that it had been over a year since I'd read
Lady Thief
and wasn't remembering some of the facts--but I did remember how it ended. And I was surprised by how much time had passed between the end of that book and the beginning of this one--we didn't see any of that. A few scenes did that--fast forwarded time, or what I expected to happen didn't. And the ending--umm, what was that? I seriously yelled WHAT?! WHAT?! when I turned the page and saw the Author's Note, because I was still expecting a lot more to happen and to get more answers. So the ending was a bit of a bummer and did not help save the book and raise its rating. Also, I wasn't loving the writing, and that made reading kind of hard.
All that said
, I
did
like
Lion Heart
, and more so than not. The romance between Robin Hood and Scarlet is so, so lovely and I freaking
ship it
, and though I wanted more scenes between them, a thing or two did happen that was perfect and MADE ME WANT TO CRY. I liked the secondary characters and how some added bits of comedy--and an additional ship--but I was surprised at how much I missed a character who died in
Lady Thief
. I didn't think I cared very much, but a few things happened or were said that made me a little teary and wishing that character could come back. But back to Rob and Scarlet--I could read so many books about those two. Their love is so sweet (and their romantic suspense is UGH so good), and how they protect each other and work together is just the best. They're both strong and able to care for themselves, but they also have weaknesses and are stronger together. Rob helps to tame Scarlet's feistiness--she's pretty kickass--and Scarlet helps to keep Rob (also pretty kickass) focused and anchored. Very, very good characters (and more books pleaseee).
As for the story, it was...interesting. I felt like I was missing information on a few occasions, and it didn't feel complete at the end--it could've been longer or had another book. Some schematics didn't make sense--why can't everyone just kill Prince John, or why can't Eleanor just put her naughty son in a big timeout? The Author's Note gives more of an explanation for some plot lines than the actual story does, but I just wanted...more. Don't fast forward the timeline--explain. Create more tension. Give me
more
. Scenes would get so close to the edge and then just
stop
, but I
wanted
them to go over the edge so I could see how the characters--Scarlet--would pull through. (Obviously, I'm super nice.) I think
Lion Heart
could've been much better if it would've done more and reached closer to my expectations, but as is, I just don't know what else to say about it.
The good thing about not loving
Lion Heart
is that my heart isn't ripped out or very sad over having saying goodbye to yet another series. (Though I
am
sad because I
don't
want to say goodbye to these characters and their stories.) But it is disappointed, because--and though I guess my expectations weren't too high because I didn't looove
Lady Thief
and I was in the mood for mood reading--it just didn't bring to the table some things I thought it would--like all the feels. It most certainly has compelling characters and a romance to root for, but it fails to be a strong finale and leaves too many things open-ended.
Lion Heart
should've been a roar but instead it's just a meow. (And that hurts because these characters and their stories deserve one great big
roar
.)
Did I like it?
Yes.
Would I reread it? As a series, yes, and as a book, yes.
Would I purchase it? Yes! I don't know why I don't own these books yet. For shame!
Who would I recommend it to? If you're a fan of finales that won't rip your heart out then this is for you, and as for the series as a whole, I'd recommend it to just about anyone but especially to fans of retellings, Robin Hood, and some seriously feelsy feels romance.
I received a copy of this book from the publisher in exchange for an honest review, and that in no way sways my opinion of the book.