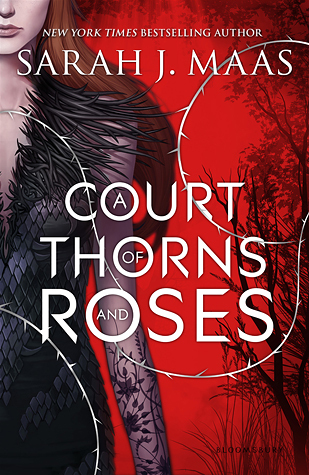 Title
: A Court of Thorns and Roses
Publisher: Bloomsbury USA Childrens
Publishing Date: May 5, 2015
A thrilling, seductive new series from New York Times bestselling author Sarah J. Maas, blending Beauty and the Beast with faerie lore.
When nineteen-year-old huntress Feyre kills a wolf in the woods, a beast-like creature arrives to demand retribution for it. Dragged to a treacherous magical land she only knows about from legends, Feyre discovers that her captor is not an animal, but Tamlin—one of the lethal, immortal faeries who once ruled their world.
As she dwells on his estate, her feelings for Tamlin transform from icy hostility into a fiery passion that burns through every lie and warning she's been told about the beautiful, dangerous world of the Fae. But an ancient, wicked shadow grows over the faerie lands, and Feyre must find a way to stop it . . . or doom Tamlin—and his world—forever.
Perfect for fans of Kristin Cashore and George R. R. Martin, this first book in a sexy and action-packed new series is impossible to put down!
Book in One Word: BEASTLY.
A Court of Thorns and Roses
I wanted to read it. It had three very strong things going for it: It's a fantasy novel, Sarah J. Maas wrote it, and it's a retelling of
Beauty and the Beast
, which is my favorite thing in like ever (duh). So I requested an ARC and pretty much freaked out when a copy arrived in the mail. But I didn't read it until the week before its release (and it took me a week to read, though I was busy and had school and all, but still), and that's because I didn't want to read it during a busy time with school because I knew my focus would go elsewhere, and I think I kind of put it off because of all the hype. But huzzah! I finally read it! And...
I did not like--or love--
A Court of Thorns and Roses
like I do the Throne of Glass series (and that's okay, because Throne of Glass is bae and I don't want it to be beat). Really, I wouldn't say that I
loved
this book, though I certainly
liked
it. Part of that was probably hype. I mean,
everyone
is talking about this book and saying such amazing things about it, and again, it's a
Beauty and the Beast
retelling and freaking Sarah J. Maas wrote it, so there's some self-generated hype that's also built it up. And while none of it really
bothered
me, I still had a few issues with the book. It took a little too long for me to get into it, and while I liked the characters, it took some time to really care for some of them and/or connect with them, and even then, that's something that will develop as the series progresses. I found some things--and some of Feyre's internal dialogue, like kind of a lot--to be repetitive. Parts of the curse just seemed too convenient, and I wondered how that curse was actually thought up and how everything just started to fit into it--it was a little too easy (even if parts of the curse weren't easy at all). The romance was excellence--hello, it's Beauty and the Beast--but I wanted more development and felt like I missed the part where it really turned into a romance. BUT BUT BUT. I have good things to say, too! And this was definitely a good book and not a bad one--but it had its qualms, like most books do.
The parallels to
Beauty and the Beast
--both the Disney version and the original fairy tale--are excellent and twisted. They did two things: had me geeking out because OH MY GOSH THIS IS JUST LIKE
BEAUTY AND THE BEAST
and had me wondering what other parts of the story might be in Maas's version (my imagination went wild). It was kind of exciting! There was a point when the story took a turn and felt less like a retelling--and I kept thinking I was reading the sequel--but whatever, some pretty cool and crazy things happened after that turn, so I'll get over it. But it also hit this point where I couldn't put the book down and was up just a
little
late reading, and then all I wanted to do was read, so that's good.
Reviewing this is hard, so let me tell you what
A Court of Thorns and Roses
is about without being spoilery. Feyre lives in a run-down cottage with her crippled father and two sisters, one who's delicate and one's who hardened. Several years ago they lost their fortune and were forced to live in the lower class, so it's up to Feyre to spend her days hunting and trying to care for her family. But when she kills a wolf and a fae-beast arrives to collect retribution, she's forced to leave her home and go live in his. (How many of you
Beauty and the Beast
fans are geeking out about that?) While there she learns about a curse that's weakening the land of the faeries (and potentially hers), who rules them all, and that perhaps she can have so much more than the provincial life originally planned for her. (And of course SO MANY MORE THINGS HAPPEN--and one thing that is most certainly
not
in
Beauty and the Beast
--but I can't tell you because that'd be spoilery and rude.)
A Court of Thorns and Roses
also comes with an interesting set of characters. It's told from the POV of Feyre who, as the Belle of the story, had some comparisons and contrasts with the original curse-breaker. Feyre's a hunter and a fighter, but she also feels like she has nothing really going for her in the future. Unlike Belle, she can't read and therefore can't write, but she
can
paint, and that's her happy medium. I didn't care very much for her family, but I did like the people she met and befriended at the Beast's--Tamlin's--estate. As a beast, Tamlin is very kind and educated and sweet and, of course, swoony. Also, the dude's totally badass. He's High Fae (or maybe more) and therefore extra song and special and magical--literally, he has magic--and he's a very big protector of his home, his lands, and his people. His right hand man is Lucien, who I guess is a mashup of Lumiere/Cogsworth, though I'd put him on the slightly more humorous side (with a good bit of seriousness), but I liked him. There's also this other character you've probably heard of--Rhys--and all I have to say is GTFO I already have a ship and you were not invited on it, and also, don't do certain things like that thing you did at the end because the ship is full you can't get on go elsewhere gosh dang it. (Though he did do something
very interesting
that will make for some
very interesting
things in the sequel. *rubs hands in glee*) And that's that. (I am VERY PASSIONATE about my shipping okay.) OH, and there are some other...people...creature-things, and the only thing I'll say about them is that, dang, there are some evil mofos in the realm of the faeries.
One of the things about
A Court of Thorns and Roses
is that it has a lot of THINGS going on. Fair warning for fans of the Throne of Glass series: While I'd say the levels of violence are fine--and really, much more higher and painful in Throne of Glass, let's be real--this is technically a New Adult novel, so it's more graphic in the steam department, and it's not from a dragon. All that said, this literally had everything. Royalty and fancy houses and scrumptious food, romance--oh, the ROMANCE--scenes that make you gasp and freak out and cover part of the page so you can't look ahead because WHAT IS GOING ON, a thing with a worm (whaaa?), magical this and magical that, lots of evil and creepy things, some crazy shit, and some steamy stuff. So, you know, everything. And that's not even all of it.
If you're looking for a
Beauty and the Beast
retelling filled with singing household objects and a tale as old time, you wont' quite get it. Instead, you'll find a tale reimagined into something more darker and sinister and sexy (but still with bits of comedy), with the addition of faeries and imaginative creatures and beasts upon beasts and, yes, perhaps there are some tales as old as time.
A Court of Thorns and Roses
is set in a world filled with magic that's entrancing, enchanting, and ensnaring, with a curse created, contorted, and controlled by one very evil and beastly son of a bitch. It's a story that will you pull in with its familiarity, characters, and the pace at which you turn the pages because you absolutely must know how the hell it will end (because really, how in the hell will it?). And while I didn't love the ending (though I appreciate it not doing a certain
thing
, I think), I need the sequel like NOW. This tale as old as time will not make off with your children and come after them in the night, but you can satiate its monstrous appetite by mounting it in a space on your shelves.
Did I like it?
Yes!
Did I love it? Not quite.
Would I reread it? I'd say yes.
Would I purchase it? Pssh, I preordered it.
Who would I recommend it to? Most definitely for fans of Beauty and the Beast, both the Disney movie and the original tale, because there are similarities that will make you geek out. I'd also recommend this for fantasy fans who like their tales with a spin and some fae lore. And last but not least, for fans of Sarah J. Maas (but beware, for this is more adultish in the romance area).
I received a copy of this book from the publisher in exchange for an honest review, and that in no way sways my opinion of the book.