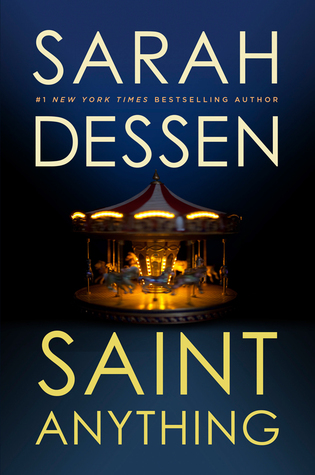 Title
: Saint Anything
Publisher: Viking Juvenile
Publishing Date: May 5, 2015
Peyton, Sydney's charismatic older brother, has always been the star of the family, receiving the lion's share of their parents' attention and—lately—concern. When Peyton's increasingly reckless behavior culminates in an accident, a drunk driving conviction, and a jail sentence, Sydney is cast adrift, searching for her place in the family and the world. When everyone else is so worried about Peyton, is she the only one concerned about the victim of the accident?
Enter the Chathams, a warm, chaotic family who run a pizza parlor, play bluegrass on weekends, and pitch in to care for their mother, who has multiple sclerosis. Here Sydney experiences unquestioning acceptance. And here she meets Mac, gentle, watchful, and protective, who makes Sydney feel seen, really seen, for the first time.
The uber-popular Sarah Dessen explores her signature themes of family, self-discovery, and change in her twelfth novel, sure to delight her legions of fans.
Book in One Word: Hmmm.
Saint Anything
since I first heard about it solely for the fact that it's a new Sarah Dessen novel. My love for Sarah Dessen's novels began when I was a freshman in high school and I read
This Lullaby
(my second favorite novel of hers, with the first being
Along for the Ride
), and since then I have read all of her books (except for
The Moon and More
, which I have yet to finish). I don't
love
all her books, and I prefer the ones that have more romance over the ones that don't. (Could you imagine a Sarah Dessen novel that was solely focused on romance?! I WANT ONE.) That said, Sarah Dessen is one of my favorite authors. And when you have a favorite author, you have this expectation and hope when you read one of their books: that you'll love it. You either will or you won't, and for
Saint Anything
, well...
Sydney Stanford has sort of lived in the shadow of her bad boy brother, who's currently in jail after he did something horrible while driving drunk (spoiler alert: he hits a kid and puts him in a wheelchair for life). Despite the fact that her brother Peyton's been on a train just waiting to wreck, her parents--namely, her mother--seem relatively shocked that Peyton is in jail. While Sydney avoids his phone calls--they have nothing to say to each other, and he won't let her come visit--she tries to accumulate to her new public school, where she transferred to from her swanky private one after her brother's accident and sentence. It's there that she meets new friends and gets to escape from home, where her dad's always working, her mother acts like nothing bad happened and Peyton is essentially innocent, and Sydney tries to stay a million feet away from Peyton's creepy friend Ames.
Saint Anything
felt like a Sarah Dessen novel, yet it didn't. I've seen some reviews and blurbs calling it one of her darker novels, and while it has some darkness (which I'll go into later), I wouldn't call it dark, especially when her other books have dealt with dark subjects like drugs, rape, and domestic abuse and violence. But
Saint Anything
had this aspect--this sort of thrilling, tense, suspenseful aspect created by one single character, and that aspect kept the pages turning as you tried to figure out what this character wanted, what the hell they would do, and how far Dessen might go. That was a new thing, I think, that I've seen from Dessen (though I haven't read most of her books for years). And there was definitely a lot of elements here that scream Dessen: family issues, hints of romance, friendship, cameos and known references (i.e. Spinnerbait, Anger Management, a certain character who makes coffee...), and just the writing you read and you
know
it's a Sarah Dessen book. And yet, there was something else about this book, and I can't quite put my finger on it.
I liked this book. I really, really did, definitely more so than not. (Probably four stars.) But I didn't love it. It has a major page-turner quality and I read it in like a day, which is always a good sign. And it's higher up on my list of Dessen favorites, too. I did have a few issues with it, though, although they're more like personal preferences. Scenes would end before I wanted them to, leaving me wanting more. The second chapter was a big info dump and I felt like I didn't really understand what was going and what Peyton had done--and I felt like I was missing other little bits, too, throughout. And the ending was good, but again, I wanted more. I always want more when a Sarah Dessen book ends.
Really, I think that last bit is more of a thing with contemporary novels. Their endings never seem to fully satisfy and wrap things up how I want them, and I always want more. For, say, fantasy novels, a big part of the story might be the world, because the world isn't a world we know or live in. So when the book or series wraps up, it typically does so in a way that gives all the answers and satisfies the reader. Because in fantasy worlds, you can't just end the story by saying "the world went on," because we don't have any idea what that looks like (unless the book tells us). But in contemporaries, the world is
our
world, so we know how it goes on, and we don't need all the answers and a nice little bow wrapped around
The End
. So, in the end, I want
more
. (Sorry for the little tangent.)
As for the story itself, it had similarities to
My Life Next Door
, but not in a bad way. This was mainly because of the Chathams, a family Sydney meets and spends time with and falls for (especially a certain pizza delivery boy, and she also finds a good best friend). The Chathams own a pizza place, where Dad, Mac, and Layla Chatham work. (They also have an older sister who's trying to get back into ice skating, and a mother with ALS.) For Sydney, the Chathams are like her family away from her family, and I really liked them. I was also a fan of the group of friends she made at school, and all their little dynamics. (I really love groups like that in books and movies.) Sydney herself was a likable character who learns to get a bit of a backbone and branch out somewhat, and I enjoyed her story, even if it wasn't a fluffy sort of story. I would have liked to see more about her brother, and her parents were, well...kind of ugh. And don't even get me started on Ames.
Saint Anything
is an interesting novel with compelling aspects and pizza, music, and YumYums (like Dum Dums). Its strong points were its romance, characters, page-turning and engrossing quality, and points of tension and suspense, while it fell just a little bit short in leaving me wanting more. It's certainly a good novel, and one that I liked, and as far as Sarah Dessen novels go, I'd peg this toward the middle in the terms of how good it is. But it's an interesting one, this one. Yeah, it's interesting. Something new and out of the box from Dessen is nice, though. (But seriously, I want a romance-based novel, STAT.) And I'm still a big Sarah Dessen fan, forever and always.
Did I like it?
Yes.
Would I reread it? Possibly.
Would I purchase it? I have to own all of Sarah Dessen's books, and I'll buy this eventually.
Who would I recommend it to? I'd recommend this to people who are fans of Dessen's books and to those who aren't, because I'd like to see what each thinks of this. Also, if you like your contemporaries with a bit of a twist, hit this up. And if you're a fan of sweet and subtle romance and compelling families, check this one out.
I received a copy of this book from the publisher in exchange for an honest review, and that in no way sways my opinion of the book.