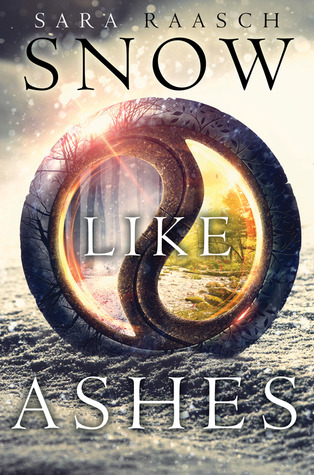 Title
: Snow Like Ashes
Publishing Date: October 14, 2014
A heartbroken girl. A fierce warrior. A hero in the making.
Sixteen years ago the Kingdom of Winter was conquered and its citizens enslaved, leaving them without magic or a monarch. Now, the Winterians' only hope for freedom is the eight survivors who managed to escape, and who have been waiting for the opportunity to steal back Winter's magic and rebuild the kingdom ever since.
Orphaned as an infant during Winter's defeat, Meira has lived her whole life as a refugee, raised by the Winterians' general, Sir. Training to be a warrior—and desperately in love with her best friend, and future king, Mather — she would do anything to help her kingdom rise to power again.
So when scouts discover the location of the ancient locket that can restore Winter's magic, Meira decides to go after it herself. Finally, she's scaling towers, fighting enemy soldiers, and serving her kingdom just as she's always dreamed she would. But the mission doesn't go as planned, and Meira soon finds herself thrust into a world of evil magic and dangerous politics – and ultimately comes to realize that her destiny is not, never has been, her own.
Book in One Word: Ensnowable!
Snow Like Ashes
was a good book slightly injured by the hype monster. It started out just a wee bit slow--for some reason I just could not get into it--but then it picked up and I was into it and I wanted to see where the story would go. Though I've seen this called high fantasy, I thought that it had a lighter feel to it, and I liked that. And while it was kind of predictable and I didn't love it, I definitely enjoyed reading
Snow Like Ashes
, and oh my gosh, can I please have the sequel like now?
What makes
Snow Like Ashes
unique is the world Sara Raasch has built. I won't really explain it because I know I will totally butcher it, but in short: there are eight kingdoms, and four are based off of the seasons (which is pretty cool). The story takes place sixteen years after the Kingdom of Winter was conquered by Spring. We're with the few remaining Winterians who weren't taken captive as slaves, among them Prince Mather, who's survival is important. But it's told from the POV of Meira, who lost her parents in Winter and was taken away from Winter, like Mather, as a baby. (And they are so totally crushing on each other.) And then the story progresses as Meira tries to steal back half of the power needed to restore Winter, and her little ragtag group looks to Cordell, one of the Rhythm Kingdoms, for help (and behold, another prince!).
One of the aspects I liked about
Snow Like Ashes
were the characters. They ran the gamut from kind to vile, best friend to the elder we worship. Meira was a likable POV, and a person who's just looking for her purpose and who really, really wants to fight. I liked Mather, and for a while I shipped it, but then Theron was introduced and, well...I think that's the ship. But it's one of those ships where I'll feel bad for either guy who loses...though maybe Mather less. (So, yes, there's a love triangle. But, to be fair, it was kind of forced on Meira.) I
hated
Theron's father--Roam?--and the King of Spring was a total evil arse, but a good one. (I kept picturing the second king in
Maleficent
.) And I liked the whole role Sir played.
Snow Like Ashes
was slightly disappointing in that it didn't live up to the hype. (A lot of reviews said
wow
, so I was expecting that. But I also think I can't help but compare most fantasy books to the Throne of Glass series, and that level is really hard to reach.) The writing wasn't my favorite, but it wasn't very bothersome. The world was interesting, I liked the characters, and some scenes and plot twists--even if some were predictable--were pretty intriguing and great to read. It also had a lot of things I was not expecting, which was nice. In short,
Snow Like Ashes
was pretty enjoyable. But give me
Ice Like Fire
please please pleaseee.
Did I like it?
Yes!
Would I reread it? Hmm, maybe.
Would I purchase it? Already did, but if I hadn't, I wouldn't say that I needed to have this on my shelves.
Who would I recommend it to? Fans of fantasy with a twist on the seasons, a bit of royal intrigue, and fantasies that are a bit lighter than others.
I received a copy of this book from the publisher in exchange for an honest review, and that in no way sways my opinion of the book.