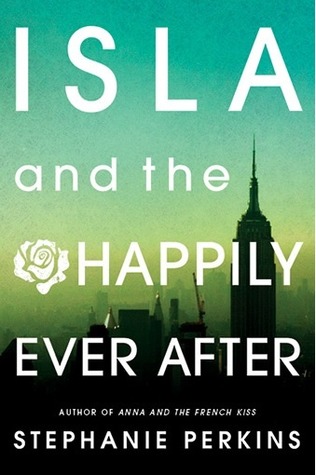 Title
: Isla and the Happily Ever After
Author
: Stephanie Perkins
Publishing Date: August 14, 2014
Love ignites in the City That Never Sleeps, but can it last?

Hopeless romantic Isla has had a crush on introspective cartoonist Josh since their first year at the School of America in Paris. And after a chance encounter in Manhattan over the summer, romance might be closer than Isla imagined. But as they begin their senior year back in France, Isla and Josh are forced to confront the challenges every young couple must face, including family drama, uncertainty about their college futures, and the very real possibility of being apart.

Featuring cameos from fan-favorites Anna, Étienne, Lola, and Cricket, this sweet and sexy story of true love—set against the stunning backdrops of New York City, Paris, and Barcelona—is a swoonworthy conclusion to Stephanie Perkins's beloved series.
Book in One Word: Fantasmical.
Isla and the Happily Ever After
would be better than
Anna and the French Kiss
, and I didn't want that. I didn't wanna
Anna
trumped, and I'd heard interesting things about
Isla
(like how it's kinda sad), and I just put it off. But then I said screw it and finally read it, and seriously, why did I take so long to read this damn book?
One of my favorite things about
Isla and the Happily Ever After
is that it shows how versatile Stephanie Perkins is.
Anna and the French Kiss
was super duper fluffy to the point that I pretty much (still, years later) can't even,
Lola and the Boy Next Door
was still fluffy but a bit more quirky, and
Isla
's a total 360. (I might be
spoiling
how the relationships work in these books, so if you don't want to know that skip to the next paragraph.)
Anna
and
Lola
had...well, I don't know that they really felt like slow
burns
, but they were big on sexual tension and keeping the characters from kissing until basically the end of the books. (THANKS, STEPHANIE.) But in
Isla
, the relationship progresses so, so much faster and it's deeper and steamier and goes further than the other two books did--it's almost toxic, but not in a bad way. And this isn't a complaint--again, I love how it shows how versatile Perkins is in her writing and how she can write different characters with different voices. (Is she still writing a slasher novel? Because
holy shit
.)
Isla and the Happily Ever After
is, of course, about Isla. (Which I incorrectly pronounce "IS-LUH.") If you remember, we saw a teeny, tiny snippet of Isla in
Anna
--I think she commented on Josh to Anna. And lo and behold, the love interest and her crush of galactic, mega proportions is Josh. (I dub their ship name ISSH, and
Vance Joy's "Mess is Mine"
could totally be about them.) Isla is a somewhat insecure and shy girl who mainly hangs out with her best friend Kurt (though their friendship may seem like more and it's not), who has a mild form of autism (I think). Josh kind of keeps to himself, skipping school and immersing himself in his art and the graphic, no holds barred comic he's writing about his life. But the two have a little run-in in New York, and then they find each other back at school in Paris (ooh la la), and then...they explode. (Note: I was originally kind of bummed that the love interest was Josh--who has one of my favorite lines/parts in Anna, "
Whyareyougivingawaythecookies?
"--because I was so used to Josh and Rashmi, but in this book, I kind of forgot about her, so sorry not sorry, Rashmi.)
This book is a mixture of grit, fluff, steam, and emotion. (Sounds like the recipe for the next Powerpuff girls--Anna, Lola, and Isla!)
Isla and the Happily Ever After
ups the ante in this set of fantastic contemporary novels from Stephanie Perkins, and it does not disappoint. It has so many aspects going for it and that makes it hard not to love. It's a romance--my gosh, it's a
romance
--but it's also so much more than that, and if you haven't read this book, or
Anna
or
Lola
, please do so now. They're wonderful.
Isla and the Happily Ever After
introduces new characters and gives us a snippet of some of the old ones we know and love, and ONE OF THE BEST THINGS TO HAPPEN IN A BOOK EVER happens, so there's that. What started out with a book that I thought had a cheesy cover and sounded like a Lifetime movie ended up being a set of three books that are some of the best contemporaries I've ever read and are definite favorites. The wait for this book was
long
, but it was worth it. And
Isla and the Happily Ever After
just made the series even better. But
Anna and the French Kiss
is still, and always will be, my favorite. (And that's totally okay.)
Did I like it?
Yes!
Would I purchase it? I preordered it, and I have to copies, and it's one of those books that's kind of precious.
Who would I recommend it to? Everyone. Absolutely everyone. This book is good, this series is fantastic--read it.