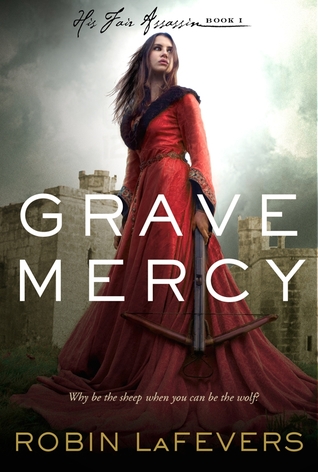 Title
: Grave Mercy
Publisher: Houghton Mifflin Harcourt
Publishing Date: April 3, 2012
Why be the sheep, when you can be the wolf?

Seventeen-year-old Ismae escapes from the brutality of an arranged marriage into the sanctuary of the convent of St. Mortain, where the sisters still serve the gods of old. Here she learns that the god of Death Himself has blessed her with dangerous gifts—and a violent destiny. If she chooses to stay at the convent, she will be trained as an assassin and serve as a handmaiden to Death. To claim her new life, she must destroy the lives of others.

Ismae's most important assignment takes her straight into the high court of Brittany—where she finds herself woefully under prepared—not only for the deadly games of intrigue and treason, but for the impossible choices she must make. For how can she deliver Death's vengeance upon a target who, against her will, has stolen her heart?
Book in One Word: Goodtastic!
Grave Mercy
? Not only was it better than I thought it would be, and not what I thought it was going to be about, but it was
good
. And why don't I have time to read
Dark Triumph
and
Mortal Heart
yet? I should drop out of college.
Grave Mercy
is about Ismae, a girl hated by her father and who's saved by a convent when she's forced into a nasty marriage. But this convent is not just any convent--it's the convent of the saint of Death, St. Mortain. The Sisters worship Death and teach other girls the ways of fighting, seduction, poisons, and all manners of killing people. So when Ismae is brought there, she goes from being the sheep to being the wolf. (Or maybe she was really the wolf all along?) And then Ismae is sent on a mission by the Abbess and St. Mortain to the courts of Brittany, where she shall feign being a mistress while trying to discern who's a French spy. And it's pretty freaking excellent.
Going into this book, and since I'd heard of it, really, I'd been wary. I haven't read a lot of historical fiction because, well, history classes, except for certain time periods, bore me, and therefore so does history. (Though I have read a wee bit of historical fiction and I think I've really liked it all?) And this book is not the shortest of books. But then there was a readalong and I needed to get more books read--stupid school--so I joined in. And thank gosh I did, because
Grave Mercy
was so much better than I thought it would be. This book, ladies and gentlemen, whether you like long books or not or historical fictionishness or not, is good.
Robin LaFevers weaves so many elements into this book--umm, nuns who worship Death and train girls to be assassins and kill people? A royal court? Bits of fantasy? Mystery and treachery? Maybe some romance?--and meshes them all together so smoothly that they fit together like peanut butter and chocolate, And, like peanut butter and chocolate, it does not bore. (But now I want candy.) I finished the book a couple days ago and as I sit here I cannot think of any complaints. Okay, maybe one--why did the book end?! I know that this is a series or companion novels or whatever, and I like who the characters are and POV is in
Dark Triumph
, but Rachel wants moooreee. (Oh, wait, maybe I do have one, teensy tiny, itsy bitsy little complaint: there was a little bit of word and phrase repetition, but whatever.)
And not only did LaFevers weave so many elements into the book, but she also did them strongly. Ismae, for example, is a character who shows growth and is able to fend for herself; she's a strong heroine. The Duchess of Brittany is, like, twelve, and she's pretty darn good at holding her own, too. Duval is excellent (more character growth, in my opinion), and so are his friends Beast (COOLEST NAME EVER) and de Lornay. And any nasty villains are, well, nasty villains. But
Grave Mercy
has good characters and character development, a good story and plot points, and good writing. So I guess it's a good book too.
Assassin nuns. A slower burning romance that is worthy of some shipping. A court setting in Brittany in the late 1400s. What part of
Grave Mercy
doesn't sound good? I waited forever to read this, but you shouldn't. And now that all three books are available you have no excuse. Seriously. And if you don't read
Grave Mercy
then maybe St. Mortain will send an assassin nun after you to do his bidding...
Did I like it?
Yes!
Did I love it? Very close.
Would I reread it? Why not?
Would I purchase it? Fortunately, I bought this when Robin LaFevers was coming here for a signing, so I already have it.
Who would I recommend it to? How about everyone? If you like historical fiction or fantasy or assassins then you should totally read this. Also, you might like it if you like it when shady things are afoot in the land of the royals.