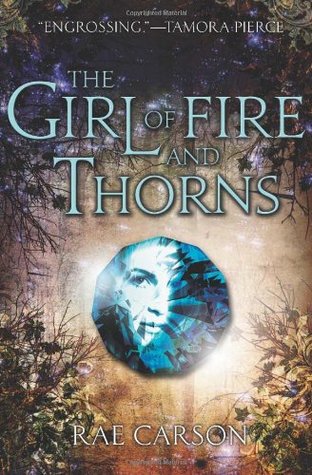 Title
: The Girl of Fire and Thorns
Publishing Date: September 20, 2011
Once a century, one person is chosen for greatness.

Elisa is the chosen one.

But she is also the younger of two princesses, the one who has never done anything remarkable. She can't see how she ever will.

Now, on her sixteenth birthday, she has become the secret wife of a handsome and worldly king—a king whose country is in turmoil. A king who needs the chosen one, not a failure of a princess.

And he's not the only one who seeks her. Savage enemies seething with dark magic are hunting her. A daring, determined revolutionary thinks she could be his people's savior. And he looks at her in a way that no man has ever looked at her before. Soon it is not just her life, but her very heart that is at stake.

Elisa could be everything to those who need her most. If the prophecy is fulfilled. If she finds the power deep within herself. If she doesn't die young.

Most of the chosen do.
Book in One Word: SOGOOD.
One of the best things about
The Girl of Fire and Thorns
was that so many people said it was GOOD and
they were so right
. It pains me that I haven't been able to read the sequels yet--which I immediately requested from my library and almost just bought because I wanted them that bad. In a sense, this book is so
simple
, but in a way that's totally good and sophisticated and just
so damn good
.
The Girl of Fire and Thorns
starts with newly-turned-sixteen Princess Elisa de Riqueza of Orovalle preparing to walk down the aisle as part of an arranged marriage with King Alejandro de Vega of Joya d'Arena (who's older and has a young boy from his deceased wife), courtesy of her father. I totally did not expect the book to start this way. I've heard enough about this series to know what THE SHIP is, and whenever that happens with any book I can't help but wonder what's going to happen to people who seem to try to be that ship. And I don't want to spoil anything, but I will say this: I had a bit of a ship going, and I knew it wouldn't--couldn't--go anywhere, but then Rae Carson made it clear what kind of this series this is going to be, and whyyy, it's going to huuurt.
Anyway, Elisa isn't your average protagonist. For one, she's not your skinny, size zero supermodel. She's a real person and she isn't skinny--when Alejandro's son Prince Rosario meets Elisa for the first time, he simply says, "You're fat." But she's a very likable character who I never found annoying. She's extremely kind, and I think she's really just a people pleaser, or tries to be. And as the story progresses, so does her character arc--she goes from kind of weak to strong and able to fend for herself. Oh, and she has a Godstone--like, a jewel, basically--in her belly button. (It means she's the chosen one.
Literally
. The bearer of the Godstone will do God's will, in short.) Did I forget to mention that? (I find it super weird.)
Rae Carson's writing almost comes off as stilting. It's the kind of writing that could kind of. Read like this. Sometimes. If that makes sense. But here, it doesn't. Her words flow smoothly, and they fit Elisa's voice, the royal scenery, and a setting that has Spanish qualities and is filled with a desert. This book has some humor, political warfare, magic, romance, friendship, adventure, a setting I don't see a lot of in books, HEARTBREAK, and so much more. In short, I need to read all the Rae Carson books.
There wasn't really anything I disliked about
The Girl of Fire and Thorns
. This book was--and is--GOOD. The characters are good, the writing is good, the setting is good, the story is good--everything is just GOOD and executed and done well. It's this fantasy world mixed with religious and magical elements that creates a lush story despite its deserty setting. And this review should be way more flaily, but that's what happens when you write a review like a month after finishing a book. But let me sum up this review for you in three short and quick words: READ THIS BOOK.
Did I like it?
YESSS.
Did I love it? Pretty much.
Would I purchase it? I've only read the first book in this trilogy so far and I want to own all the books so bad.
Who would I recommend it to? EVERYONE. Fantasy fans, yes, definitely. But if you like stories that are just plain good stories then you should read this.