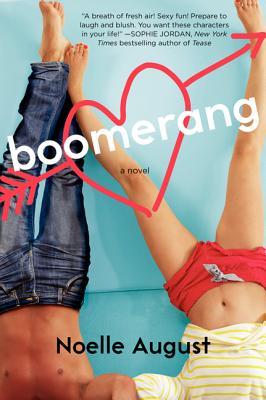 Title
: Boomerang
Publisher: William Morrow Paperbacks
Publishing Date: July 8, 2014
The first book in a sensational New Adult trilogy from Noelle August.
Welcome to Boomerang.com, the dating site for the millennial gen with its no-fuss, no-commitments matchups, and where work is steamier than any random hook-up.
Mia Galliano is an aspiring filmmaker. Ethan Vance has just played his last game as a collegiate soccer star. They're sharp, hungry for success, and they share a secret.
Last night, Ethan and Mia met at a bar, and, well . . . one thing led to another, which led to them waking up the next morning—together. Things turned awkward in a hurry when they found themselves sharing a post hookup taxi . . . to the same place: Boomerang headquarters.
What began as a powerful connection between them is treated to a cold shower courtesy of two major complications. First, Boomerang has a strict policy against co-worker dating. And second, they're now competitors for only one job at the end of summer.
As their internships come to an end, will they manage to keep their eyes on the future and their hands off each other, or will the pull of attraction put them right back where they started?
Book in One Word: Funxy!*
*That means fun and sexy.

One of my reading goals of 2014 was to read a New Adult novel, and I decided to start with Boomerang (even though I own a few NA novels, like The Sea of Tranquility and Easy). I'd heard Boomerang was a fun novel, the synopsis was something I loved the sound of, and the reviews were excellent. So I gave the book a try, and I liked it!
Boomerang is told in the POVs of Mia and Ethan, two people who wake up one morning in bed together and don't remember what happened the night before. They go their separate ways--and can't stop thinking about each other and wondering what the hell happened that night--until they learn they're both interns at Boomerang, the headquarters for a hip new dating-esque site. Only one of them will the get the job at the end of the summer, and having relations with a coworker is a strict no-no. So of course Mia and Ethan spend the majority of the novel lusting after each other, while also competing for the job.
I thought this book would have a bit more focus on the work competition the two had going on (like a fun Lifetime or Hallmark movie I would totally watch), and was kind of disappointed that it didn't. And I'm trying to say this without sounding pervy, but as a New Adult novel, I thought it was going to have more smexy times. Also, I'm used to YA romances, where there's more love than lust--at least that we see--and I like that more. The writing was fine, though there were a few inconsistencies and errors. I mean, I liked Boomerang. But I think I was expecting more from this book (plus, there was a bit of hype for this, which could've hurt it). I'm interested to see how more serious New Adult novels (like The Sea of Tranquility) go, and I'll definitely read at least one of those year.
As my first New Adult read,
Boomerang
wasn't bad, and it certainly wasn't something that'd make me never want to read NA again. It was, above all, light and fun (and, yes, it had definitely had some steam and sexiness, and the kind that's sort of uncomfortable to read when you're sitting next to a family member).It had some great elements going on and wasn't just focused on Ethan and Mia's relationship, which was nice. There were some family issues and job problems and all that grown up stuff, too. I wish I would've loved this, but like I've said before, I definitely liked it, and I'm looking forward to
Rebound
and reading more New Adult!
Did I like it?
Yes!
Would I purchase it? I don't need it, but it would look cute on my shelves.
Who would I recommend it to? Fans of New Adult, especially when it's raunchy fun, and people who are looking for a nice, mellow beginning to reading New Adult.