Hello, readers of the universe! I'm very excited to share my review of This Shattered World with you today as part of the blog tour hosted by The Midnight Garden! So please, don't float off into space just yet; stick around to see what I thought of this galactic companion novel, and maybe even enter a super cool giveaway. It's up to you. But you maaay want to check it out because it really is super cool (and I'll tell you about this good book, so basically, you win-win).
Review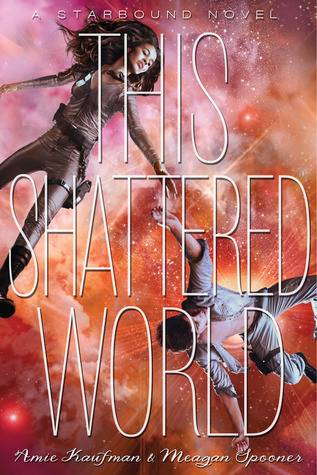 Title
: This Shattered World
Authors
:
Amie Kaufman and Meagan Spooner
Publisher: Disney Hyperion
Publishing Date: December 23, 2014
The second installment in the epic Starbound trilogy introduces a new pair of star-crossed lovers on two sides of a bloody war.

Jubilee Chase and Flynn Cormac should never have met.

Lee is captain of the forces sent to Avon to crush the terraformed planet's rebellious colonists, but she has her own reasons for hating the insurgents.

Rebellion is in Flynn's blood. Terraforming corporations make their fortune by recruiting colonists to make the inhospitable planets livable, with the promise of a better life for their children. But they never fulfilled their promise on Avon, and decades later, Flynn is leading the rebellion.

Desperate for any advantage in a bloody and unrelentingly war, Flynn does the only thing that makes sense when he and Lee cross paths: he returns to base with her as prisoner. But as his fellow rebels prepare to execute this tough-talking girl with nerves of steel, Flynn makes another choice that will change him forever. He and Lee escape the rebel base together, caught between two sides of a senseless war.
Book in One Word: LIKEY!

Note: You might be okay reading This Shattered World without reading the first book in the Starbound trilogy, These Broken Stars. You may understand things for the most part, but you'll see spoilers for the first book, which is why I'd recommend reading it first. This review shouldn't be spoilery, but I'll be mentioning some minor things from These Broken Stars, so be wary!
After reading These Broken Stars late last year, I was eager to see where the series would bring readers next. What I didn't know at the time was that the Starbound trilogy is composed of companion novels; in other words, each book would be about different characters. I, like many other people, was disappointed; I wanted more from Lilac and Tarver. And while I am still a little bummed there's not more from Lilac and Tarver (though there is a bit of them in a novella), I am not, however, disappointed with these new characters.
This Shattered World
is not like
These Broken Stars
. While the first book really only had two characters, the sequel expands into a whole new setting, myriad people included. Welcome to Avon, a newer planet that's terraforming isn't changing, is filled with military personnel (who can be overcome by something called the Fury), and has pushed its natives to live out in the swamps. While there's a ceasefire between the military who basically took over the planet (the rebels call them trodaires) and the Fianna (the rebels/natives), it's a fragile egg shell, close to falling over a wall and not being able to be put back together again. But when Fianna Flynn Cormac (whose executed sister was a leader of a huge rebellion ten years ago) gets onto the military base and decides to kidnap Captain Jubilee Chase so she can answer some questions, enemies become frenemies become maybe something else, and things on Avon change.
It's hard to review this and not make comparisons to
These Broken Stars
. While I think I liked that book and characters more (I mean, come on, Lilac and Tarver started it all), I'd say I liked
This Shattered World
's story more, and I definitely liked Flynn and Jubileee. (The names in this series are A+++, and when we learn the names of the characters in the third book, I'm probably going to have to go buy six living things of some species and name them after these characters.)
This Broken Stars
was more romancey and full of a serious slow burn romance and really packed on the feels.
This Shattered World
, on the contrary, is crueler and harsher, with a definite romance (this is, after all, the Starbound trilogy), but there's more than that. This has some serious inner world-building, showing us what certain
things
are doing to not two people stuck on a random planet, but to a bunch of people living on one that's actually inhabited. It's not what I expected, but I like how the books compare and contrast, and who knows what the hell Kaufman and Spooner are cooking up for the final novel. (NO COOL-NAMED MAIN CHARACTERS ARE ALLOWED TO DIE.)
Being almost four-hundred pages,
This Shattered World
could be considered a lengthier novel, but it doesn't read like one.
These Broken Stars
had some slow spots, but this lacked those; things kept happening to keep the story flowing. (Or maybe I just kept waiting for something to happen because I was expecting it and oh my gosh why don't characters just do what I tell them to?) This books read fast and is engrossing, and it rarely, if ever, bores. It's got a lot of action, whether it's physical or some meticulous planning. It has two likeable POVs that do not ever annoy. Flynn and Jubilee both have their strengths and weaknesses and differences, but they have one very important thing in common: they care for their people, and they have a strong desire to protect them. (And also that they are totally meant to be together, ship ship ship.) Jubilee's pretty much a pure badass and a fighter, while Flynn fights with words and is more of a subtle badass who's searching for peace. (Badass + Badass = Badass Power Couple, just saying.)
I really liked this book (and this is yet another review inaccurately show that, I know). I wouldn't say it was shattering, but it was good. I'm a fan of the setting and plot and how we got to see a whole new world in this Starbound world. (Though I still don't know if I fully get what was happening in those bits between each chapter.) The characters were strong, the villain(s) vile, and the storyline filled with bits and pieces and some not-nice things. And the story goes fast. When I had twenty percent left I had no idea how on earth the book was going to end.
No idea
. It's not very predictable, which is a bonus. I knew what I wanted to happen and I had some inklings elsewhere, but for the most part, I had no idea what was going to happen as the story progressed. And when the book ended I didn't want it to, because I wanted
more
.
This Shattered World
was a nice insight into the Starbound trilogy, and I'm looking forward to seeing what Kaufman and Spooner whip up next. (If you read the acknowledgements, you'll see
where
the series is going next!)
Did I like it?
Yes!
Would I reread it? This could happen.
Would I purchase it? Yesss.
Who would I recommend it to? Fans of strong characters, worlds like ours and not that have great world-building, shipping, slow-builds, and compelling stories set in a galaxy that may not be so far, far away.
I received a copy of this book from the publisher in exchange for an honest review, and that in no way sways my opinion of the book.
Authors
Amie Kaufman and Meagan Spooner are longtime friends and sometimes flatmates who have traveled the world (but not yet the galaxy), covering every continent between them. They are sure outer space is only a matter of time. Meagan, who is also the author of the Skylar trilogy, currently lives in Asheville, North Carolina, while Amie lives in Melbourne, Australia. Although they currently live apart, they are united by their love of space opera, road trips, and second breakfasts.
Find Amie:
Website
|
Twitter
|
Facebook
Find Meagan;
Website
|
Twitter
|
Facebook
Giveaway