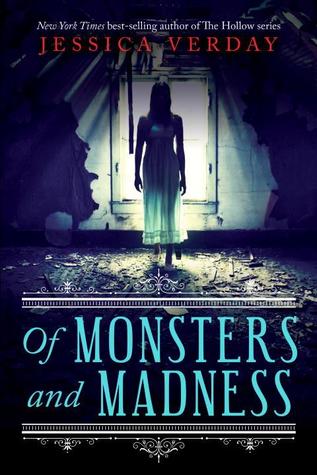 Title
:
Of Monsters and Madness
Publishing Date: September 9, 2014
A romantic, historical retelling of classic Gothic horror featuring Edgar Allan Poe and his character Annabel Lee, from a
New York Times
best-selling author.
Annabel Lee is summoned from Siam to live with her father in 1820's Philadelphia shortly after her mother's death, but an unconventional upbringing makes her repugnant to her angry, secretive father.
Annabel becomes infatuated with her father's assistant Allan, who dabbles in writing when he's not helping with medical advancements. But in darker hours, when she's not to be roaming the house, she encounters the devilish assistant Edgar, who bears an uncanny resemblance to Allan, and who others insist doesn't exist.
A rash of murders across Philadelphia, coupled with her father's strange behavior, leads Annabel to satisfy her curiosity and uncover a terrible truth: Edgar and Allan are two halves of the same person - and they are about to make the crimes detailed in Allan's stories come to life. Unless Annabel stops them.
Book in One Word: LIKEY!
I'm interested by things related to Edgar Allan Poe, even though I've only read a bit of his work. (I think it's because of the idea of Poe, this person we all sort of know.) So when I first heard about
Of Monsters and Madness
, which features the characters from Poe's poem "Annabel Lee," I wanted to read it. And I actually quite liked it!
For years, Annabel lived in Siam with her mother. But when her mother dies she goes to live with her father in Philadelphia, and is surprised to not receive a happy reunion. She learns that some strange things are happening not just in Philadelphia, where people are being murdered, but in her own house, too. And of course, like protagonists do, she tries to put the puzzle together.
It's always nice when I like a book more than I thought I would, and I thoroughly enjoyed this. Part of that may be, I think, because of the writing. It sort of fit the time period the book was set in--the 1820s. Now, it wasn't all "thee" and "thy" and "might me oh my," and wasn't modern, either, but it was sort of...elegant. Verday's writing style seemed to be reminiscent of the time period, and I really liked it and think it helped make the story more successful.
Even though I didn't love
Of Monsters and Madness
, I still think it's worth reading. It's a nice, quick novel that can be a bit engrossing, and definitely an enjoyable read. This book did have a few flaws, though. I was sometimes annoyed by Annabel's thoughts, and how hard she seemed to want to please her (seemingly undeserving) father, and how hard on herself she'd be when she failed. Going into this, I didn't know it wasn't a standalone. I don't have a problem with that--in fact, I really would like the sequel sooner rather than later--but the book was kind of...slow. Again, I didn't mind it. But I reached a certain point in the book and was surprised by how much had and hadn't happened yet.
Of Monsters and Madness
felt kind of like a slow build-up to everything that will (hopefully) happen in the next book.
All that said, I like how this book twisted the tale in Poe's poem. In fact, I don't know that it really has much to do with the poem, except for some names. Instead,
Of Monsters and Madness
focuses on more of the morbidness that we may expect from a Poe tale. Mr. Lee, Annabel's father, is what you might call a mad scientist, and his daughter seems to both fear and be fascinated by him. (I was reminded a bit of
The Madman's Daughter
, and not in a bad way.) What I really thought interesting were two other characters--Edgar and Allan. I prefered Edgar over Allan, I think, (though they both had different likeable attributes), though the romance felt a little rushed. (Though maybe fitting for the time.) As a protagonist, Annabel was pretty bearable, and kind of like a Nancy Drew, which was cool. I liked her friendship with her maid, and adored Grandpere. (He reminded me of the grandfather in
The Parent Trap
with Lindsay Lohan.)
A slightly gothic feel, with lovely writing and interesting characters, plus some surprising twists and turns (seriously, I so did not see that one coming, but it was excellent), made for an admirable read with
Of Monsters and Madness
. From what I've seen, people who are mega Poe fans and are super familiar with his work don't like this as much, but if you're not as familiar with his work, it's a better read. As you already know, I certainly liked it, and am quite eager for that darn sequel. So reading this is really up to you. But if you ask me, I say give it a chance. We may not see many monsters, per se, but there is definitely madness. And I liked it!
Did I like it?
Yes!
Would I reread it? Maybe!
Would I purchase it? This is a possibility.
Who would I recommend it to? Fans of Edgar Allan Poe, books full of twists and twistedness, and those who like books set in the 1800s and have the writing to match.
I received a copy of this book from the publisher in exchange for an honest review, and that in no way sways my opinion of the book.