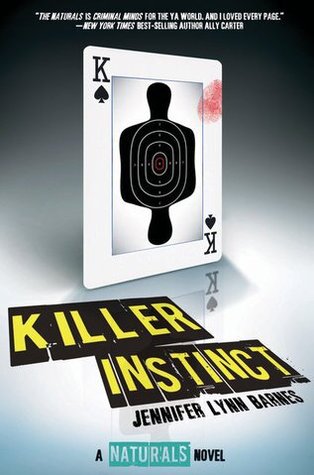 Title
:
Killer Instinct
Author
:
Jennifer Lynn Barnes
Publisher: Disney Hyperion
Publishing Date: November 4, 2014
Seventeen-year-old Cassie Hobbes has a gift for profiling people. Her talent has landed her a spot in an elite FBI program for teens with innate crime-solving abilities, and into some harrowing situations. After barely escaping a confrontation with an unbalanced killer obsessed with her mother's murder, Cassie hopes she and the rest of the team can stick to solving cold cases from a distance.
But when victims of a brutal new serial killer start turning up, the Naturals are pulled into an active case that strikes too close to home: the killer is a perfect copycat of Dean's incarcerated father—a man he'd do anything to forget. Forced deeper into a murderer's psyche than ever before, will the Naturals be able to outsmart the enigmatic killer's brutal mind games before this copycat twists them into his web for good?
With her trademark wit, brilliant plotting, and twists that no one will see coming, Jennifer Lynn Barnes will keep readers on the edge of their seats (and looking over their shoulders) as they race through the pages of this thrilling novel.
Book in One Word: FREAKINGAMAZING.
While I did receive an eARC for review from Disney Hyperion (thank youuu!), I also won a physical ARC of
Killer Instinct
from
Briana at Bree's Books
, so thank you, Briana, for the precious ARC!
I don't know how the bloody hell Jennifer Lynn Barnes does it, but her Naturals books are so ridiculously good that I basically can't even. This series has been called
Criminal Minds
for YA, and it is so totally true. I read
The Naturals
, the first book, last year and was immediately a big huge fan. (You can see my review
here
.) I've had my hands on a copy of
Killer Instinct
for a few months and have been constantly kicking myself for not having the time to read it. Reading it sooner would've made the wait for the third book excruciatingly longer but oh well, who cares, THIS BOOK IS JUST SO GOOD.
Just like its predecessor,
Killer Instinct
is practically flawless. I'm not even kidding. I have, like, no problems with this book. It's crazy, but it's also crazy good. This book has it all: romance, suspense, thrills, humor, just freaking everything. Barnes has managed to create yet another murder mystery where predicting the killer is pretty impossible. I've seen reviews that complain about some books being too predictable, but this series is so not. It's a very hard puzzle to solve and I love it. And this series is just so damn underrated and it's such a shame because if you haven't read these books you are seriously missing out. So please, get on them, right now.
Killer Instinct
picks up a few months after
The Naturals
left off, when everyone was (
spoiler alert
if you haven't read the first book) shaken up by what happened with Locke (
end spoiler
). Our team of Naturals--Cassie, Dean, Michael, Sloane, and Lia--are working on cold case until an active case opens up that they have interest in: a Daniel Redding (aka, Dean's father) copycat. Briggs, Judd (basically, they babysit the Naturals), and new character Agent Sterling are all like
No, kids, you stay out of this
. But come on, they're a bunch of meddling, pesky kids--of course they're not going to listen.
So the story progresses with bodies piling up, character tension, and an unknown killer. And seriously, the characters are great. Cassie, our protagonist and MC, is a profiler, totally likeable, and never an annoying point of view to be in. Dean's also a profiler, and he's still all moody--but really, can you blame him?--and all Dean, but whatever, I still hardcore ship him and Cassie. So sorry to Michael, a snarky, entertaining character who's really, really good at reading people. You're great and all, but you and Cassie are so not meant to be. Keeping breaking car windows, Sloane's also really great--compare her to Reid on
Criminal Minds
. Girl is super smart and knows anything and everything. Then there's Lia, who's good at lying, and super good at knowing when someone's lying. (She's also very skilled in create tension and causing drama, especially between Cassie, Dean, and Michael.) Those are our Naturals. And they're fantastic.
You know, this review is a total fail because it's not nearly flaily enough. But really, what isn't there to like about this book? There's a group of crime solving
teenagers
trying to stop a killer, and it is written so well that I believe everything they say. (Good research, Jennifer Lynn Barnes!) These books are just done
so well
. Sometimes you read a book and it fills you with this sort of...hum. Kind of like butterflies? Do you know what I'm talking about? Because that's what this book does. I'm not a fast reader, but I started this on a Thursday evening and finished it at 4:30 a.m. Saturday. I had to put the book down to do schoolwork, and I'm pretty sure that lowered the quality of my assignments because I would've much rather been reading.
I never wanted this book to end
. Well, except to get some answers. (And, I don't know, but maybe I've already reread a certain scene and maybe I will again and again because I CAN.) Just, in short--
Killer Instinct
was really, really good. So, so good. So freaking good. Read these books. Trust me. Just read them, then come back and freak out over them with me, okay? (And can we please discuss the shipping because THE SHIPPING.) The wait for the next book is going to be a killer. (Ha. See what I did there?) Is this just a trilogy? Because that will not do. I demand that this series has a million books. At least.
Did I like it?
Yesss!
Would I reread it? Hell yes!
Would I purchase it? Yes yes yes!
Who would I recommend it to? Every single person. Seriously. (But read The Naturals first.)
I received a copy of this book from the publisher in exchange for an honest review, and that in no way sways my opinion of the book.