In case you missed the news, there's a readalong of the ENTIRE Mara Dyer trilogy happening RIGHT NOW. It's called
#MarasRetribution
and is hosted by Stacee from
Adventures of a Book Junkie
, Danielle from
Love at First Page
, and Katie from
Polished Page-Turners
, and myself! To keep up with the reading schedule in time for the release of
The Retribution of Mara Dyer
, participants should be finishing up with
The Unbecoming of Mara Dyer
. And that just happens to be what I'm discussing today!
Novel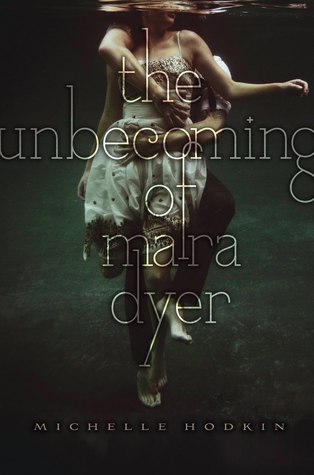 Title
:
The Unbecoming of Mara Dyer
Publisher: Simon & Schuster Children's Publishing
Publishing Date: September 27, 2011
Pages: 452
Mara Dyer doesn't think life can get any stranger than waking up in a hospital with no memory of how she got there.
It can.
She believes there must be more to the accident she can't remember that killed her friends and left her mysteriously unharmed.
There is.
She doesn't believe that after everything she's been through, she can fall in love.
She's wrong.
Discussion
[Spoilers Ahead!]
The first time I read
The Unbecoming of Mara Dyer
, I gave it
three stars
. There were some inconsistencies throughout the book and I couldn't tell if they were errors or just a part of Mara's insanity. When the book takes a turn in a different it loses it touch. (When Noah and Mara go to rescue Joseph and we learn Noah has an "ability" too.) And then it was, of course, hurt by the hype. But this time around, I liked the book more!
Also this time around, I was looking for...well, ANYTHING. I filled my book with sticky notes here and there and everywhere, marking anything that could mean anything. I probably overthought it, but with this book, WHO KNOWS. Here are some things I noticed.
-Mara says she needs to not act like she's crazy several times.
-Mara loses track of time or doesn't remember what she was doing a LOT LOT LOT.
-Her note at the beginning of the book is written in New York, she lived in Rhode Island, then moved
to Florida.
-Hamartia is mentioned in English class, which means a fatal or a tragic flaw.
-Mara once mentioned
Carrie
--specifically, the scene where Carrie gets buckets of blood poured on her at blood. That might not mean anything. But Carrie herself--who has abilities, right?--could.
-Some people disappear out of nowhere...like Noah.
-Sometimes when Mara would hallucinate, we would then see Noah tired.
-Things Claire and Jude would say in Mara's hallucinations were things they said at the asylum, pre-death.
-When Mara first Mabel, the dog seemed fine. But after that, whenever Mara's around an animal they go berserk. Kind of like some animals would around a paranormal entity.
-When Mara is describing killing Leon Lassiter at the end of the book, she's using first person. But someone else shoots him. So was Mara really picturing herself killing him, or was she picturing a scene from some other point in time?
Basically, when it comes to this book and series I DON'T EVEN KNOW. It's probably one giant mindscrewer that still won't give us all the answers and will make us go WHAT?! Because, come on, it's MARA DYER, what else can we expect?
Up Next
Today, October 19, is the first Twitter chat! Just follow the hashtag
#MarasRetribution
at 8:00 p.m. EST (5:00 p.m. PST)! We'll be talking about
Unbecoming
and having trivia questions. AND we'll be giving away a copy of the book! (And yes, it's international!) So please, join the insanity!
Now that we're finished with
The Unbecoming of Mara Dyer
, up next we're reading
The Evolution of Mara Dyer
! So get your copies ready! We'll be reading until the start of November--right before
The Retribution of Mara Dyer
is here!
If you wrote a discussion post for
The Unbecoming
, be sure to link up!
a Rafflecopter giveaway