Beware, beware, the third (!!!) annual
Don't Look Behind the Bookshelf
, a Halloween feature I like to do here on Beauty and the Bookshelf, IS FINALLY HERE! For the first two years I had thirteen days of interviews and guest posts from authors whose books could somehow relate to this spooky holiday. (You can find
year one here
and
year two here
.) But this year, I'm switching it up and doing something different.
From now through Halloween, I will be posting LOTS (okay, so not LOTS, but not exactly a little either) of posts with different ideas for Halloween costumes of fictional characters! I did this for a number of reasons, one because I wanted to have a lot of FUN, and secondly because, hello, who doesn't want to dress up as a character from a book?
Costumes these days can be super pricey and, for us ladies, quite revealing. And maybe you don't want to be a cop or a devil or a Teenage Mutant Ninja Turtle. Maybe you want to be a book character, because HOW COOL would that be?! So I'm here to help you. I'm going to show you how to take the simplest things you might own and turn them into a costume fit to represent fictional characters, with some modern twists, of course.
Are you ready?
[Note: Please ignore the stupid timestamp on the pictures.]
So far I've done costumes for
Tiger Lily
,
The Selection
, and
Vicious
, and now I get to do a character from one of my favorite series: Eve Rosser from the
Morganville Vampires
by Rachel Caine!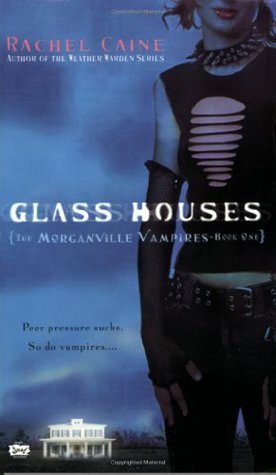 Here's the lowdown on Eve Rosser: She's a teenager living in a town filled with vampires, and totally goth and awesome.
Yes, you heard me right, Eve lives in a town full of VAMPIRES.
(But she's not one, though you could add a nice vamp bite to her costume, using some makeup or eyeliner for the bite and red makeup for the blood.)
Now, here's how I did Eve's costume. For the clothing, I wanted to go all black--because she's goth--but I didn't want to wear my black skinny jeans and I didn't have a black skirt. Instead, I took my dress with a fun plaid skirt and put my jewelled black shirt over it, tightening it with a hair tie in the back and lifting the shirt to the top of the skirt. Underneath I put black leggings, then put on my studded ass-kicking boots, because those were totally necessary for this costume. I added a snake ring (I forgot my vampire one!) and wore a studded and spiked bracelet for some accessories. (Also, if you have Eve's necklace, WIN.)
For the makeup, I tried to make myself look even more pale than usual. I put black facepaint around my eyes, and of course wore black lipstick. Then half my hair went up into pigtails, and my cousin and I tried ratting all my hair out. (I think it fell down.)
Unfortunately, I did not have any bedazzled vampire stakes to use as a prop. But since Eve is a barista at the oh-so-popular Common Grounds, I bloodied up a coffee cup!
And drank it too. (Not really. I just drank air. I don't drink coffee. But maybe blood...)
But even more so, there's a whole lot of ass-kicking.
And just being a badass in general. (Oops. I think I went a little punk rock.)
Are you a Morganville fan? Are you watching the show? How would you dress up as Eve for Halloween? (Though my cousins say I should dress like this every day, ha!) Or would you wear a costume for a different character?
(Here's Eve hiding from the leeches, something she occasionally has to do since the Glass House Gang is constantly getting into trouble.)
Remember to keep your eye on the blog! These are going to be kind of like flash posts. You never know when I'll post the next one... (Okay, you will because I'll post it on
Twitter
. But you don't know WHEN.)