Beware, beware, the third (!!!) annual
Don't Look Behind the Bookshelf
, a Halloween feature I like to do here on Beauty and the Bookshelf, IS FINALLY HERE! For the first two years I had thirteen days of interviews and guest posts from authors whose books could somehow relate to this spooky holiday. (You can find
year one here
and
year two here
.) But this year, I'm switching it up and doing something different.
From now through Halloween, I will be posting LOTS (okay, so not LOTS, but not exactly a little either) of posts with different ideas for Halloween costumes of fictional characters! I did this for a number of reasons, one because I wanted to have a lot of FUN, and secondly because, hello, who doesn't want to dress up as a character from a book?
Costumes these days can be super pricey and, for us ladies, quite revealing. And maybe you don't want to be a cop or a devil or a Teenage Mutant Ninja Turtle. Maybe you want to be a book character, because HOW COOL would that be?! So I'm here to help you. I'm going to show you how to take the simplest things you might own and turn them into a costume fit to represent fictional characters, with some modern twists, of course.
Are you ready?
[Note: Please ignore the stupid timestamp on the pictures.]
First up is Tiger Lily, from Jodi Lynn Anderson's
Tiger Lily
, a book I LOVED. (You can see my review
here
, if you want.)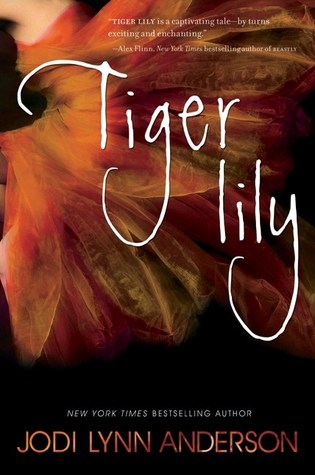 In the book, Tiger Lily isn't supposed to be very glamorous and she certainly doesn't dress up much. But I wanted to change that up a bit for my costume and base it more off the cover. And because I was using all things that I already had (or that my sister did), I came up with this.
When thinking of what I could possibly wear to be Tiger Lily, I realized that my sister's made-for-school-spirit tutu could work great. Add a colorful tank to the purple and goldish ribbon on the tutu, and voila, I had an outfit. (Plus leggings, because that tutu is so not suitable to be worn without something of the sort, and also, Halloween around here tends to be cold and occasionally wet.)
I opted to be barefoot, but if I were to wear shoes I probably would've done something like a pair of my Toms. I put leaves in my hair--my messy hair--because Tiger Lily doesn't have clean hair, but I almost put in feathers, too.
I had a simple makeup base on, with foundation, powder, neutral eyeshadow, eyeliner, and mascara. My cousin added some more color to the eyes--plus the little design--and brushed darker eyeshadow on my face and arms to represent dirt.
And after that, I had to try to be the character--or my interpretation, at least. So I channeled Peter Pan...
And even had to mimic that old codfish Captain Hook.
And then you have a photoshoot with your cousin JUST FOR FUNSIES.
Have you read Tiger Lily? (If not, you should.) What would you do to be her for Halloween?
Remember to keep your eye on the blog! These are going to be kind of like flash posts. You never know when I'll post the next one... (Okay, you will because I'll post it on
Twitter
. But you don't know WHEN.)