Beware, beware, the third (!!!) annual
Don't Look Behind the Bookshelf
, a Halloween feature I like to do here on Beauty and the Bookshelf, IS FINALLY HERE...and coming to an end. For the first two years I had thirteen days of interviews and guest posts from authors whose books could somehow relate to this spooky holiday. (You can find
year one here
and
year two here
.) But this year, I'm switching it up and doing something different.
From now through Halloween, I will be posting LOTS (okay, so not LOTS, but not exactly a little either) of posts with different ideas for Halloween costumes of fictional characters! I did this for a number of reasons, one because I wanted to have a lot of FUN, and secondly because, hello, who doesn't want to dress up as a character from a book?
Costumes these days can be super pricey and, for us ladies, quite revealing. And maybe you don't want to be a cop or a devil or a Teenage Mutant Ninja Turtle. Maybe you want to be a book character, because HOW COOL would that be?! So I'm here to help you. I'm going to show you how to take the simplest things you might own and turn them into a costume fit to represent fictional characters, with some modern twists, of course.
Are you ready?
[Note: Please ignore the stupid timestamp on the pictures.]
So far I've done costumes for
Tiger Lily
,
The Selection
,
Vicious
, and
the Morganville Vampires
, and now it's time for just one more costume! If you ask me, this is one that's just perfect for Halloween. She is, after all,
Anna Dressed in Blood
.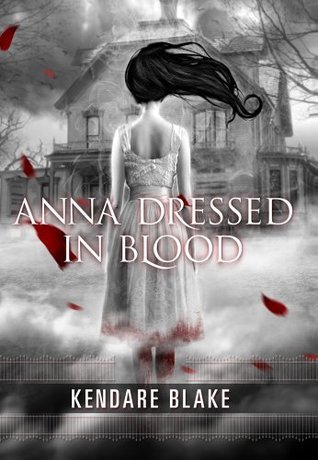 Everything about Anna screams Halloween.
And her costume is actually pretty simple--it's just a little messy.
For clothing, all I needed was a white dress, and one I didn't mind ruining. (I have no idea if this will ever wash out, no matter how much bleach I use. Therefore it's necessary to not mind dirtying up your dress.) I used a tube of red makeup paint from the dollar section at Target, squeezed it onto my hands, then rubbed it ALL OVER.
With makeup, I put white facepaint on my face that I also found in the dollar section. (Note: Next time I'd either use a less shiny white or put white all over my body so it matched better.) I also put the white on my lips, and kept my eyes lighter. Once again, I had the red makeup on my hands and rubbed it ALL OVER. Also, I used black eyeliner to darken the spot on my neck where it's cut open, then made it look like the blood was dripping down.
And then you get to BE Anna.
This is the perfect opportunity to take creepy pictures.
Seriously, my cousin was getting freaked out.
Please use this costume to scare people.
Also, bonus! I reused this costume for Halloween night to hand out candy and altered it a bit.
Have you read
Anna Dressed in Blood
and
Girl of Nightmares
? Is it not perfect for Halloween?! How would you dress as everyone's not-so-friendly, murderous, bloody ghost?
And...that's all, folks! Halloween day is almost over and everyone's pigging out on candy and watching scary movies. I hope you liked all these posts and costumes! I had such fun doing them, and I would love to do it again next year! Until next time...