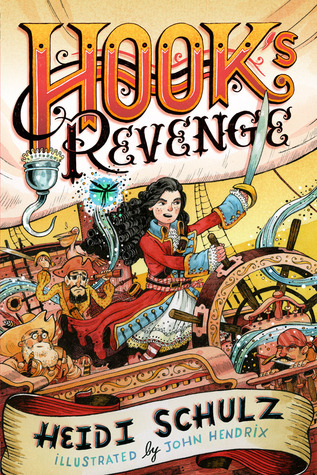 Title
:
Hook's Revenge
Publisher: Disney Hyperion
Publishing Date: September 16, 2014
Captain Hook's feisty daughter hits the high seas to avenge her father's death at the jaws of the Neverland crocodile in Heidi Schulz's spirited middle-grade debut.
Twelve-year-old Jocelyn dreams of becoming every bit as daring as her infamous father, Captain James Hook. Her grandfather, on the other hand, intends to see her starched and pressed into a fine society lady. When she's sent to Miss Eliza Crumb-Biddlecomb's Finishing School for Young Ladies, Jocelyn's hopes of following in her father's fearsome footsteps are lost in a heap of dance lessons, white gloves, and way too much pink.
So when Jocelyn receives a letter from her father challenging her to avenge his untimely demise at the jaws of the Neverland crocodile, she doesn't hesitate-here at last is the adventure she has been waiting for. But Jocelyn finds that being a pirate is a bit more difficult than she'd bargained for. As if attempting to defeat the Neverland's most fearsome beast isn't enough to deal with, she's tasked with captaining a crew of woefully untrained pirates, outwitting cannibals wild for English cuisine, and rescuing her best friend from a certain pack of lost children, not to mention that pesky Peter Pan who keeps barging in uninvited.
The crocodile's clock is always ticking in Heidi Schulz's debut novel, a story told by an irascible narrator who is both dazzlingly witty and sharp as a sword. Will Jocelyn find the courage to beat the incessant monster before time runs out?
Book in One Word: Swashbuckling!
"I do aim to be a pirate, you know."
I was immediately interested in
Hook's Revenge
simply because it has to do with a tale I'm in love with:
Peter Pan
. But here's the catch:
Hook's Revenge
isn't really a retelling of
Peter Pan
, or necessarily based on the boy who never grows up. Instead it tells the story of a new character: Jocelyn Hook, the only daughter and heir to the oh-so infamous Captain James Hook. This funtastic middle grade novel (if you're not a big middle grade reader, don't let that scare you, or else you might walk the plank) features a ragtag crew of new characters, plus some we already know and love--or don't, like the beastly Neverland crocodile, who just happens to be the reason this story is a story: After he finally got his tick-tock jaws on the Cap'n, it was up to Jocelyn to seek revenge and take the crocodile down. And so:
Hook's Revenge
.
"...Lord Wellesley's library proved to be quite helpful, allowing them to live a lifetime of daring deeds in paper and ink."
Jocelyn Hook is a great main character, and though it's been years since I read the books, I'd say she has the same mischievousness and rebel-ry and spunk the likes of Junie B. Jones and Ramona Quimby. The twelve year old lives in her own world of imaginary pirate adventures, looting, and treasures--that is, until it becomes real. But the story starts here in the boring normal world when Jocelyn is sent to a finishing school by her dear grandfather, for her behavior needs to be put in check. "
Jocelyn did like the look of a white dress. It was like a blank canvas.
" It is there that she meets miss Prissy Pinch-Face and some other rude snots, but also Roger: an actual kind person and friend. I simply adored Roger, and I need this book to progress toward YA because hello, I so totally ship it. But alas, this is not that kind of story.
"True history is filled with burning fleets."
This is the kind of story with swashbuckling pirates (obvi), vain mermaids, English-loving cannibals, lost Lost Boys (not a typo), jealous fairies, and maybe even a character named after a certain POEt. And of course, there's so much more. In the majority (all, right?) of
Peter Pan
retellings we get to see Neverland, bits and pieces here and there. But the story tends to kind of move around Peter, so we don't really get to
see
Neverland.
Hook's Revenge
, being its own story with plenty of references to the original tale, benefited on being its own because Neverland got to really be created. We get to see so much of Neverland and how it works. You're from When, not where; it works on its own schedule; it's this ever-moving piece of land that's pure magic. Really, the feel was kind of Wonderland-esque--which if you think about it, makes total sense. Heidi Schulz tweaked
Peter Pan
to make it her own original piece of work, but still kept enough of
Peter Pan
in the story to make
Hook's Revenge
part of the world.
"They could have stepped right out of the pages of an adventure book."
Hook's Revenge
is a tale full of fun and smiles and adventure. But what's interesting is that it's not told from the POV of Jocelyn. (I don't
think
this is a spoiler?) In fact, I'm not quite sure who the narrator is, and I WOULD LIKE TO KNOW, HEIDI. I have a few guesses, but I guess I'm just going to have to read
Hook's Revenge: The Pirate Code
to (hopefully) find out who it is. All that said, I really liked the narrator. He was quite witty, and a darn good storyteller. "
I don't like children all that much
," he tells us early on, and yet he's telling us the story of a pretty unruly child. He could also be kindly brute, but I loved it. "
I rarely wear white myself. Bloodstains are too difficult to remove.
" BUT WHO ARE YOU?
"The children were not invited, having been forced into partaking of that barbaric custom known the world over as naptime."
This revenge-ful novel had three things done well: characters, world building, and writing. As I mentioned earlier, this book has such a wide, eclectic cast of characters, and I cannot possibly list them all. But aside from Jocelyn and Roger and the nameless narrator (at least, I
think
we don't know who he is...), stand-outs included Smee, Jocelyn's not-so-savvy crew, and a couple of spriteful fairies. "
At times her crew acted more like overgrown children than bloodthirsty pirates
." The world building I mentioned earlier, with its nicely executed glimpse into the mysterious Neverland. And then there's the writing. Even though Jocelyn isn't telling the story, her voice still stands out. And the whole tone and mood of the writing just work for the story. In other words, I was a fan.
"See that star? The bright one, second to the right of the Big Dipper? That's the North Star. One day, you'll find yourself following it into a great adventure."
If I were to have a complaint, it'd be one itsy bitsy little teeny thing. Really, it really isn't even a
complaint
. Sometimes you read a book knowing you're going to reach a certain setting at some point--in this case, Neverland. And then when you get there, the book loses a slight bit of its hold on you. It makes no sense, but it happens sometimes, and that happened here. But whatever. And another thing about the writing--with the way Jocelyn is and how Neverland works and all that, a lot was able to be pulled off, but it
worked
. For instance, you'd think Jocelyn would be just a little bit more wary and cautious about some of these things, but nope. She's lived her whole twelve years conjuring up such scenarios in her head, and now it's like a dream come true. Some people may find it insta-something, but I wasn't bothered by it and I thought it was part of the story and who Jocelyn was.
"That's terribly insensitive, Cap'n. You can't ready your arms if you only have one."
Oh dear. It seems I've written an essay here. But it's just so easy to tell you about this novel, and how you'd be a codfish not to read it. I still don't know if I loved it (I mean, I pretty much just finished it), but I most certainly quite liked it. And what's not to like? Neverland, pirates, magic, a friendship to root for, and maybe even an appearance by a certain cocka-doodle-doo-ing boy. Oh! And there's artwork. I like artwork! As a debut novel,
Hook's Revenge
gets a thumbs up. As a novel, it gets a thumbs up. (That's two thumbs! And now I have no more.) If you're looking for a rip-roaring novel set in a land that I very much want to go to, then this is it. I just recently started reading Middle Grades, and I've learned I've been missing out on some great books. (Okay, so this is my second one, but you get the idea.) Middle Grade books are just
so much fun
and full of such imagination, and this is no exception. So read it! And if you don't and start hearing some ticking and tocking...well, your only solution may be to read
Hook's Revenge
and see if teaches you a thing or two about clockwork crocodiles. Until later, aye aye, you scallywags!
"Once you get out into the world, away from the library, you may find that things are not quite as clear as they seemed when you held the whole universe between leather covers."
Did I like it?
Arrr!
Did I love it? Not quite, I think.
Would I reread it? I wouldn't say no!
Would I purchase it? Yes!
Who would I recommend it to? Fans of Peter Pan, Captain Hook, and tales set in fun lands--pixie dust, anyone?
I received a copy of this book from the publisher in exchange for an honest review, and that in no way sways my opinion of the book.